Five takeaways from Indiana's win over Western Illinois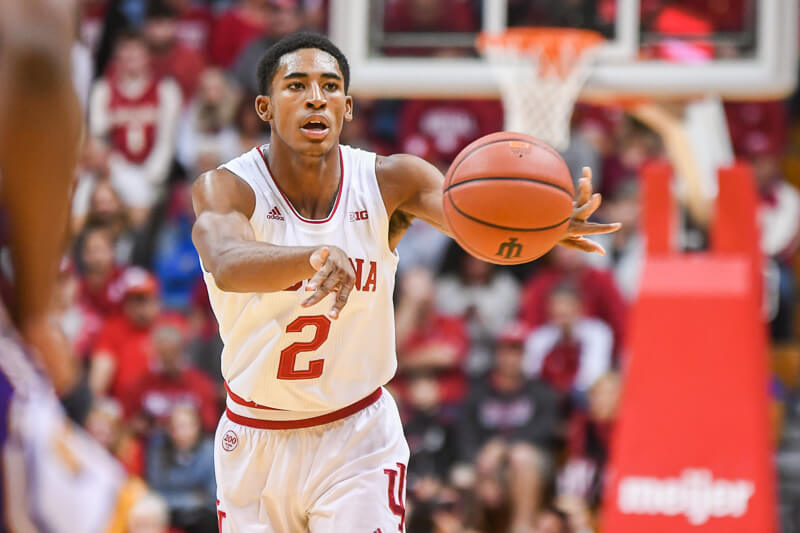 Indiana cruised to a 98-65 season opening win over Western Illinois on Tuesday night at Simon Skjodt Assembly Hall. Indiana is now 21-1 in its last 22 season openers.
Here's a look at five takeaways from the win over the Leathernecks:
· Franklin's fast start: Early season injuries to Indiana's backcourt have forced Armaan Franklin into a much bigger role than anticipated as a freshman.
Credit Franklin for taking advantage of the opportunity.
The Cathedral product logged a team-high 27 minutes against Western Illinois and dished out eight assists. More importantly, he didn't commit a turnover and added five points and five rebounds.
With no firm timetable for the return of senior guard Devonte Green, look for Franklin to continue to play major minutes for the foreseeable future. So far, he looks more than ready for the challenge.
· Smith looks more confident: It is a small sample size against inferior competition, but through the exhibition and regular season opener, Justin Smith looks like a candidate to take a leap forward as a junior.
Smith followed up his 18-point effort against Gannon with 24 points against Western Illinois. He was a stellar 11-for-17 from the field and added seven rebounds, three steals, two blocked shots and committed two turnovers in 22 minutes.
"It was a goal of mine to really be able to play more aggressive and more consistent on the perimeter," he said postgame. "So that's really what I worked on this offseason and I'm lucky that it's coming to fruition."
Indiana's best lineup last night featured Smith at the four and freshman Trayce Jackson-Davis at the five as it provided a boost of quickness and athleticism that wasn't present early in the game.
· Durham's perfect night: Despite missing 10 days following the closed scrimmage against Marquette with a knee contusion, Al Durham Jr. showed no rust on Tuesday.
The junior guard went a perfect 7-for-7 from the field and 4-for-4 from the free throw line to finish with 21 points. Durham excels at getting into the lane and on Tuesday, he also had his perimeter game working as he splashed in all three of his 3-point attempts.
The strong starts from Durham Jr. and Smith are positive signs for an Indiana team that needs its upperclassmen to lead this season.
· Hunter makes Hoosier debut: Jerome Hunter's journey hit an important milestone on Tuesday as he logged his first game minutes in an IU uniform.
Hunter has been a full participant all fall for the Hoosiers after missing all of last season with a lower leg injury that required surgery.
The 6-foot-7 forward was the fifth man off the bench for Indiana and he finished with seven points in 16 minutes. While expectations for Hunter are high, it's also important to remember that he's a freshman in terms of experience.
"He's playing his first college game today," Archie Miller said. "So to be able to get out there is probably a relief for him, now he can continue to build. It's not like he's got this wealth of experience."
· Give Indiana credit for taking care of business: Tuesday's win wasn't one that will be a part of any resume discussions come March, but a quick glance at other Big Ten scores last night shows that winning isn't easy.
Illinois needed overtime to beat Nicholls State at home. Michigan allowed a massive second half run to Appalachian State and held on for an eight-point victory. And Nebraska was blown out at home by UC Riverside.
"It's hard to win in college basketball," Miller said. "And for our guys there's a lot of newness out there, a lot of inexperience. There's a lot of question marks in terms of what's going to happen sometimes on game night. And for us to be able to win with the game, I'm excited about that and our team should be as well."
Filed to: Western Illinois Leathernecks