The Minute After: Western Illinois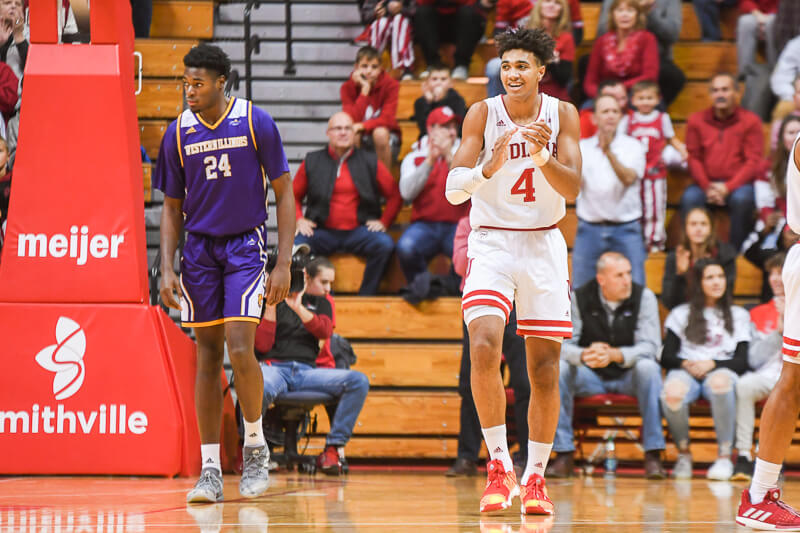 Thoughts on a 98-65 win against the Leathernecks:
In their season debut, the Hoosiers were supposed to take care of business. They did just that and then some against a Western Illinois squad that just couldn't match up. Indiana's offense dazzled for 1.33 points per possession in this one. Thanks to a hounding perimeter defense, Indiana scored 20 of its points off turnovers, as steals turned into easy opportunities ahead of the pack for the Hoosiers.
When Indiana wasn't turning the Leathernecks over, their offense, one predicated on pushing the ball to the free throw line extended in a few seconds on a make or a miss with an eye to draw quick fouls or score early buckets without the defense set, mostly succeeded in those endeavors. However, things are still a work in progress for the Hoosiers when nothing comes early and easy and they need to run motion offense to find looks in the halfcourt.
And depending on what big the Hoosiers feed on initial action down the court, the results can be varied. Trayce Jackson-Davis seems well-suited for the role of rim running, getting the ball immediately from the Hoosier ballhandler and making a quick move to the basket. Joey Brunk and De'Ron Davis aren't quite as fleet of foot and their moves take longer in the post. Early in the game, about the only time Indiana's offensive stalled, Brunk was the recipient of many early entries as the Hoosier pushed it up the court, but it usually led to him kicking it back out and Indiana having to setup and run more offense.
As he did last week in Indiana's lone exhibition, Justin Smith impressed tonight. Everything seems to be coming easier to the junior this season. It's all a little more smooth and much more simple. Smith's shots outside the paint are still a work in progress — he still tends to fade back a bit on release and missed a 3-pointer and mid-range jumper on back-to-back possessions showing as such — but he's been deadly in the paint to start the season. Smith threw down some fun dunks in transition off Western Illinois turnovers and scored a number of buckets from close-range in the half court as well. In just 22 minutes of action, Smith tied his career-high in points with 24 on 11-of-17 shooting, adding seven rebounds, three steals and two blocks.
After missing Indiana's lone exhibition last week due to a knee injury, Al Durham showed no signs of a soft start to the season as he returned to game action. No, Durham's hard-playing style was there from the get-go and never let up. When Durham wasn't hounding his opponent on defense, he was playing out of his mind on offense. Durham had his own 7-0 run near the start of the contest, making three straight shots — one of them from distance — over three consecutive Indiana possessions. By the time the dust settled on his night, Durham finished a perfect 7-of-7 from the field for 21 points, including 4-of-4 from the line.
Rob Phinisee looked better tonight after a rough go of it in the exhibition last week as he works back from his abdominal injury. On 6-of-10 shooting for 14 points, Phinisee was third in the scoring department behind Smith and Durham. That said, Phinisee is still showing some signs of sloppy play — mostly his passing — as he led the team with three turnovers in just 18 minutes of action.
With a host of easy home games to come, this is unlikely to be the only blowout win in the early goings of the season. It may start to feel redundant. But with a number of players working back from injury and some new players still getting their feet wet, it's a welcomed start as these Hoosiers continue to figure things out.
Filed to: Western Illinois Leathernecks