Five takeaways from Indiana's win over Nebraska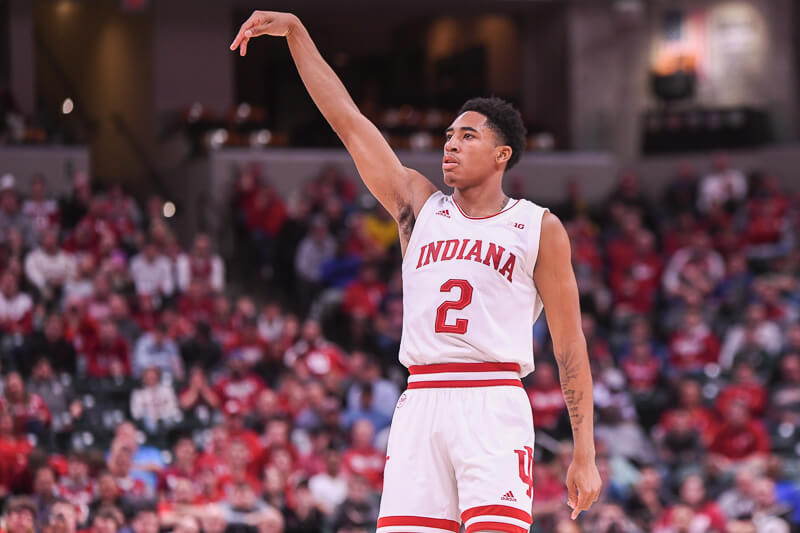 INDIANAPOLIS – On a surreal day in the college basketball world given the Big Ten tournament and NCAA tournament policies enacted to address the worldwide COVID-19 viral disease pandemic, Indiana still had a basketball game to play.
In what will be the final Big Ten sporting event of any type this spring to have fans in attendance, Indiana began its 2020 Big Ten tournament with an 89-64 victory over Nebraska.
It was a game in which Indiana pulled away just before halftime, using a 16-1 run over the final four minutes of the first half to turn a six-point deficit into a nine-point halftime lead that the Hoosiers never let go of.
If the Big Ten tournament proceeds as planned, Indiana is scheduled to play the No. 6 seed Penn State tomorrow night at Bankers Life Fieldhouse.
Here are five takeaways from the win over the Cornhuskers:
· Balanced scoring paves the way for Indiana's victory: In a season in which Indiana has often had to rely exclusively on the scoring exploits of either Trayce Jackson-Davis or Devonte Green to secure victories, it was an across-the-board effort on offense that carried Indiana past a sluggish start against Nebraska.
Freshman guard Armaan Franklin actually led the Hoosiers with 13 points, followed by Green and Justin Smith with 12 points and Jackson-Davis and Durham with 11 points each.
Having five players score in double-figures is obviously a positive omen for the Hoosiers, but their depth was particularly on display Wednesday when compared to a Nebraska team with just seven scholarship players available for the game.
"Tonight, what I was proud of was that we had a lot of players in the game doing good things, not just one," Archie Miller said postgame.
· Armaan Franklin shines in another standout moment: Franklin wasn't just Indiana's leading scorer Wednesday night, but he was also all over the court for Indiana.
He shot 50 percent from the field (3-of-6 from the field) and led Indiana with seven attempts from the foul line. All three of Franklin's made shots came from 3-point range, but he complimented that statistic with eight rebounds, all of them of the defensive variety.
It was the second-most on the IU team behind Trayce Jackson-Davis, who had a whopping 17 boards.
Three assists, two turnovers and a block rounded out Franklin's night, in which he played 25 minutes, his highest total since a November game against Troy.
Franklin was also an IU-best +32 on the court.
"Proud of Armaan, he really stepped up," Miller said.
· Archie Miller finally secures a Big Ten tournament victory: For the first time with Miller as head coach, the Hoosiers were victorious in the Big Ten tournament.
In 2018 Indiana lost Miller's tournament debut to Rutgers inside Madison Square Garden, and last year saw IU lose out on an NCAA tournament bid by losing in the first round of the Big Ten tournament to Ohio State in Chicago.
But the third time proved to be the charm for Miller and his players, and the 25-point margin of victory also doubled as Miller's largest Big Ten win, in terms of point margin, since his arrival at Indiana.
Assuming Thursday night's game against No. 6 seed Penn State goes on as scheduled, it will be a chance for Indiana to win multiple games in the same Big Ten tournament for the first time since 2003.
· Wednesday night's game was the final Big Ten sporting event of the spring with fans: Throughout Wednesday's game, those inside Bankers Life Fieldhouse in Indianapolis kept one eye on the court and another on their phones.
News of the COVID-19 pandemic affected the sports world in multiple ways during the course of the game, most notably with the suspension of the NBA season.
Prior to IU's game, the Big Ten announced fans would not be allowed to attend any spring sporting events. Those competitions will be limited to student-athletes, coaches, event staff, essential team and Big Ten conference staff, TV network partners, credentialed media and immediate family members of the participating teams.
Earlier Wednesday it was announced both the men's and women's NCAA tournaments would be held without fans.
· Uncertainty on where college basketball season goes from here: Given everything listed in the previous takeaway, coupled with Nebraska coach Fred Hoiberg leaving his team's bench late in the second half due to illness, before being taken to a local hospital postgame, it's fair to question whether or not any more Big Ten basketball will be played this season.
Archie Miller made the decision to remove all three IU players: Trayce Jackson-Davis, Al Durham and Armaan Franklin, from postgame media availability after Wednesday's win.
"I decided to move those guys as fast as we possibly can, get cleaned up and go to the hotel as fast as possible," Miller said.
The immediate future remains unknown, but the Big Ten tournament is still scheduled to continue as previously planned, with the new fan guidelines in place starting Thursday.
Filed to: Archie Miller, Armaan Franklin