The Minute After: Nebraska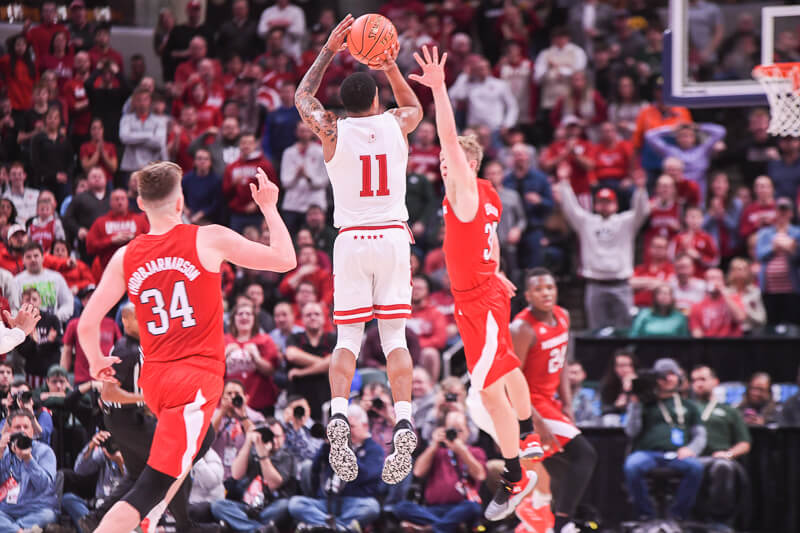 Thoughts on an 89-64 win against the Cornhuskers:
Nebraska came out the gates with nothing to lose, playing at a spirited pace. The Cornhuskers were beating the Hoosiers off the perimeter, scoring on back cuts and dropping in 3s at a strong clip. They kept switching up their defense to muck up Indiana. It looked familiar to the overtime affair in Bloomington, one in which Nebraska almost pulled off the upset.
While Indiana matched Nebraska's first half franticness and was dropping in shots of its own, the Cornhuskers were able to mount a six-point lead with 4:05 to go before intermission. The Hoosiers looked like they might enter half with a deficit against a severely undermanned Nebraska team, one that added two football players to its roster just to come up with some more bodies. A loss would mean Archie Miller's record would move to 0-3 in the Big Ten tournament and Indiana's Selection Sunday watch party might be a touch more anxious. (More on the future of this season in a minute.)
But Indiana closed out the first half in emphatic fashion, posting a 16-1 run to go up nine at half (43-34). And Indiana kept it rolling for the most part all second half, save for a portion where Nebraska got it to nine with 7:41 to go, as its zone defense slowed Indiana down and the Cornhuskers hit shots on their own end. Indiana was able to post another big end of the half run, though, closing out the game on a 17-2 run. IU's eventual 25-point margin of victory is the largest of Miller's tenure against a Big Ten foe.
It was a team effort tonight, as the Hoosiers got contributions from numerous players. Against an undersized Nebraska team, the Hoosiers posted a season-high 12 blocks. Trayce Jackson-Davis led the way with four while De'Ron Davis and Race Thompson each had two. A total of 10 Hoosiers scored, including five that posted double-figures. Armaan Franklin — who was hot in both appearances at Bankers Life this season — led the way with 13 points, including a 3-of-5 mark from distance. Justin Smith and Devonte Green had 12. Jackson-Davis and Durham each scored 11. Indiana shot 10-of-17 (58.8 percent) from 3-point range, posted an effective field goal percentage of 60 and turned it over on just 13 percent of its possessions. The Hoosiers scored 1.14 points per possession to Nebraska's .82, also outscoring the Cornhuskers 40-24 in the paint.
For now, all we know is tomorrow night's game against Penn State is scheduled to be played without fans. But things are changing fast. The NBA suspended its season tonight. Events and public gatherings are getting canceled left and right. Fred Hoiberg looked quite ill and left the bench late in the game. He's reportedly now at the hospital. Doc Sadler and Miller bumped elbows after the game. The players just waved at each other. Nebraska had no media availability after the game. IU held its players back from the media. And now it appears Nebraska is left quarantined in the locker room.
"We're preparing to play tomorrow, and hopefully that continues on," Miller said after the game. "But probably like you guys, this is uncharted territory."
Indiana recorded its 20th win of the season tonight and a trip to the Big Dance seems all but certain. But uncertainty is in the air, and just when this NCAA season comes to a conclusion feels rather fluid right now.
Filed to: 2020 Big Ten tournament, Nebraska Cornhuskers