Freshman Focus: Anthony Leal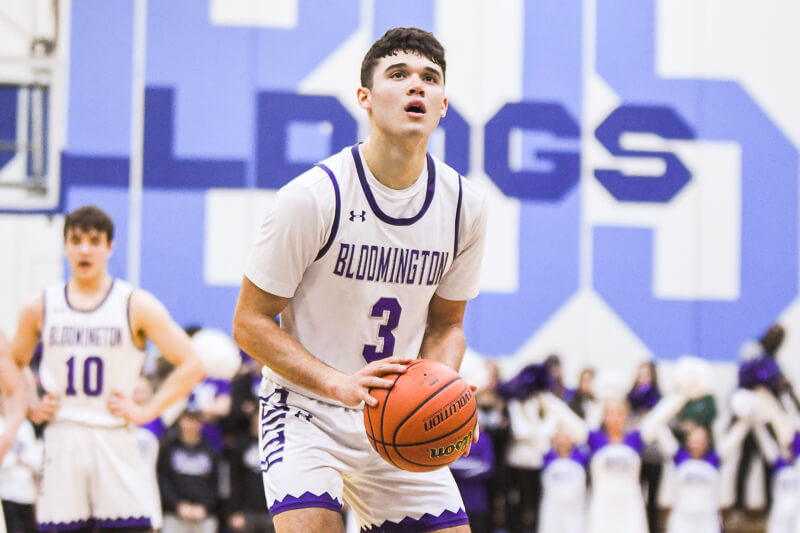 "Freshman Focus" is an Inside the Hall series on each of Indiana's incoming freshmen. Today: Anthony Leal.
Jordan Basye has trained Anthony Leal since Leal was in middle school, and he's coached the incoming IU freshman as an assistant with the Indiana Elite AAU program since Leal was in junior high.
This is to say Basye knows Leal better than most, and what initially strikes people new to watching Leal on the court and in the weight room long ago became commonplace to Basye.
But just as Leal's work ethic has persisted for the duration of his time with Basye, so have the accolades awarded to Leal personally and to the teams he's been a part of with Indiana Elite and during a legendary high school career at Bloomington South.
"He's always been a winner, he's always won," Basye told Inside the Hall this week. "That's one thing with him, he's extremely competitive. He's a good shooter, he can score at all three levels, but the one thing that sets him apart is how competitive he is."
Guard has suddenly become a crowded position group for Indiana entering next season. In the pursuit of separating himself from a pack that includes 5-star recruit Khristian Lander and perennial starters Al Durham and Rob Phinisee, Leal has the elite shooting ability to help him stand out.
As a senior he became Bloomington South's all-time leading scorer, finishing his high school career with 1,620 points after averaging 18 points per game last season.
His 37 percent success rate from 3-point range represented his true calling card on offense, evidenced by his penchant for buzzer-beating shots and comparisons to another prolific scoring guard from Bloomington South, Jordan Hulls.
To associate Leal with Hulls seems almost too easy at this point.
Both carved out local legends for themselves in the Bloomington South backcourt before continuing to Indiana, where Hulls continued to score and shoot the 3-ball well during a four-year college career.
In April, Leal became the second Bloomington South player to be named Indiana Mr. Basketball, joining Hulls who earned the honor in 2009.
Hulls may struggle to make it out to many Bloomington South games due to his professional career in Europe, but he spoke to Inside the Hall earlier this year about his relationship with Leal, which includes past workouts together and advice shared between the two Panther greats.
"The thing that I love is he's willing to learn," Hulls said of Leal. "He's the one who reached out to me and asked questions on how to approach this or how to approach that. Just a really good head on his shoulders and he's ready to come in and do whatever he needs to do to help the team win."
Leal's ideal role on this version of Indiana seems better defined than for most other players.
Over the last three seasons under Archie Miller, the Hoosiers have ranked 13th, 13th and 8th in the Big Ten in 3-point shooting.
While Basye has recently helped Leal work on everything from his ball-handling skills to his ability to finish through contact at the rim, it's no secret that Leal's distance shooting is the key to him contributing right away.
"Being able to get his shot off quick. Being able to get it off against Big Ten competition," Basye said. "Being able to be ready to shoot before you get the ball. Just being able to get set down and be able to catch and shoot. I think that's one thing that's going to be able to separate him coming in that I think he does as well as anybody."
This is also evident to Leal and Miller.
After Leal signed his National Letter of Intent with Indiana last November, Miller took time during his weekly radio show to praise Leal's 3-point shooting, adding that he fits into IU's offensive system thanks to what he does off the ball and in transition.
In past interviews with Inside the Hall, Leal described the importance of being a floor spacer at IU, and also a routine he had of making 500 3-pointers each day.
It seems an arduous task, but Leal explained it simply, saying it was what he needed to do to get better.
It fits with the driven personality that Basye has come to expect from Leal after all these years.
Whether it's the 500 3-pointers each day or the outdoor workouts in 50-degree weather that Basye and Leal did when the COVID-19 pandemic first began, those closest to Leal, and Leal himself, know the mindset which has gotten him to this point in his basketball career.
It remains the reason they believe he'll have success going forward as well.
"He's always done what it takes in terms of getting better, and I think he knows what he could bring to IU sooner (rather) than later is his ability to shoot the ball," Basye said. "He can do much more than that, but I think that's one thing…coming in as a freshman you want one elite-type trait to build on and that's kind of his trait right now and he can have a step (up) on a lot of guys, so I think that's something he can focus on."
Filed to: Anthony Leal, Freshman Focus