News and notes from Archie Miller's radio show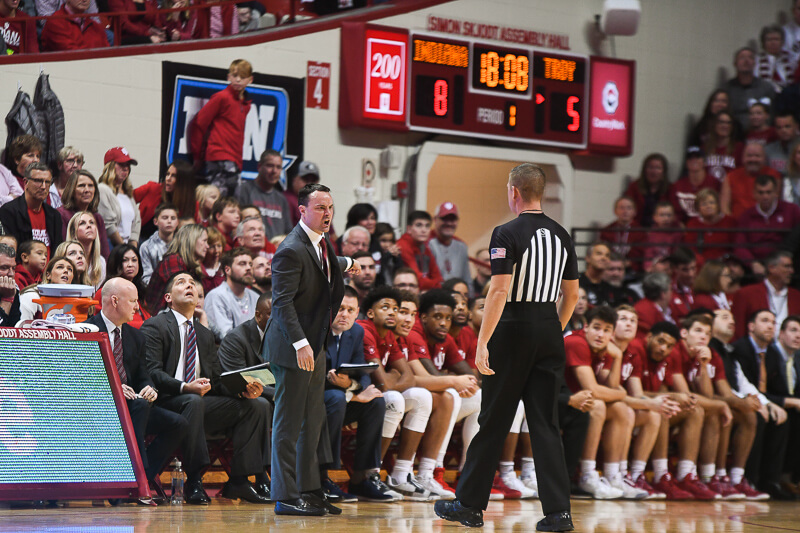 "Inside IU Basketball with Archie Miller" had its third episode of the season Monday night, as a late-arriving Archie Miller and sophomore forward Damezi Anderson discussed Indiana's 4-0 start to the 2019-20 season and also looked ahead to this week's lone game on Wednesday night against Princeton inside Assembly Hall.
Because IU's game next week falls on a Monday night (at home against Louisiana Tech), there won't be another installment of Miller's radio show until December 2nd.
Here are the highlights from Miller and Anderson's evening with host Don Fischer.
– When Fischer asked Miller about Indiana's slow defensive start to the season, the third-year head coach of the Hoosiers didn't mince words. "We didn't defend at all in the North Alabama game, early on," Miller said, before going on to explain that IU failed on simple "ABC" plays defensively.
– Miller has hoped the Hoosiers match their offensive success with defensive intensity, something that has come to fruition over the last three halves of basketball played by the Hoosiers. When you combine the second half against North Alabama and the entire game against Troy, IU has outscored its opponents 144-87, limiting the Lions and Trojans to just 29.75-percent shooting while the Hoosiers have played to their strengths, getting to the foul line and sinking 38-50 free throws during this stretch.
– To this point, Miller said the Hoosiers spent a lot of time in the offseason on free throw shooting, with a program in place during the spring and summer to help players improve. For those curious, Al Durham "won" this offseason competition by making 91.2-percent of his offseason foul shots.
– But despite the gaudy point totals (Indiana has scored 85 or more points in all of its games so far), Miller said he was disappointed Monday in a lack of ball movement during practice. "The one thing this team can't lose is a bunch of guys getting touches."
– Trayce Jackson-Davis was honored Monday by the Big Ten Conference as the league's co-Freshman of the Week, sharing the honors with forward Malik Hall of Michigan State. Jackson-Davis averaged 18.5 points and 11 rebounds per game last week, with his ability to reach the foul line and hit the offensive glass also key components of his award-winning week. "We're dependent on Trayce, and he knew that," Miller said.
– Miller also praised Jackson-Davis' frontcourt teammate, junior Justin Smith, calling Smith the Hoosiers' "best team defender and best system defender." Miller also noted that the start to this season has marked the first time in a while that Smith has consistently gathered offensive boards and been active each play trying to search out rebounds, all while embracing his role in Indiana's transition game on both ends.
– It's a consensus opinion that Indiana's 100-62 win over Troy on Saturday night was the Hoosiers' best defensive performance of the season, and as a result the team's most complete game of the 2019-20 season. Miller agreed. "Our big guys did a good job of impacting early," he said.
– That game featured the season debut for senior guard Devonte Green, who had been sidelined with a hamstring injury. Green played 20 minutes off the bench for the Hoosiers, showing signs of rust by shooting 2-8 from the field and 1-6 from 3-point range. Miller said Green has practiced each of the two days prior to the Troy game, and Green was back at practice Monday. "He's moving closer to getting his feet under him," Miller said.
– Saturday was also a breakout game of sorts for sophomore Damezi Anderson. Anderson tallied 14 points in 16 minutes, a career-best scoring night for the South Bend Riley alum. "I think you're seeing an older, much more experienced, much more ready player as a sophomore," Miller said of Anderson.
– As part of that 14-point output, Anderson made a pair of 3-pointers. For the season, Indiana has made 25 of its 69 attempts from deep, good enough for a 36.2-percent rate from behind the arc (the Hoosiers shot 31.2-percent on 3-pointers last season). Miller attributed this success to the Hoosiers opting not to shoot a ton of 3-pointers, but rather picking and choosing their moments, and more importantly the players, who are taking the shots from distance.
– Always one prone to use workman-like analogies, Miller referred to redshirt sophomore Race Thompson as a valuable part of this year's Indiana team who embodies the "lunch pail mentality" Miller has tried to install in his players during his time at Indiana.
– Looking at the Princeton Tigers, Miller expressed particular concern about senior center Richmond Aririguzoh, who is one of three Princeton players to average 13 or more points per game. Miller said Aririguzoh presents the first true low-post test of the season for Indiana, especially after the Hoosiers' previous opponents were all undersized. Miller also took time to identify sophomore guard Jaelin Llewellyn as someone the Hoosiers will have to keep tabs on. Llewellyn leads Princeton with 17.3 points per game and seven assists this season.
– Miller also took a moment Monday night to reflect on the three Hoosiers who recently signed their National Letters of Intent as part of Indiana's 2020 recruiting class. Miller called Trey Galloway of Culver Academies a "big physical guard" who is the "ultimate competitor." Miller referred to Bloomington South guard Anthony Leal as a player with "a great motor" who can fit in system wise with the way the Hoosiers play in transition. Lastly, Miller addressed forward Jordan Geronimo out of the St. Paul's School in New Hampshire, referring to Geronimo as a fantastic athlete who can defend the three and four positions and someone who comes with a ready-made 3-point shot.
– During his appearance on the show, Anderson said he "feels much different" compared to his freshman season at Indiana. He credited players no longer with the Hoosiers — Romeo Langford, Zach McRoberts and Juwan Morgan — with helping him adjust to the college game.
– Anderson also proclaimed himself the strongest player on the IU team, saying he wasn't sure how much weight he could bench press, but that he would be able to do a rep of whatever weight you put on the bar for him to do.
– As a forward who can also run the floor, Anderson said his versatility means he doesn't have a preference for playing either the guard or wing positions for the Hoosiers.
Filed to: Archie Miller