Five takeaways from Indiana's win over North Alabama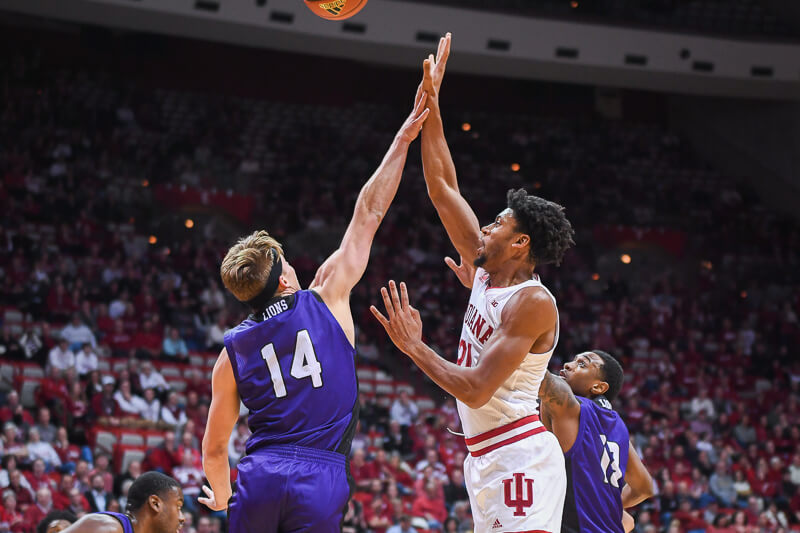 Indiana cruised to another win on Tuesday night as it easily dispatched North Alabama, 91-65. The victory improved the Hoosiers to 3-0 with just four more non-conference games until Florida State comes to Bloomington on Tuesday, Dec. 3 for the Big Ten-ACC Challenge.
Here's a look at five takeaways from the win over the Lions:
· A balanced offensive performance: Indiana is still very much a work in progress on both ends of the floor, but the Hoosiers shared the wealth offensively on Tuesday night.
All ten scholarship players who dressed played double figure minutes and each of them scored. Five Hoosiers scored in double figures, led by 20 points from Trayce Jackson-Davis.
"It's not going to be the same guy every night with this group," Archie Miller said postgame. "We have a lot of different types of guys that can help us and contribute in lot ways."
It is probably unrealistic to expect Indiana to go eleven players deep when Devonte Green returns and the schedule gets tougher next month. However, having a multitude of options off the bench that can score is something Miller hopes to develop.
"When Devonte comes back, we have 11 guys that, as a coaching staff, that I feel like we're good if they're in a game right now," he said. "If we put a guy in the game right now, we feel like they got to execute."
· Hunter continues to build confidence: One of the positives of Indiana's favorable early schedule is the opportunity afforded to the newcomers to gain experience.
Redshirt freshman Jerome Hunter has played between 15 and 20 minutes in each of Indiana's first three games and Monday's game was arguably his best so far.
"He gets better each week," Miller said. "He's very coachable. He keeps getting better. The more experience he gets, he gets better, so we're sort of like on the same track we were a year ago with him. Starting to see him play a little bit more freely in the games."
The Pickerington North product finished with 12 points in 20 minutes.
"I'm taking it game by game," Hunter said last night. "I hope each game I start to get more and more comfortable. That's my goal for this season."
· Defense disappoints in first half: Despite winning comfortably, the final numbers don't tell the story of how poorly Indiana played defensively in the first half.
The Hoosiers allowed 40 points before intermission and too often left shooters on the perimeter as North Alabama banged in six of its first seven 3-point attempts.
"I didn't see them take very many tough ones in the first five, six minutes of the game, eight minutes of the game," Miller said. "That's where it got going."
Miller's comments circle back to a theme that has been present over the first three games: Indiana isn't creating enough pressure defensively to make opponents uncomfortable. It starts on the perimeter and won't change until the Hoosiers are able to clean up those issues.
"What they're doing to us is really picking on us perimeter-wise in terms of drive," Miller explained. "We're having a hard time guarding the ball, and at the end of the day they're putting us in tough situations."
· Green getting closer to a return: While Miller stopped short of pinpointing a return date for Devonte Green, he continues to speak in terms that make it sound like significant progress is being made.
The senior guard from Long Island did not play in IU's closed scrimmage against Marquette or the public exhibition against Gannon and has missed all three regular season games so far due to a hamstring injury.
"We have a lot of inexperience," Miller said. "And back court-wise our depth getting Devonte back hopefully here in the near future helps give us another guy to throw in there."
· Phinisee close to "full go" in practice: Rob Phinisee still isn't playing the minutes he'll be expected to play later in the season, but Tuesday was another step in the right direction for the sophomore point guard.
Phinisee started the second half in place of Armaan Franklin and finished with 13 points and six assists.
"He doesn't really have a ton of restrictions (in practice)," Miller explained. "He played 20 some minutes tonight. Do I think he's 100 percent? No. I don't think he has his rhythm. I think a month of not practicing doesn't allow you to get out there."
Filed to: Devonte Green, Jerome Hunter, North Alabama Lions