Trayce Jackson-Davis controls paint in win over North Alabama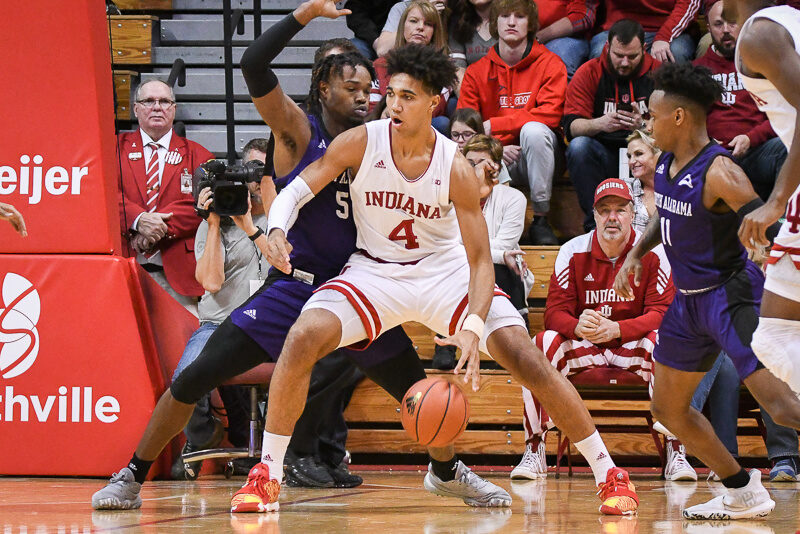 Archie Miller has been telling Trayce Jackson-Davis since the 10th grade that he's going to get fouled a lot.
"Left-hander, mobile, athletic, awkward," Miller said. "Turns into you a lot because he is left-handed."
All those traits led to a career-night for Jackson-Davis in Indiana's 91-65 win over North Alabama to improve to 3-0 on the season.
It wasn't the prettiest of performances from Indiana on both ends of the floor, but Jackson-Davis used all of his 6-foot-9 frame to create havoc in the paint.
He only attempted four field goals, making three, and led the team in scoring with 20 points.
How is that possible with only three made field goals? Jackson-Davis went to the free-throw line 15 times and made 14. According to him, it was the best he's ever shot from the charity stripe.
He switched up his form, too. He said he holds the ball higher from the start rather than lower because it creates less room for error.
"It was really concentration for me, and I did really well tonight," Jackson-Davis said.
He also grabbed eight rebounds on the night, and North Alabama coach Tony Pujol said after the game that his team struggled to compete with Jackson-Davis' physicality in the paint.
Indiana didn't connect on a field goal in the game's first four minutes, but Jackson-Davis kept the Hoosiers even with the Lions by getting to the line for IU's first four points until Rob Phinisee came in at the under-16 and scored the first basket.
Jackson-Davis' three made field goals were all noteworthy highlights. His first was when he posted up, missed a shot, Justin Smith grabbed the rebound and gave it back to Jackson-Davis, who put up a lefty hook from a few feet out.
The second was Jackson-Davis just using his quickness to blow by North Alabama's James Anderson to flush a strong left-handed slam, flexing to the crowd after he threw it down.
His third field goal was created by Anderson, who drove into the paint and saw Jackson-Davis point up, so Anderson lobbed a high pass to the rim that Jackson-Davis leaped up and jammed in for the alley-oop slam.
"Yeah, when you see Trayce, you just got to throw it and he going to go get it," Anderson said. "No matter if it's on top of the backboard or not, he's just going to go get it."
The ball-hawking ability of Jackson-Davis also continued to be prevalent on the defensive end. Jackson-Davis had four blocks against Western Illinois, two blocks against Portland State and three blocks last night. Even though the exhibition against Gannon doesn't count toward final stats, he had three blocks in that game as well.
Jackson-Davis' three blocks per game through three games currently has him on pace to finish with 93 blocks this season, which would be tied for the second-most all-time in a single season in program history with Dean Garrett, who did it in 1986-87. Garrett also holds the record for blocks in a single season with 99, which he did in 1987-88.
Garrett is the only Hoosier to have over 80 blocks in a season, let alone 90. Jackson-Davis knows defense is something he needs to focus on, and he admits he still has to improve.
"Just being able to just guard my guard. So basically, not getting beat off the dribble," Jackson-Davis said. "I know it happened a few times tonight, but I just need to assert myself on the defensive end, especially if I'm going to play the 4 position."
Defense is a big point of emphasis for the whole team to improve, especially when it comes to closing out on the perimeter. Indiana has allowed its opponents to make 41 percent of its 3s this season, letting opponents get open looks after poor rotation and close outs.
For Jackson-Davis, he's going to have to get adjusted to the stretch fours that the Big Ten will present.
"He's very versatile in that his athleticism and his size and length, you know, is an advantage for him," Miller said. "He's young. Defending a little perimeter is new for him and he's got a lot of drivers right now. Eventually those drivers will become shooters, so guarding on the perimeter is something we're stressing."
It's all a learning process for this team at this point in the season, but Jackson-Davis is quickly emerging as one of the team's most complete players and one of the NCAA's most promising and talented freshmen.
Filed to: North Alabama Lions, Trayce Jackson-Davis