The Minute After: North Alabama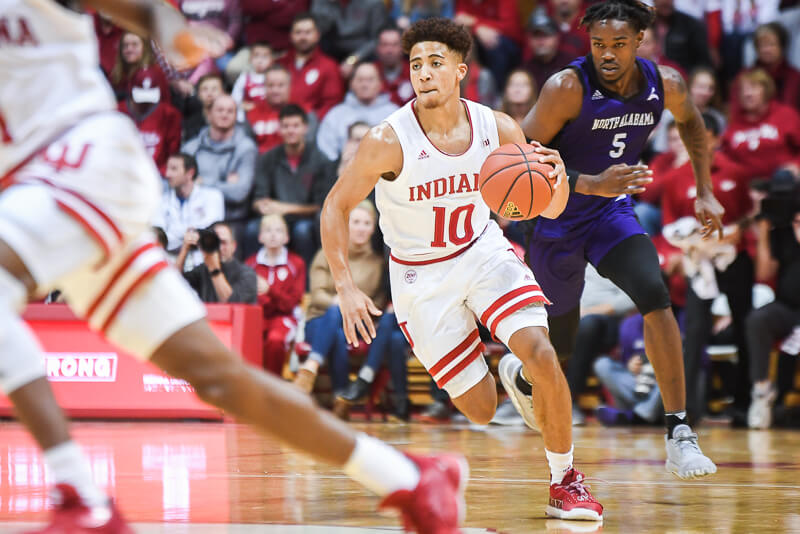 Thoughts on a 91-65 win against the Lions:
As the second half began, Archie Miller removed his jacket and tie. It seemed to be the physical embodiment of his first half displeasure, as the Hoosiers failed to bring proper intensity, communication and effort on defense.
But Miller's team responded in a big way over the final 20 minutes of the contest, leaving no doubt of a runaway victory for the Hoosiers. The first 20 minutes of the game saw Indiana failing to communicate, overhelping at times and letting the Lions get loose from distance by giving them just enough space for some comfort. That all changed early and often in the second half, as the Hoosiers stepped up their intensity and resolve on defense and shut the door on the Lions for good. Indiana started turning North Alabama over at a higher rate and the points kept coming their way on the other end. After allowing 1.09 points per possession in the first half, the Hoosiers held North Alabama to just .89 for the contest and gave up only 25 points over the final 20 minutes. They turned the Lions over on 30 percent of their possessions.
Indiana's points came at the free throw line … again … and again … and again. Miller wants to get to the line as much as possible and this game seemed liked the apex of such a strategy. The Hoosiers finished the game with an insane free throw rate (FTA/FGA) of 98 percent, getting to the line 45 times. They hit 37 of those attempts, good for 82.2 percent on the night. This also meant 40.6 percent of Indiana's points came from the line this evening. Trayce Jackson-Davis went 14-of-15 from the charity stripe on his way to a team-high 20 points. The freshman also added three blocks tonight, as he continues to be this team's best eraser on the backline.
Damezi Anderson is still a work in progress on defense, but was sharp on the other end of the floor tonight (10 points, 4-of-5). After a strong start to the season so far, Justin Smith (three points, 0-for-2) never really got it going. Rob Phinisee started in place of Armaan Franklin in the second half and seems to be getting back into the groove after his abdominal injury has slowed him in the early goings so far. Phinisee scored 13 points on 4-of-8 shooting and added six assists against just two turnovers in 22 minutes of action. Jerome Hunter had a nice stretch in the first half en route to 12 points on 4-of-9 shooting.
The Hoosiers scored 1.24 points points per possession, but were a little sloppy in this one early, as they notched a turnover percentage of 18 for the game. That's a little higher than average in this young season.
With Indiana playing so many inferior teams this month, it's a challenge to be hyped for each and every one of these games. So perhaps that's what we saw in the first half tonight: A Hoosier team not entirely locked in against a weak opponent and yet still carrying a lead into half. And sure, the Hoosiers can get away with it against North Alabama. But soon enough, they'll need to defend at a high level for a full 40, and a first half performance like tonight isn't going to cut it.
Filed to: North Alabama Lions