Q & A: Anthony Leal talks IU commitment, growing up a Hoosier and more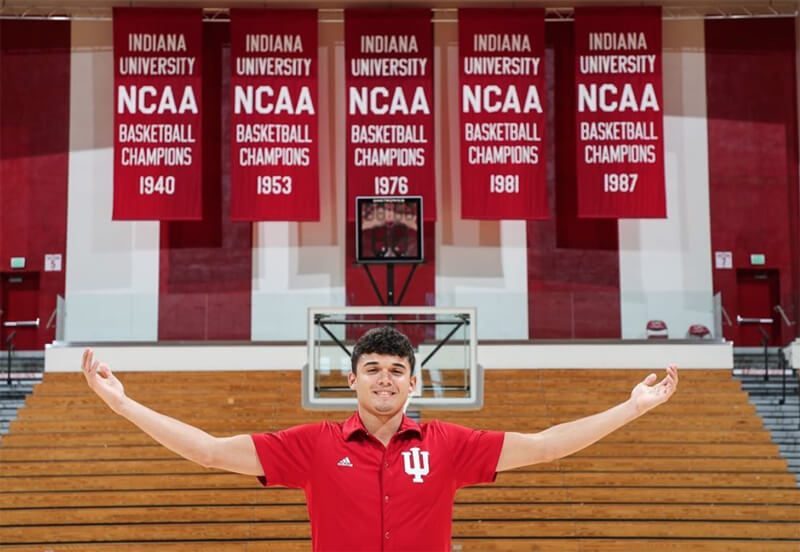 Bloomington South guard Anthony Leal became the second class of 2020 commit for Indiana when he announced his decision on Friday afternoon.
Inside the Hall spoke with Leal about what went into his decision, his favorite IU memories growing up and his vision for the future alongside coach Archie Miller.
Our full Q & A is below:
What went into the decision to ultimately choose Indiana?
"I admire the fact that, obviously, it's a hometown school and all that kind of stuff, but it just came down to the chance to be a part of something that's bigger than just me and be able to hopefully inspire some other kids but also help being a leader by putting some passion and pride back into Hoosier basketball and putting the program back to where it was when I was growing up, which is something that really excites me and has me eager to get over there and get started."
What were the some of the big memories you remember from watching Indiana play when you were growing up?
"The Hoosier Hysteria's. I loved those. I've been going since they were called Midnight Madness. Just moments from beating Purdue to beating Kentucky when Christian Watford hit that shot. It's moments like that; ultimately seeing how hard the guys played and how much pride they had in being a Hoosier is something that really had me falling in love with Indiana basketball."
You played with Trey Galloway with the Indiana Junior All-Stars and against Trayce (Jackson-Davis) and Armaan (Franklin). What was it like playing with and against them, knowing now they'll be your future teammates?
"It's special. I've played against all those guys, and I've been playing with Trey a few times this year as we've both been growing up and learning a lot about each other, so it's been really fun, and I'm looking forward to hopefully doing some really special with a great group of guys."
Trey said he was going to try and pull you toward coming to Indiana. Did he recruit you at all?
"Every once in awhile he'd mention it, but we both kind of understood — even before he announced — that we were both on our own timetables, on our own schedules and ultimately on our own journeys. We had to figure out what was best for each other, and the fact it ended up being at the same place is something that we're really excited about."
What do you think of Trayce's antics on Twitter always trying to recruit you?
"I always joke with him about it. I respect him, and I'm probably going to start doing the same here. It's all fun, and it's part of bringing all that kind of passion and pride back to being a Hoosier, which is something I really love."
Indiana had an up-and-down year last season, what still drew you in to the program despite that whirlwind of a season?
"It's just a great opportunity with a great group of guys, and the coaching staff has a really special plan for us. I'm really excited to live out my childhood dream and get out there and getting some wins. Nothing else is going to matter at that point except for getting some wins."
Indiana has struggled with perimeter shooting lately and people look at you as a good 3-point shooter. Is that something you're looking to bring to the team?
"It's definitely going to be something I try and bring in from day one, but at the same time, just being able to space the floor in general is going to help everybody become better shooters because they're going to get better looks. It's an easier and higher percentage of shots if the defense has to close out further on some shooters, which is what the coaching staff is really trying to emphasize with our recruiting class."
Aside from your shooting, what are other parts of your game that some people might not know about?
"I really pride myself on defense and hustle and being one of the hardest working guys on the court whenever I'm out there playing. I think people are going to quickly realize no matter what, I'm just out there to try to do whatever I can to win, whether that be diving for loose balls or doing any of the dirty work. I'm just willing to sacrifice everything about myself to help get some wins as a team."
What are some aspects of your game you're looking to improve?
"My overall strength and quickness and athleticism is obviously going to have to improve if I'm going to be able to make an impact at the Big Ten level, especially as a freshman. Other than that, just being strong with the ball and getting better at shooting and working on all aspects of my game. Hopefully I'm going to become an overall better player."
What are your goals for your senior season?
"Just to win. Everything sort of comes into perspective as you go from a freshman, sophomore, junior and now a senior. At the end of the day, it doesn't matter how I do, whether I have six points or 20 points, as long as our team gets the win. That's really what I'm hoping for."
Does being the top recruit in the state and now an Indiana commit make you feel added pressure with all the eyes on you when you play?
"No, I mean pressure is kind of something that I would have to put on myself. Other people can say other stuff, but at the end of the day, as long as I'm doing what I've been working hard to do, pressure really means nothing. I'm just going out there trying to have fun with my friends and get some wins."
What do you most excited about to play in front of the Assembly Hall crowd?
"It's something that every kid in Indiana, especially in Bloomington, grows up dreaming about. I think just the opportunity to play in the best atmosphere in college basketball, it's always been something I've wanted to be a part of and be the reason the crowd is going crazy. It's just a surreal and exciting opportunity."
Did you have a favorite Indiana player when you were growing up?
"I'd say definitely Jordy Hulls. He grew up similar to me in Bloomington and went to South, had a successful career there and went to Indiana and really played with the pride and passion behind that jersey every time he played. It was something I really liked about him."
Have you been able to talk Jordan much through this process?
"We've talked a little bit. He made it clear he's always here to talk to me if I ever need any advice or anything like that, which is really nice."
What's your relationship like with Coach Miller?
"He was really open with me with everything they are trying to do and just being real about how he plans to use me and space the floor and be a contributor from day one. I really admire how much he really loves the game, so I'm excited to kind of pick his mind and learn a lot from him about how to become better and how we can win some games under him and the rest of his staff."
Filed to: Anthony Leal