That's A Wrap: Trey Galloway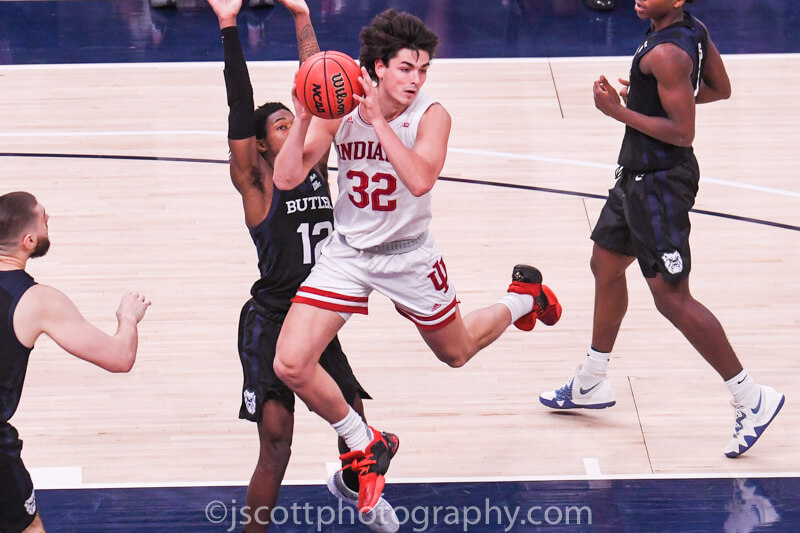 Welcome to "That's A Wrap," our player-by-player recap of the 2020-2021 Indiana Hoosiers. Today: Trey Galloway.
Galloway (25 games): 3.6 ppg, 1.6 apg, 1.9 rpg, 41% FG, 18% 3FG in 19.6 minutes per game.
Previously: Anthony Leal
Like all four freshmen of Indiana's freshmen, Trey Galloway endured inconsistencies in his first season with the Hoosiers, showing flashes of potential while also struggling to fully adjust to the college game.
Galloway arrived in Bloomington as a three-star recruit, according to the 247Sports Composite. The Culver native was part of a homegrown recruiting class that featured three players from the state. Galloway played on the adidas travel program Indiana Elite along with Khristian Lander and Anthony Leal and helped recruit them to IU.
In his prep career, Galloway helped lead Culver Academies to a Class 3A state championship during his sophomore year. In hisa senior season, which was cut short due to COVID-19, he averaged 20.9 points and better than five assists and five rebounds per game.
Galloway was known for being a gritty, tough-minded player with intangibles that don't always show up on the stat sheet. Nevertheless, he was the lowest-ranked player in IU's top-15 nationally ranked 2020 class, per 247Sports.
It may have been surprising then that Galloway was the first freshman to burst onto the scene for IU. He scored what would end up being his season-high 13 points off the bench on opening night against Tennessee Tech, while throwing in some impressive dunks.
Galloway continued to be a consistent presence in the rotation, logging 20 or more minutes in 10 of the first 11 games. He grabbed five rebounds against Texas in the Maui Invitational and scored 11 points two weeks later against North Alabama.
Galloway had a knack for driving into the lane and creating for others, although sometimes that led to turnovers. He also displayed innate competitiveness, often sprawling on the floor to try to grab loose balls.
By the beginning of the conference season, Galloway had earned enough trust from head coach Archie Miller to earn a spot in the starting lineup, taking Rob Phinisee's place.
Galloway's first start came at Illinois, where he recorded four points, four rebounds and two assists. Galloway started the next five games, tallying 10 points and five assists in a win over Penn State.
But then in mid-January, Galloway suffered a back injury and was sidelined for a pair of games. When Galloway returned in early February, Phinisee had reclaimed his starting spot. For the remainder of the season, Galloway's minutes started to dwindle.
Over the last 11 games of the season, Galloway only played more than 20 minutes on three occasions. There were three games where he appeared in less than 10 minutes. Galloway was held scoreless five times during that final stretch and failed to score more than six points in single a game.
The decrease in playing time was due to a couple of reasons. His back, which hindered him in the second half of the season, was likely a factor.
But also, as much as he could create for others, Galloway wasn't able to display a consistent perimeter shot. He made just 6-of-33 attempts (18 percent) from long range and wasn't a threat from midrange, either. For a team that struggled to consistently shoot the ball, Galloway didn't provide much aid.
Opponents were able to sag off Galloway on the perimeter and shadow him a few steps inside the arc, making it more difficult to drive into the lane. But while Galloway isn't extraordinarily quick or a lockdown defender yet, he showed explosiveness and creativity at the rim.
When Miller was fired at the end of the season, there was never a doubt that Galloway would leave the Hoosiers. The same day that Miller was relieved of his duties, Galloway made it public that he was a Hoosier through and through and would be staying at IU.
Bottom Line: Galloway's freshman campaign started off promising, but faded as the season went on. With guards Parker Stewart, Xavier Johnson and Tamar Bates being added to the rotation next season, Galloway will have to fight for minutes. Galloway has value as a creator, but his inability to shoot makes him more difficult to fit in the four-out/one-in offense that Mike Woodson wants to run. In the offseason, Galloway will have to continue working on his shot, as well as become a more reliable defender. His intangibles, coupled with a year of experience, though, could allow him to positively impact the game for the Hoosiers and surprise more next season.
Quotable: "He is a terrific playmaker and is as good of a playmaker, especially at his age, in this type of competition. He is fearless in terms of putting the ball on the floor, getting in places, and being able to get out to people." – Archie Miller on Trey Galloway after the game against Penn State.
Filed to: Trey Galloway