The Trey Galloway effect and how it's already leaving a mark at Indiana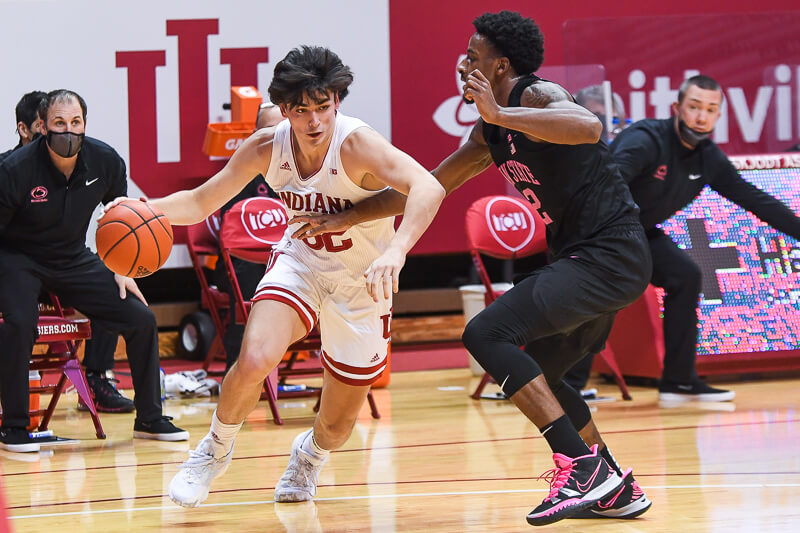 Trey Galloway wasn't ready to return to the bus yet. The game was over, but it wasn't time to leave.
It was late February of Galloway's senior season at Culver Academies and he'd just scored 15 points, grabbed six rebounds and dished out five assists while swiping four steals in Culver's 78-34 blowout win at Maconaquah.
Culver's varsity team, coached by Galloway's father Mark, was in the middle of what would end up being a 15-game win streak. Galloway had inked his National Letter of Intent to Indiana University a few months earlier. And like many other IU-bound players, it wasn't uncommon for fans young and old to stop Galloway after his high school games.
That's how it was following Culver's stomping of Maconaquah. One cheerleader brought her sister, who had special needs, to talk to Galloway. As usual, he stayed and eagerly talked. And, as usual, they had a picture snapped. But it wasn't just a quick interaction.
"Trey probably spent five, ten minutes after the game talking to them," Culver athletic trainer Dan Cowell said. "Like getting to know them. Asking about them. It was more about 'how are you?'"
That's the Galloway that people at Culver came to know. He used to have lively chats with Culver assistant coach Blaine Schafer. Galloway would ask Schafer about his life and make sure he was doing alright. Then Galloway would share a few moments about his own life. This was how Schafer saw him interact with everyone.
"You were always his friend," Schafer said. "You always had a conversation that he loved to have with you. It was never just a 'hey coach, what's up?'"
During the various rounds of the state tournaments, Galloway ensured that everyone had a chance to cut down the net. In the postgame locker room, he'd try to get everyone dancing. Following some games, he'd talk with opposing players about how to navigate the recruiting process. After Galloway would rattle off another dazzling performance, he'd step onto the bus and ask Cowell if he'd gotten a slice of pizza and a drink for the ride home.
"It was honestly something that he did on a daily basis," Schafer said. "It was his life. That's just who he was as a person."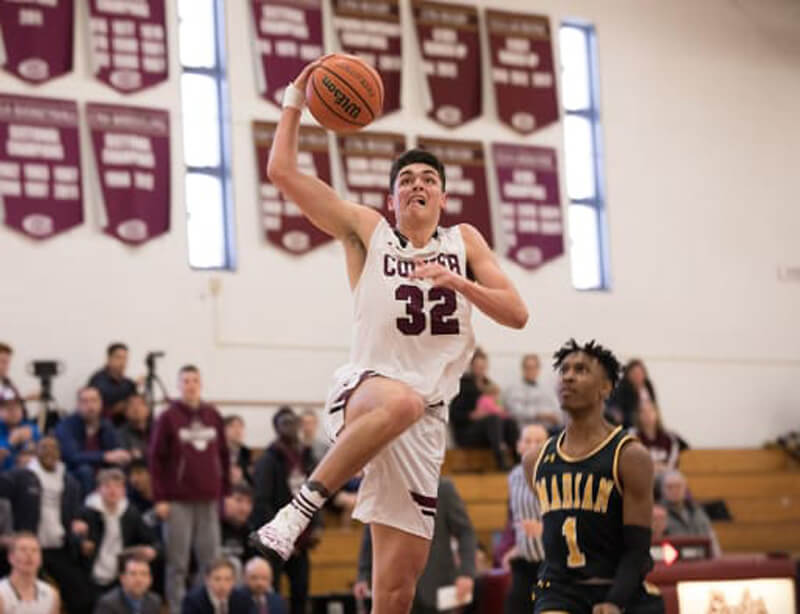 Now, Galloway is in his freshman season at Indiana where he's made an instant impact for the Hoosiers. He's averaging 4.9 points, 2.1 rebounds and 2.1 assists per game and has proved to be one of Indiana's most creative distributors. He often poetically dodges his way down the baseline, hangs in the air and flings the ball out to an open shooter while his shaggy hair flows behind him.
He's also added a variety of intangible traits. There are frequent moments where Galloway is diving on the floor for a loose ball or tumbling on his backside in an attempt to take a charge. Against Northwestern, Galloway went flying into the scorer's table in an attempt to run down the ball, resulting in a resounding thud. It's not surprising then to learn that Galloway is a fan of Rocky Balboa.
"The ultimate competitor," IU head coach Archie Miller said about Galloway last November. "He's that guy you want to be in an alley with if something goes down. He's ready to go at all times."
Cowell saw the same out of Galloway years before he was at IU. When Galloway was in elementary and middle school, he used to join his father in Culver's faculty basketball games on Monday nights.
Cowell was usually matched up with the young Galloway and would give him advice. He pointed out defensive rotations, how to anticipate screens and create space on offense. Galloway soaked it all in. To Cowell's surprise, Galloway was as curious about defense as he was about offense.
Eventually, Galloway made his way to Culver where he earned a spot on the varsity team as a freshman. He averaged better than 10 points, three rebounds and two assists per game, but Schafer said it was his defensive abilities that he leaned on more than anything.
"I think Trey took pride in shutting down the opponent's best player," Schafer said.
Over the next two years, Galloway's game kept steadily growing. He helped lead Culver to a Class 3A state championship in his sophomore season. There was a dance circle in the locker room to celebrate. The following year, he put up 16.2 points, 6.4 rebounds and 3.6 assists per game while garnering attention from Indiana, Notre Dame and Purdue, among others.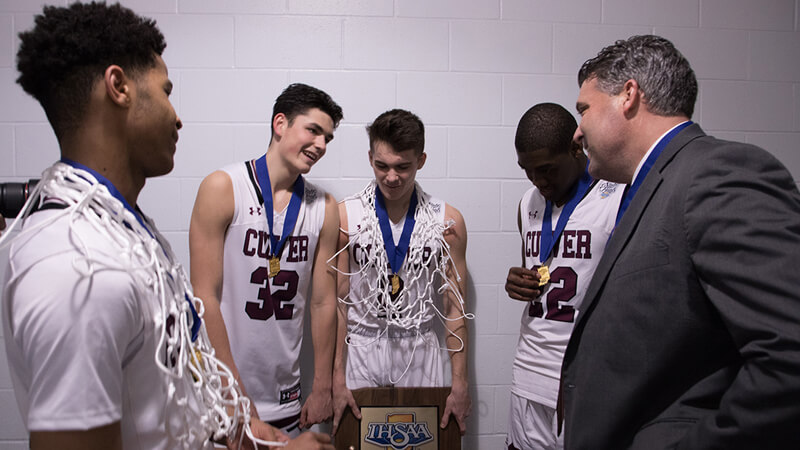 The summer before his senior year, Galloway decided on IU. His senior season was shaping up to be his best yet, but in the fourth game of the year, he landed awkwardly on a dunk and hurt his wrist. He'd dealt with wrist troubles in the past, too.
This is where Cowell pauses, thinking about how to choose his words as he transports back to the weeks of recovery that he helped Galloway through.
"He was easy to work with in some ways and hard to work with in others," Cowell.
As soon as classes ended, Galloway would rush to get treatment at 3:15 pm every day, even though practice didn't start until 4 pm. He stayed late to put more heat or ice on his wrist. He did everything Cowell asked. That was the easy part.
The other part?
"The caution for me was always knowing that if you let him go, he'd go balls out on the court," Cowell said.
Galloway was constantly asking if he could play. "I need to go out and shoot," he'd say. Galloway ran sprints with the team even with the ailing wrist. He was in the gym after practice putting up close-range shots.
That was Galloway's nature even before the injury. He was in the gym shooting with the machine after practice. He frequently took charges and dove on the floor during practice. It didn't matter what the drill was.
"Oh yeah coach, I'm good," Galloway would usually say as he popped up.
There were times when he'd grimace, but that was it. After the injury, the coaching staff had to tell Galloway to dial it back or skip a drill.
"You either have to sit him down or that's the way he's going to play," Schafer said, "It wasn't just when the lights turned on. It was every single day, every single drill."
After being sidelined for three weeks, Galloway made his return. Later in the season against Warsaw, a chant of "overrated" started in unison from the opposing fans after Galloway missed a couple of shots. Cowell recalls Galloway responding by hitting three 3-pointers and throwing down a dunk.
"All of the sudden the crowd was like 'oh crap, we shouldn't have said that,'" Cowell said. "He didn't get mad. He was just like 'ok, time to get going and he stepped up.'"
Later, Galloway put up a 35-point performance, willing Culver to a three-point victory over Crispus Attucks. After the game, Galloway's face was red and dripping with sweat when he turned to Cowell: "Coach, can I get a Gatorade."
Galloway expected the same level of effort out of his teammates. One time during the first half of a game, one of his teammates was struggling. Galloway offered positive motivation and reminded him with a message of: "You're capable of more. You're better than this. Let's get after it," Cowell remembers. That teammate went off in the second half and it turned the tide for the team.
Galloway's high school career was cut short after three victories in the state tournament due to the COVID-19 pandemic. He finished the season averaging 20.9 points and better than five assists and five rebounds per game.
This season at Indiana, it didn't take Galloway long to formally introduce himself on the hardwood. In the first game against Tennessee Tech, he contributed 13 points, two rebounds and two assists in just 19 minutes of action. In the following month, he became an energizer bunny off the bench.
"Just bringing that fire to the court and kind of just picking up the guys," Galloway said. "I feel like I can bring that to the table and really be that fire guy and keep us together when things are going rough."
Galloway earned Miller's trust and was inserted into the starting lineup before the game against Illinois in late December. Galloway rewarded the decision in the following contest against Penn State when he scored 10 points along with five assists and four rebounds in the overtime victory.
"He is a terrific playmaker and is as good of a playmaker, especially at his age, in this type of competition," Miller said after the win over Penn State. "He is fearless in terms of putting the ball on the floor, getting in places, and being able to get out to people."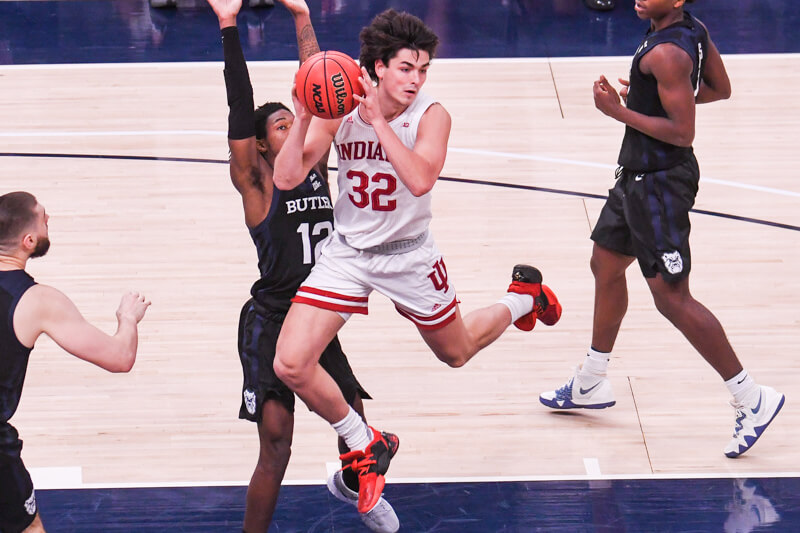 Galloway has made the same impression on his teammates at Indiana as he did at Culver. He's contributing to a team chemistry that Miller and other players have constantly highlighted. He's continued his locker room dancing, too.
"Trey is a great teammate and an even better person," Trayce Jackson-Davis said. "He always brings energy in the locker room. He's always goofing around off of the court."
Galloway is still young. When he talks at press conferences he's soft-spoken. There are moments this season where he has turned the ball over in bunches and he hasn't quite nailed down a consistent outside shot.
But he still has another three years to keep improving, just as he did at Culver. As it appears right now, this is just the beginning.
Then, having talked plenty, Cowell posed a question of his own. It was about the hard-nosed, floor-diving, kind-hearted Trey Galloway he's come to know over the years.
"It's refreshing, isn't it?"
Filed to: Trey Galloway