That's A Wrap: Anthony Leal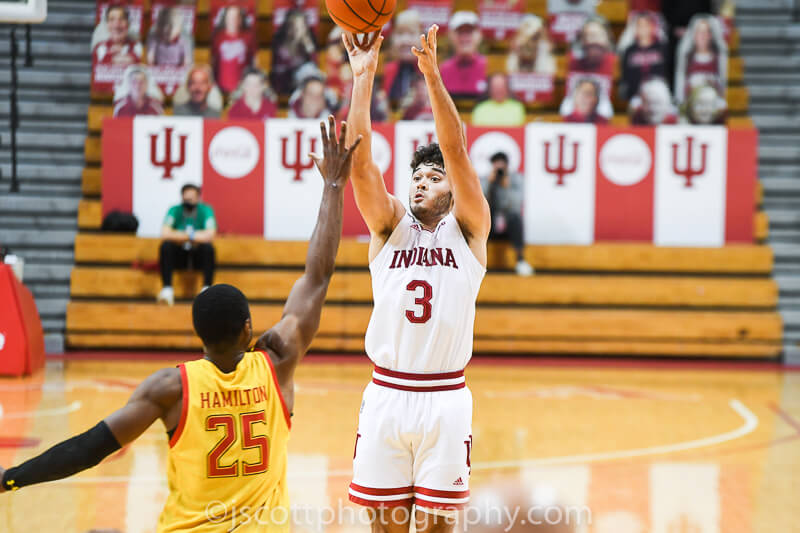 Welcome to "That's A Wrap," our player-by-player recap of the 2020-2021 Indiana Hoosiers. Up first: Anthony Leal.
Leal (20 games): 1.6 ppg, 1.4 rpg, 1 apg, 31.3 FG%, 30 3PFG% in 11.6 minutes per game.
One of the unfortunate byproducts of this season's truncated schedule was the loss of guarantee games to get experience for Indiana's young players.
Rather than the typical schedule that features four to six "buy" games against lesser opponents, the COVID-19 pandemic reduced the number of regular-season games from 31 to 27.
Given that Indiana already had commitments to play in the Maui Invitational, Crossroads Classic and Big Ten-ACC Challenge, the schedule changes meant the Hoosiers could only schedule a pair of low major opponents in Tennessee Tech and North Alabama.
As a result, there was little opportunity for Bloomington South product Anthony Leal to gain valuable experience early in the season before the competition level increased significantly.
Leal, a 6-foot-5 guard who won the 2020 Mr. Basketball award, was known in high school for his perimeter shooting prowess. As a senior at South, Leal averaged 18.2 points per game and led the Panthers to a 26-0 record.
Shortly after Leal inked his National Letter of Intent with the Hoosiers in November of 2019, Archie Miller lauded his shooting ability and his fit with the IU roster.
"Great motor, awesome worker, fantastic student," Miller told Don Fischer on his weekly radio show. "Can shoot the three. He's a big guard, and with the way we're playing in transition and what we're doing off the ball, he kind of really fits in system-wise. He's a competitor, he really competes."
Leal's first points in an IU uniform came six games into the season when he knocked down a 3-pointer in an 87-52 win over North Alabama at Simon Skjodt Assembly Hall.
He didn't score again until arguably his best performance of the season on Jan. 7 at the Kohl Center. Leal logged 35 minutes in an 80-73 double-overtime loss to Wisconsin, scoring nine points and knocking down three of his six 3-point attempts. In addition to the hot 3-point shooting in that performance, Leal played stellar post defense against Wisconsin's frontcourt on several occasions.
Over Indiana's final 15 games over the season, Leal totaled just 19 points and in the team's final eight games, he didn't log double-figure minutes once. Given the fact that shooters typically thrive with consistent opportunity, it shouldn't be surprising that Leal never really found his groove in his freshman season.
In a total of 20 games, Leal operated almost exclusively from the perimeter offensively. He attempted a total of 32 shots as a freshman with 30 of those coming from behind the 3-point arc. In Big Ten play, he made eight of his 25 attempts from behind the arc.
At the conclusion of the regular season which culminated in the dismissal of Miller, Leal quickly announced that he would remain a part of the program even before the hiring of Mike Woodson.
Bottom Line: Since last season was "free" from an eligibility standpoint, Leal still has four more seasons and will now have a fresh start under the new coaching staff at Indiana. He often seemed to lack the confidence to take shots as a freshman and frequently passed on open looks while spreading the ball around to teammates.
At 6-foot-5, Leal has excellent size for a guard and his shooting mechanics are very good. The arrival of Parker Stewart and Xavier Johnson could make it difficult for him to carve out a major role next season, but if he can begin to make perimeter shots consistently, there's always a role for a shooter.
Quotable: "It's actually been fairly straight forward. I got a lot of defensive work from my high school team and our coaches there. They really prepared us and scouted just like we scout for college games here. I feel like I'm pretty prepared in terms of the fundamentals and knowing where I need to be. It's just a matter of continuing to get stronger and faster for me because I feel like I have most of the other stuff down in terms of being where I have to be and doing the right thing." Leal to reporters in early January when asked about the adjustments he's had to make defensively in college.
Filed to: Anthony Leal