That's A Wrap: Team Offense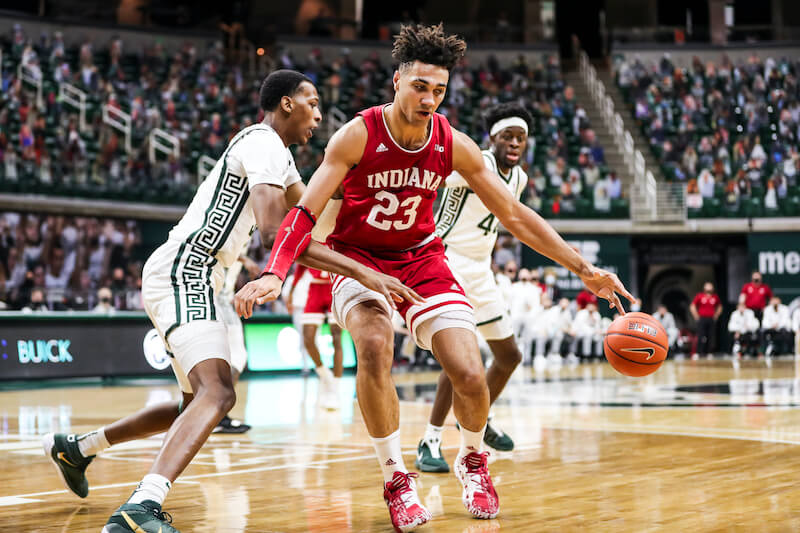 Welcome to "That's A Wrap," our recap of the 2020-2021 Indiana Hoosiers. Today, we look at the IU offense.
Previously: Anthony Leal, Trey Galloway, Jordan Geronimo, Khristian Lander, Armaan Franklin, Trayce Jackson-Davis, Rob Phinisee, Jerome Hunter, Race Thompson, Al Durham Jr., Archie Miller
Team Offense (27 games): Adjusted Efficiency: 109.1 (70th), eFG%: 48.5 (243rd), TO%: 17.2 (87th), 3PFG%: 32.4 (236th), 2PFG%: 48.5 (225th), FT%: 66.5 (300), FTA/FGA: 41.5% (8th), OR%: 25.5 (241)
After exhibiting some improvement in Archie Miller's third season, Indiana's offense took a step back in his fourth and final season in Bloomington.
In the offseason, there was talk of a new-look offense that would space the floor better using perimeter players around Trayce Jackson-Davis or Joey Brunk and utilize far more ball screens.
"I think once Khristian (Lander) joined the floor, it was inevitable we were going to have to play Rob (Phinisee) and Khristian and Al (Durham) together," Miller said last summer. "I don't necessarily know whether that combo works the best or the most, but it's going to give our perimeter guys way more opportunities to get out there and play more of a three-headed monster, three-guard lineup."
Justin Smith's decision to transfer to Arkansas gave Miller a chance to make a reset in terms of his lineups and rotation after playing Smith at the three, a detriment to the program's floor spacing.
There was also talk of moving Phinisee off the ball at times with the arrival of Lander, a five-star point guard with the ability to create for himself and others.
But by the time the meat of the schedule rolled around, it was clear that the offseason talk of a new look was nothing more than conjecture.
A preseason back injury for Brunk took him out for the entire season, which promoted Race Thompson to the starting lineup. And when Indiana's season tipped off in late November, the Hoosiers went with three guards – Phinisee, Durham and Armaan Franklin – along with Thompson and Jackson-Davis.
While the three-guard set did mark a change from the previous season in which the Hoosiers trotted out Brunk, Jackson-Davis and Smith with two guards, going with two traditional bigs without allowing them the freedom to make plays on the perimeter kept Indiana predictable on offense.
The bread-and-butter for Indiana's offense remained getting the ball into the paint and drawing fouls. Jackson-Davis produced an All-America caliber season, averaging 19.1 points and nine rebounds in 34.3 minutes per game.
And before his injuries, Franklin gave Indiana a guard capable of carrying the team offensively, as evidenced by 23 point outburst in an early-season loss at Illinois.
But outside of its ability to draw fouls – the Hoosiers ranked eighth in the country in free throw rate (FTA/FGA) – and improvement in terms of taking care of the ball, the rest of the offensive profile showed regression.
The primary strength of the offense, getting to the line, was negated because Indiana couldn't make free throws reliably. The Hoosiers shot 66.5 percent from the stripe for the season, which ranked 300th nationally. In Big Ten play, Indiana's 67.6 percent mark from the line was third-worst in the conference.
Indiana's 3-point shooting percentage dropped slightly from 32.6 percent in the 2019-20 season to 32.4 percent last season. Its 2-point shooting percentage dropped from 49.5 percent in the 2019-20 season to 48.5 percent last season.
After emphasizing the offensive glass in the 2019-20 campaign, the Hoosiers were agnostic to crashing the boards in year four of the Miller era. After ranking 44th in the country in offensive rebounding percentage (32.4) in the 2019-20 campaign, Indiana plummeted to 241st (25.5 percent) last season.
With little to fall back on besides the production of Jackson-Davis, Indiana's offensive performances ebbed and flowed with its guard play. Thompson did show improvement but struggled to capitalize on his primary strength of drawing fouls and getting to the line.
Phinisee and Durham were up and down for most of the season and Lander never really got off the ground in terms of establishing himself in the rotation. Franklin was Indiana's most reliable producer in the backcourt before his injury in the Maryland win on Jan. 4, but he was never the same after the injury setbacks continued to pile up.
Freshman guard Trey Galloway started seven of the team's 27 games, but shot just 6-of-33 on 3-pointers. Freshman Anthony Leal, a steady shooter as a high school player, made just 9-of-30 from distance.
By the final stretch of the season, Indiana's confidence began to dwindle and a 78-71 loss at home to Michigan State was the first of six straight losses to finish the season. In the five games that followed the loss to the Spartans, Indiana's offensive production cratered. Its confidence, which came and went for a large part of the conference season, was gone. The Hoosiers only broke 60 points once in its final five losses and didn't score more than .897 points per possession.
Indiana's final game of the season, a 61-50 loss to Rutgers in the Big Ten tournament at Lucas Oil Stadium, featured some of its worst offensive numbers of the season. Indiana scored .791 points per possession, its second-worst output of the season. It shot a dreadful 47.5 percent on 2s, 12.5 percent on 2s and 40 percent from the free throw line.
It was the final game of Miller's tenure in Bloomington, an end to an uninspiring tenure that was defined by a middling offense that was often painful to watch.
Bottom Line: There were bright spots for Indiana offensively last season like Jackson-Davis, Franklin's play before the injuries, the improvement of Thompson and Durham's 3-point shooting, but its inability to establish identity was a big reason the team underachieved. Shooting is a must-have in today's college game and Indiana simply didn't have enough of it in any of Miller's four seasons. As opponents grew more comfortable with the fact that Indiana wasn't going to make them pay from distance, they became far more effective at taking away its primary strength of feeding the ball to Jackson-Davis in the post. One of the biggest challenges for Mike Woodson in his first season next winter will be figuring out a way to maximize Jackson-Davis and that task starts with being able to space the floor far more effectively.
Quotable: "We got gassed and they took advantage of that opportunity there, but there weren't very many clean ones. And then the clean ones that we did get we didn't convert, whether it was an easy layup, baseline finishing around the rim was tough. And then the free throw line, obviously late in the game the two-possession game there six to eight minutes to go. I think we go two-for-eight down that stretch, or whatever it may have been." – Miller after Indiana's 50-point output in its season-ending loss to Rutgers in Indianapolis.
Filed to: