That's A Wrap: Rob Phinisee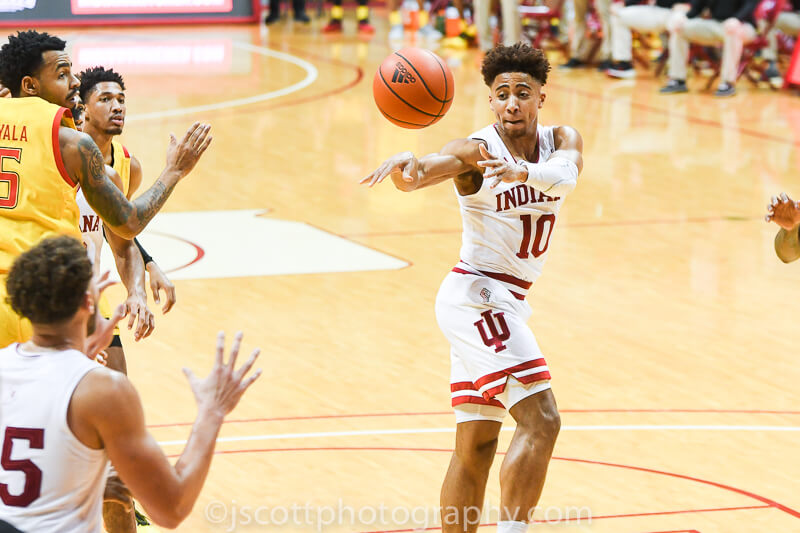 Welcome to "That's A Wrap," our player-by-player recap of the 2020-2021 Indiana Hoosiers. Today: Rob Phinisee.
Phinisee (27 games): 7.1 ppg, 2.9 apg, 2.3 rpg, .8 spg, 34.7% FG, 26% 3PFG, 63.8% FT in 27 minutes per game.
Previously: Anthony Leal, Trey Galloway, Jordan Geronimo, Khristian Lander, Armaan Franklin, Trayce Jackson-Davis
As a four-star recruit out of McCutcheon in the class of 2018, it didn't take Rob Phinisee long to make an impact in Bloomington.
As a freshman, Phinisee started 24 games and earned the "Big Shot Rob" nickname with his buzzer-beater that propelled the Hoosiers past Butler at Bankers Life Fieldhouse in the Crossroads Classic. But just seven days later, Phinisee was hit in the head in a win over Central Arkansas and had to enter concussion protocol. That setback forced him to miss three straight games and he scored in double figures in just four of Indiana's final 20 games.
His sophomore season was also marred by injuries. Before the start of the season, Phinisee was slowed by a lower abdominal injury. He started the 2019-20 season coming off the bench and it didn't take long for him to start missing games. Phinisee missed an early season game against Troy due to strep throat and then missed four straight games from Nov. 25-Dec. 7 with an ankle injury.
Phinisee's junior campaign began with optimism as he spoke late in the summer about his improving health and a fresh outlook after the abrupt ending of his sophomore season due to the COVID-19 pandemic.
"I feel so much better," he said last July. "Honestly, this wasn't how we wanted to end the (2019-20) season, but it really helped my body just have the time off. I feel like this is the best I've felt in a while."
While there were bright spots for Phinisee as a junior, his third collegiate season was arguably his worst from an efficiency standpoint. He posted career lows in 3-point shooting and free throw percentage and his assist rate fell seven percent from his sophomore season. His offensive rating was the lowest of his career at 89.8.
The high points for Phinisee came in a pair of wins on the road in conference play. He scored 18 points and made three of his six 3-point attempts in an 84-76 win at Nebraska on Jan. 10. And in IU's 81-69 upset win at Iowa on Jan. 21, he again scored 18 points and hit four of his seven 3-point attempts. His defense against Jordan Bohannon, who went scoreless, was a major reason the Hoosiers were able to win comfortably.
After showing great promise at times in his first two seasons as a defender, Phinisee's confidence seemed to come and go in his third season and it had an impact on his defense. New assistant coach Dane Fife said recently that a major reason Michigan State was able to beat Indiana twice this past season was that Phinisee didn't play the "ball-hawking" defense that he did against the Spartans the previous two seasons.
The finish to Phinisee's junior season was arguably his worst stretch of basketball as a Hoosier. Over Indiana's final six games – all losses – he shot 4-of-26 on 3-pointers. His confidence, like most of Indiana's team, had cratered by that point as Archie Miller's message had seemingly missed the mark in the locker room.
At the conclusion of the season, Miller was dismissed, but Phinisee's commitment to remain a Hoosier appears to be steadfast. He didn't enter the NCAA transfer portal and has been highly visible in all of the content released by IU on social media this offseason. And Fife has already talked up his importance to the program moving forward by exclaiming that the Hoosiers have "gotta get him back" in terms of his defensive prowess.
Bottom Line: Phinisee's struggles last season were difficult to watch and his lack of confidence is one of the biggest failures of Miller's tenure as IU's coach. Phinisee came to Bloomington as a highly productive and successful player from McCutcheon. But three years into his career, he hasn't progressed to the level of player many believed possible. The Hoosiers are bringing in Pittsburgh transfer Xavier Johnson and are also returning Khristian Lander, who could challenge for minutes in the backcourt. Ultimately, if Phinisee gets back to being the defender that he showed early in his career at IU, he'll remain a key cog in the guard rotation and it sounds like he already has a major advocate on the coaching staff in Fife, who called him the "best defender in the Big Ten."
Quotable: "I lasted four years with crappy offense and still played a lot of minutes and it worked out for me in the end. I got a little offensive confidence. My personal story is a lot like Phinisee's. Defense is his niche, and he can make money doing it if he really puts his mind to it. He will get confidence through good defense, as well." – Fife on Phinisee in mid-April.
Filed to: Robert Phinisee