That's A Wrap: Trayce Jackson-Davis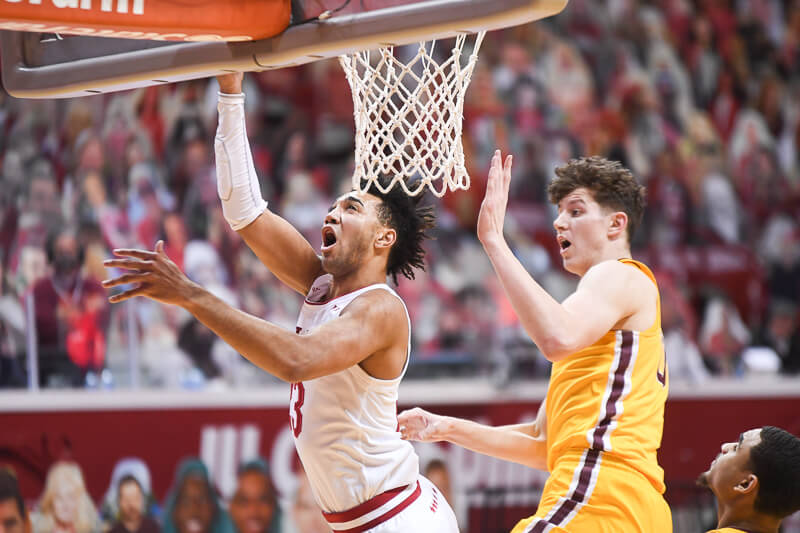 Welcome to "That's A Wrap," our player-by-player recap of the 2020-2021 Indiana Hoosiers. Today: Trayce Jackson-Davis.
Jackson-Davis (27 games): 19.1 ppg, 9.0 rpg, 1.4 apg, 1.4 bpg, 51.7% FG, 65.5% FT in 34.3 minutes per game.
Previously: Anthony Leal, Trey Galloway, Jordan Geronimo, Khristian Lander, Armaan Franklin
By most accounts, Trayce Jackson-Davis had a stellar sophomore season. Indiana's big man averaged a near double-double (19.1 points, 9.0 rebounds). He was durable, playing and starting in all 27 of Indiana's contests. Early in the season, he consistently ranked in the top five of KenPom's national player of the year standings.
The lefty's ability to make a quick move for a spin and score in the post was sometimes unstoppable. Jackson-Davis could also face up and take defenders to the bucket as well. Additionally, the Center Grove product was one of the best in the country at getting to the line. His fouls drawn per 40 minutes (7.2) ranked tenth in the country. His free throw rate (64.7) ranked 21st. And despite playing so many minutes, Jackson-Davis rarely found himself in foul trouble.
He was Indiana's go-to player, using the most possessions (29.7 percent) and taking the most shots (28.3 percent) on the team.
When he had it all going, Jackson-Davis was about as dominant as it comes in college basketball. After getting stomped by Texas in the Maui Invitational, the Hoosiers returned the next day to take on Stanford. In a 79-63 bounce-back win, Jackson-Davis was unstoppable, scoring 32 points on 10-of-16 shooting while adding an 11-of-14 performance at the line.
In Big Ten play, the sophomore's high mark came against Michigan State on Feb. 20. The Spartans decided not to double the post and Jackson-Davis feasted. He scored a career-high 34 points (11-of-18 from the floor, 11-of-14 from the line) to go along with seven rebounds and two blocks. But Indiana lost the contest 78-71. That was partly because its defense fell apart, especially in the second half. But the rest of Indiana's offense collectively struggled to shoot, going just 4-of-19 from 3-point range.
Other times in Big Ten play, though, Jackson-Davis would be aggressively fronted and double-teamed and the results were mixed. Nebraska held him to just eight field-goal attempts on Jan. 10. Northwestern harassed him into only 10 points on Feb. 10. Ohio State tried similar tactics the next game out on Feb. 13, but a quicker, more decisive navigated his way to 23 points on 10-of-14 shooting.
As the Big Ten season went along, one thing became clear: His biggest weakness was creating and scoring against length. Long post defenders really gave him problems. Though Jackson-Davis scored a combined 53 points in three contests against the Scarlet Knights, the 6-foot-11 Myles Johnson was a particularly strong nemesis. Big Ten Freshman of the Year Hunter Dickinson stands at 7-1 and helped hold Jackson-Davis to just 3-of-12 shooting and 10 points in a Feb. 27 loss to Michigan. And perhaps most surprising, after torching Michigan State on Feb. 20, the rematch was a much different result. The Spartans chose to single cover Jackson-Davis once again, but the 6-foot-11 Marcus Bingham Jr.'s length proved problematic and Michigan State was able to deny him the ball with aggressive fronting as well. It led to his worst game of the season, a 1-of-5, nine-point performance in a game he was also saddled with foul trouble.
He looked rushed and out of sorts against these types of defenders, particularly at the beginning of contests. If they weren't blocked outright, shots would careen awkwardly against the backboard, never hitting the rim. And without a reliable jumper or much to show as roll man out of the pick-and-roll, defenses could key in on stopping Jackson-Davis in the post, knowing that's pretty much the only place his bread was buttered this season. It also didn't help that Indiana's perimeter shooting cratered at the end of the season, allowing teams to feel more emboldened to key in on Jackson-Davis.
Bottom Line: For his strong sophomore season, Jackson-Davis earned a first-team all-conference selection by the media, and a second-team selection by Big Ten coaches. On a thin front line due to the absence of Joey Brunk, he, along with Race Thompson, more than held their own. The Center Grove product was a double-double machine. But Jackson-Davis barely registered on NBA draft boards. He needs a jumper, a right hand and more overall versatility to get into the NBA, something new coach Mike Woodson appears to be making a priority after Jackson-Davis surprisingly announced his return to the team on April 2.
Quotable: "I want to get Indiana basketball back on track. That why I came back. I believe in the tradition. I believe what we have here is something special, and I want to be one of the reasons why. I don't want to be someone who ran away when it was tough." – Jackson-Davis in a press conference announcing his return for a junior season
Filed to: Trayce Jackson-Davis