That's A Wrap: Archie Miller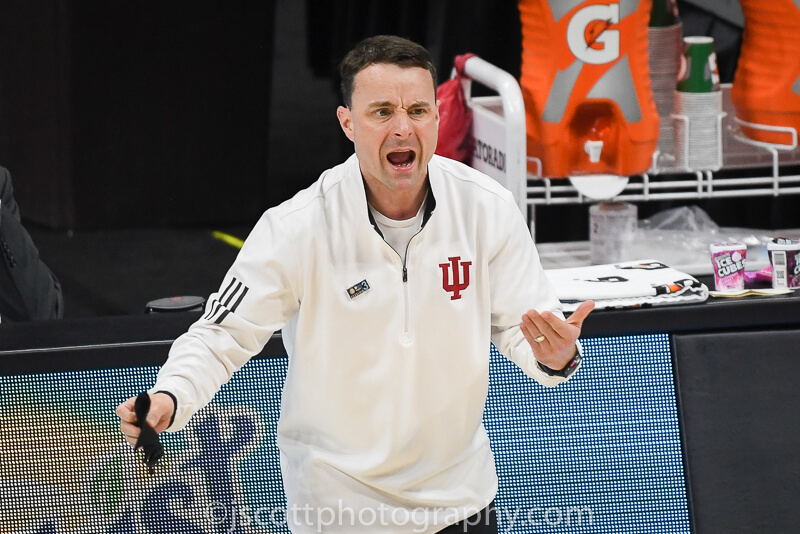 Welcome to "That's A Wrap," our recap of the 2020-2021 Indiana Hoosiers. Today, we look at Archie Miller.
Previously: Anthony Leal, Trey Galloway, Jordan Geronimo, Khristian Lander, Armaan Franklin, Trayce Jackson-Davis, Rob Phinisee, Jerome Hunter, Race Thompson, Al Durham Jr.
It may be hard to remember now, but Archie Miller's start to the 2020-2021 campaign showed promise.
His team finished 5-2 in non-conference play. The seven-game slate ranked in the top 50 nationally and tops in the Big Ten, as the Hoosiers played five high-major opponents. Outside the blowout loss to Texas, Indiana's two-point overtime defeat against Florida State on the road was the only other blemish. The Seminoles eventually made it to this season's Sweet 16. Most impressive was the Hoosiers' defense. After holding all seven opponents to under a point per possession, it ranked No. 8 nationally per KenPon heading into Big Ten play. Miller's pack line defense looked stout, its promise coming to fruition. Trayce Jackson-Davis dominated. Armaan Franklin emerged as a reliable, high-level scorer.
It wasn't all great. The 3-point and free throw shooting were shaky. But this looked like a team NCAA tournament bound, building upon last season's likely berth, even if they weren't going to compete for a conference title and had their weaknesses.
But then Big Ten season came. And Miller's team stumbled to another sub-.500 season (7-12) in league play. Both sides of the ball had major issues. It was Miller's third straight season under .500 after finishing his first at 9-9. What do you get when you add Miller's four seasons to Tom Crean's final go-around in Bloomington, another sub-.500 conference campaign? The program's first five-season stretch since 1914-1919 that it didn't finish above .500 in league play.
Indiana's first conference game of the season, a loss at home to Northwestern, was a sign of things to come and a microcosm of the Miller era. Northwestern's 5-out offensive style spread out the pack line, turning the Hoosiers into individual defenders. From there, the Wildcats beat Indiana off the perimeter and exploited mismatches. Indiana failed to communicate well and got down by 15 in the first half. The Wildcats carved them up to the tune of 1.10 points per possession and 67.7 percent shooting on 2s, as easy looks turned into buckets. It was another home loss in a tenure that had far too many.
Miller's pack line defense could work well against non-conference opponents that didn't know the team well. And in-conference teams like Iowa that relied more on ball moment and shooting than driving, dishing and pure athleticism, also could be stopped by the Hoosiers. But spread Indiana out, turn the Hoosiers into individual defenders, break them down at the point of attack? It was usually curtains. It was also a defensive style that was susceptible to 3-point shooting, a larger part of the modern game. Indiana finished near the bottom of the conference in 3-point shooting defense during Miller's four seasons at the helm (9th, 11th, 10th and 13th).
Everyone knew Indiana's defensive identity under Miller. Problem was, it just didn't get the job done consistently, especially in conference. Outside of his first season, when the Hoosiers finished fourth in defensive efficiency, the final three years were bleak, as they finished 11th, 12th and 12th, respectively.
On offense, Indiana's shooting in year four of the Miller era looked like it had turned a corner. After a 7-of-12 mark from deep against Minnesota on Feb. 17, the Hoosiers climbed into the top 100 nationally in 3-point shooting. But over the team's final six games, all losses, the 3-point shooting absolutely cratered. In the last four games it was particularly pitiful (13-of-74, 17.5 percent). Indiana finished the season 236th nationally (32.4 percent) in 3-point shooting. Energy from made shots can translate to increased effort on the defensive end, but Indiana's offense did itself no favors in this department.
Indiana's outside shooting under Miller was poor. The team consistently lacked confidence. It was a program that often seemed to be playing with one eye over its shoulder, one feeling the pressure of the moment. Freedom, joy and happiness on the court seemed short-lived, if they ever came at all.
Beyond the outside shooting, Indiana never got it together at the free-throw line, either. Whether this season (66.5 percent, 300th nationally) or in Miller's first three (65.7 percent, 331st nationally; 65.5 percent, 328th nationally; 67.9 percent, 271st nationally), it was never good. This hindered one of Miller's top goals on offense, getting to the line a lot, especially with his big men. Indiana's free throw rate was 8th in the country this season, as Jackson-Davis (21st) and Race Thompson (15th) had some of the highest free throw rates in the country. Indiana succeeded at getting the ball inside early in a possession and getting fouled, but the Hoosiers couldn't convert at a high enough clip to make it matter.
Beyond the free throw shooting, Indiana ran countless high ball screens this season. But outside Khristian Lander, who saw limited playing time and was mistake-prone, it didn't have a guard that could capitalize on the action. It also didn't possess a strong pick-and-pop or roll threat, either. So Indiana often ran set-driven offense that drained a lot of shot clock, trying to free the likes of Armaan Franklin or Al Durham Jr. off wheel action on the baseline to receive the ball near the elbow. It was often an excruciating exercise trying to free players or get an advantage in this manner. Indiana's offense was at its best when it was versatile. Jackson-Davis feasting in the post. Wheel action working. Long-range shots dropping. But this season, just like Miller's first three, the Hoosiers finished near the bottom for in-conference offensive efficiency (8th, 10th, 11th and 12th).
Just like on defense, Miller's Indiana squad had an identity on offense. But just like the pack line, Indiana getting to the line at a high clip and running wheel action just wasn't good enough in conference play. It wasn't good enough to make the NCAA tournament. And, ultimately, it wasn't good enough for Miller to keep his job.
Bottom Line: COVID-19 complications didn't help, but the fact remains that Miller never made the NCAA tournament in four seasons as head coach of the Indiana Hoosiers. He never finished above .500 in conference play. His teams could never get out of their own way, couldn't get over the hump, couldn't find a steady win streak to ride. It was all fits and starts and stops, and that eventually falls at the hands of the program's leader. While his schemes and style were clear, they didn't amount to enough success. Miller also seemed disinterested in the other facets of the Indiana basketball job: things like fan engagement or connecting to and growing the Indiana basketball legacy. The program lacked a modern social media approach and operated in a closed-off fashion.
Add it all up and new athletic director Scott Dolson knew it was time for a change.
Quotable: "I feel like we've been in the dark for a while and there wasn't any energy. There was no energy here. I feel like all of the life after the season was sucked out of us … Ever since coach Woodson got hired, I felt like it's been new positive vibes. We're just really excited to be out there, and just being part of the team and just getting to work." — Jackson-Davis during a press conference on April 2 announcing his return
Filed to: Archie Miller