Logan Duncomb: Grief, growth and a promise to 'keep going'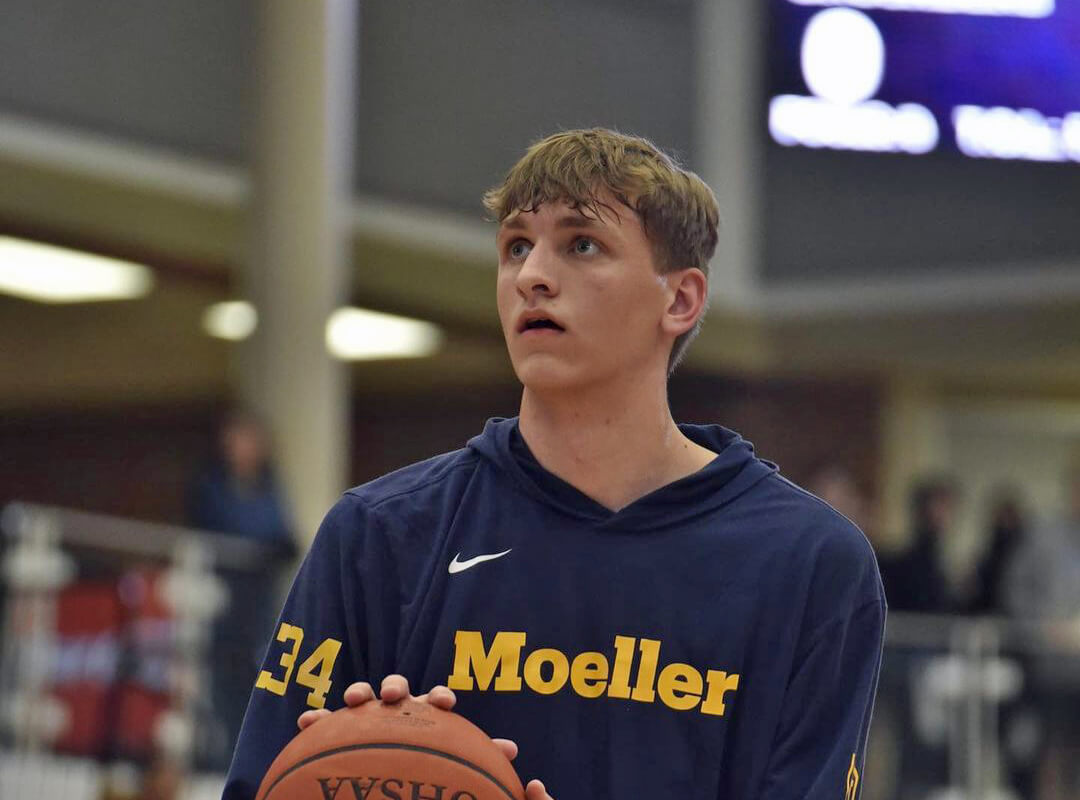 There were nights where he sat alone in his room, unable to sleep, his thoughts slipping into an alternate reality. Logan Duncomb would try flipping on a fan or turning on music, but his mind returned to a place of pain.
He'd think about his friend Michael Currin.
Logan was a sophomore at Archbishop Moeller High School when they became friends. Currin, who was a grade above Logan, became a role model. His personal motto was "Keep going." Those were the last words Currin heard from his father before he passed away from a heart attack in 2010.
But now, part of Logan wanted to pick up his phone and call his friend. He knows what he would say. He'd tell Currin that he loves him. That he's grateful for everything he taught him.
Logan knows he won't have that chance.
"(I) feel a little empty," Logan said.
Pain comes in different forms. Logan has always been able to handle physical pain. His nose is permanently curved from the estimated nine times he's broken it, although he's never been to a doctor to have it checked out. After breaking it during a basketball game in grade school, Logan went to the sideline and had it was snapped back into place. He went right back into the game.
"If I go and get it fixed, he's just going to rebreak it next week," his mother Erin said.
But this pain, the one he's felt the past few months, was different. It's part of a maturation process, the transformation from boy to man, that has been taking shape his whole life. And now, after dealing with the loss of his friend, Logan will arrive in Bloomington to play basketball for IU with a new perspective of the world.
"He (Currin) really made me look at life differently," Logan said.
Last September, Logan spent the night at a friend's house when he was awakened at 6 a.m. He was told that Currin was in a serious car accident and in critical condition at the hospital. Due to COVID-19 restrictions, Logan couldn't visit him.
Logan went home and spent most of that day in his room. He texted his teammates. He hoped he could see Currin again.
A week later, a funeral was held for Currin.
***
From a young age, Logan had a spirited personality. In elementary school, teachers sent home notes saying that he often spoke before raising his hand. Logan liked to belt out songs on car rides, especially Taylor Swift. Sometimes, he took his speaker in the shower to sing. In fourth grade, Logan had a vocal solo of "The Candy Man" in the production of Willy Wonka and the Chocolate Factory.
The real question: Does he have a good voice?
His father Brandon: "He thinks he does."
Logan: "I'm a pretty good singer."
Despite his outgoing nature, it took him a while to get comfortable around others. When Logan moved to Moeller in Cincinnati as a freshman, he was still trying to find himself and fit in at his new school.
Sometimes, his personality got him into a bit of trouble. One time, as a freshman at Moeller, Logan was pulled out of Biology class because he was talking too much. In English class, he received a note attached to his class participation grade of 85.
"This grade could be a 95 for your participation, but it could also be a 70 because of the distractions," it said.
As a sophomore, Logan was one of the only underclassmen on varsity and felt a bit intimidated. Some of the upperclassmen would pick on the younger players. Before scrimmages that year, Logan had to convince himself that he wouldn't be afraid of anyone.
That was when Logan became friends with Currin. He always talked to Logan and made him feel welcome. If Logan made a mistake, Currin would always be encouraging.
"If it was a tough day or I seemed down, he'd come over and talk to me," Logan said.
Early in his high school career, Logan wasn't overwhelmingly skilled, but he could earn playing time by putting his body on the line, a trait that was fostered during his childhood.
In grade school, Logan was known for unintentionally injuring his classmates because he couldn't quite control his gangly limbs. During soccer games, he'd give hip checks to whoever challenged him for the ball.
Logan's tenacity also grew in games of one-on-one with his father. Standing 6-feet and 8-inches tall, Brandon never let Logan win and would swat shots out of the air. Logan would stubbornly ask for a rematch.
"I knew I had to get better so I could beat his ass," Logan said.
Even when competing against his mother, Logan wouldn't let up. When he was 10, he did a quick crossover on his mother, who tumbled to the ground, her lower leg eventually turning purple. Logan had crossed her up so badly that she broke her ankle.
Since then, Logan and his mother strictly play games of HORSE.
"Lesson learned," Duncomb said.
By the end of his sophomore year, Logan was playing some of the best basketball of his career as his confidence grew. At the state championship, Logan and Currin roomed together, later capturing a state title.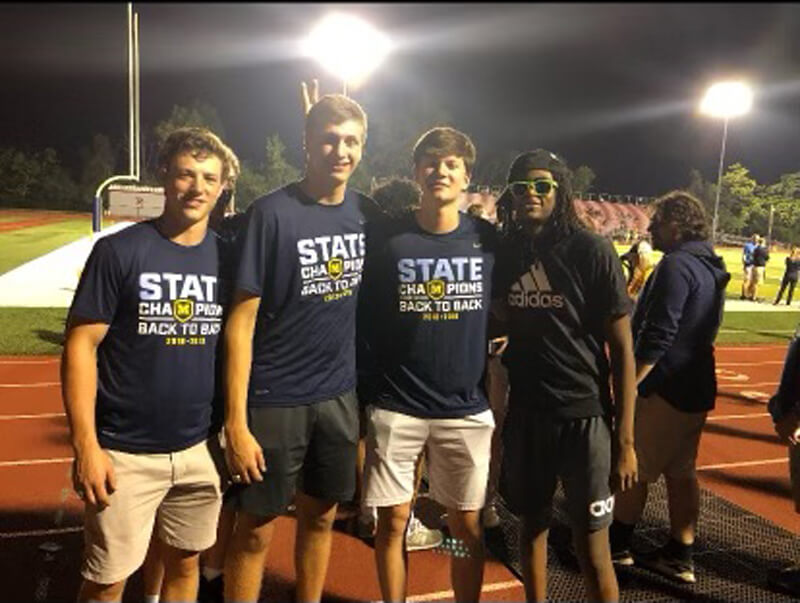 Michael Currin (far left) and Logan Duncomb (left) pose for a picture after being honored at a football game for their state championship title. – Photo courtesy of Logan Duncomb
Even though Logan and Currin didn't spend much time together outside of Moeller, they hung out at team meals. Logan rarely heard Currin cuss. He never saw Currin be rude to anyone. It later led Currin to be named the "2020 Man of Moeller," a prestigious honor given by the school.
Around Logan's sophomore year, those around him saw a change. He became more goal-oriented and conscious of when to make jokes. In the following three semesters of English with his teacher, he earned A's for his participation.
His science teacher, Daniel Shannon, noticed a more business-like mentality in class. Logan became a master of challenging theories in his AP Environmental Science class. In a class debate that year, Logan found his voice, advancing all the way to the final rounds.
"The kids knew that he was a force," Shannon said. "He kind of grew up right in front of our eyes."
As a junior, Logan's athleticism improved. He dunked on defenders and spun over his shoulder for hook shots. Coaches flocked to offer scholarships. In the spring of his junior year, Logan committed to Indiana.
Brandon didn't want to play basketball with Logan anymore. After finally beating his father in one-on-one, Logan exchanged some words that "you can't repeat in print." Now, Brandon makes excuses for his losses, saying he's injured or out of shape.
"He was just no good anymore," Logan said.
***
Logan didn't cry at first. He didn't know how to handle these emotions.
On Sept. 21, 2020, Michael Currin died. It was later reported that Currin fell off the bed of a pickup truck, suffering a blow to his head. He was on his way to pick up pizza for his friends.
He was 19 years old.
Later that day, the Moeller basketball team was called into the locker room for a meeting, where they were informed of the news. They cried and hugged. Later that day, there was a brief prayer gathering held outside at Moeller.
Logan couldn't comprehend what death meant.
"It's just a feeling that you're never going to see this kid again," Logan said. "It's permanent. You can change nothing about it."
There was a Mass the following day. The most difficult part for Logan was seeing Currin's family. He couldn't hold in tears.
"They were all so strong," Logan said. "They tried not to let it show, but you could tell it was hurting them."
In the weeks that followed, there were days that Logan could feel everything weighing on him. One day, Brandon remembers, Logan stayed home from school. Sometimes, Logan would sit in his room and think. He'd frequently meet with his friends and they'd share stories about Currin or play NBA 2K and watch movies.
Logan tried to focus on school and basketball, but he couldn't stop his mind from wandering. A video or picture of Currin would pop up on Logan's phone. He would smile.
Eventually, what gave Logan some comfort was that he knew Currin was reunited with his father. Logan thought about how grateful he was for having Currin in his life. He thought about Currin's motto: "Keep going."
It changed Logan's outlook, continuing his process of maturation.
"I just try to live like Currin," Logan said. "Just live up to his values, which was being kind to everyone. Let everyone in with an open heart."
Throughout his senior year, Logan tried to mirror Currin's character. He invited his younger teammates to gatherings. He talked to them and made them feel welcome. He tried to interact with everyone in his grade. He spent time with his friends so they didn't feel alone. If Logan saw a teammate having a bad day, he'd talk to them. In the classroom, he's near the top of his graduating class with a weighted GPA of 4.65.
Meanwhile, Logan put up some of the best statistics of his career: 13.9 points and 9.2 rebounds per game. Players wore shirts reading with "Keep going" printed across the chest. Logan wanted to win a state championship for Currin, but the team ultimately fell short. At the end of the season, Logan got emotional when talking about Currin's influence during his senior speech to the team.
Now, most days, as he gets ready to take his next step in life by attending IU, Logan feels like himself. He tries to appreciate life. He tells those close to him that he loves them more often. Last week he went to prom and sang along to the music. He danced even though he knows he can't dance. Recently, he's grown a mullet because "it makes people smile."
"Don't forget them," Logan said. "Remember them. Try to live out your life as they want you to. Live in their image."
A few weeks ago, Logan went to the beach with his friends for spring break. During the trip, a song came on and they were reminded of Currin once again.
"Over the rainbow."
Filed to: Logan Duncomb