6-Banner Sunday: Offseason storylines continue to take shape for IU basketball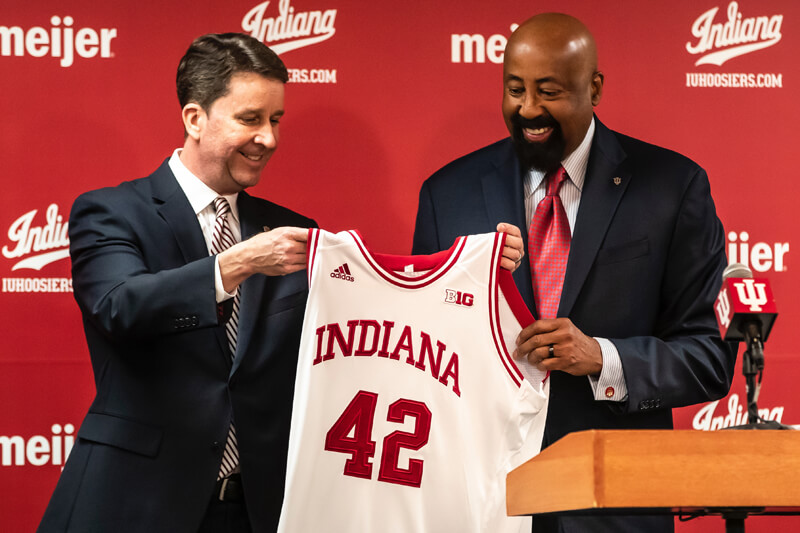 6-Banner Sunday is Inside the Hall's weekly newsletter in partnership with The Assembly Call. More than 7,500 Indiana fans receive the newsletter each week. In addition to appearing each week on the site, you can also opt to receive 6-Banner Sunday by email. A form to subscribe via email is available at the bottom of this week's 6-Banner Sunday.
Welcome to another edition of 6-Banner Sunday, a joint production between The Assembly Call and Inside the Hall where we highlight the five most essential IU basketball stories of the past week, plus take a look at how the other IU sports programs are doing.
The offseason IU basketball news has slowed down a bit after a busy couple of months.
Mike Roberts took a job as an assistant coach at Cincinnati after spending two years on the staff at IU. While Roberts is departing, Indiana confirmed the additions of Tamar Bates and Miller Kopp. Both could have an instant impact next season for Indiana.
The jersey numbers for next season's roster were also announced last week.
In the professional ranks, former Indiana guard Yogi Ferrell inked a multi-year deal with the Clippers after signing with the team mid-season.
You can listen to a special edition of Assembly Call radio here, which discussed a recent video by the IU social media team that called out fans for trolling Indiana's perceived lack of free throw practice. You can also listen to the regularly scheduled show recapping the week's news here.
Inside the Hall's Alex Bozich spoke with IU Athletic Director Scott Dolson to discuss his decision to make a coaching change this spring, the search for a new coach, the hiring of Mike Woodson and much more.
• IU officially introduces Tamar Bates, Miller Kopp to program
• Mike Roberts accepts assistant coaching position at Cincinnati
• Indiana assistant Yasir Rosemond speaks on SUVtv
• Inside the Hall continues player wrap-ups
• Indiana offers 2022 forward Kyle Filipowski
• Hoosier Roundup
Banner #1
IU officially introduces Tamar Bates, Miller Kopp to program
Indiana made the additions of Tamar Bates and Miller Kopp official after both committed to the Hoosiers two weeks ago.
Bates, a four-star shooting guard in the class of 2021, is ranked 23rd nationally, according to ESPN. More importantly, he can immediately address Indiana's inconsistent shooting. The southpaw shot 44% from deep as a junior at Piper High School in Kansas and 39% as a senior for IMG Academy.
"Tamar is a tremendous young man who will bring so much to our program," Mike Woodson said in a statement. "I think the first thing that stands out to me is that he is a winner. He brings a high level of energy on the court and is regarded as an unselfish teammate. He is an outstanding defender who makes 3-pointers at a high percentage, can attack the rim, has great vision and the awareness to make plays for others."
Kopp, who spent three seasons at Northwestern, chose Indiana over Oregon State and Utah after entering the transfer portal. The 6-foot 7-inch forward averaged 9.6 points and shot 36-percent from three during his career in Evanston.
"Miller is a veteran player with three seasons of experience as a starter in the Big Ten," Woodson said in a statement. "He is a tremendous shooter from long range who will really help us become more versatile with his ability to stretch the floor. He also is an outstanding free throw shooter who will come in and have an immediate impact."
Banner #2
Mike Roberts accepts assistant coaching position at Cincinnati
Former Indiana assistant coach Mike Roberts accepted a position on Wes Miller's staff at Cincinnati last week. Roberts previously worked for Wes Miller at UNC-Greensboro.
"I'm ecstatic about the opportunity to work with Wes Miller again and be a part of a storied UC program," Roberts said. "It took something special for me to leave my alma mater and I am forever grateful to Archie Miller, Mike Woodson and the entire Bloomington community."
Roberts spent two years as an assistant coach at IU under Archie Miller. After Archie Miller was fired this spring, Roberts was a part of the transition team while Scott Dolson searched for a new coach. When Woodson was hired, Roberts was kept on staff as in an off-court position as the assistant athletic director for basketball administration.
Roberts played for the Hoosiers from 2000-2005 and was a part of Indiana's 2002 Final Four team.
Banner #3
Indiana assistant Yasir Rosemond speaks on SUVtv
After being offered an assistant coaching job at Indiana, Yasir Rosemond said that he sat in his car and cried for 10 minutes.
"I really couldn't believe it," Rosemond said during a live interview on SUVtv.
In mid-April, Rosemond filled Indiana's final assistant coaching opening, joining Kenya Hunter and Dane Fife on Mike Woodson's staff.
Rosemond has 14 years of collegiate coaching experience, serving on the staff at Samford, Georgia, Oregon and Alabama. His most recent job was at Alabama where he spent two years working with Avery Johnson.
Rosemond said that he 's already gotten to work with the rest of the IU staff, watching live streams of AAU games in their offices.
"I'm watching mannerisms as guys go to the bench," Rosemond said. "I'm watching guys make plays. Watching them interacting with their teammates. I'm watching all of that stuff and so is Coach Woodson."
During the interview, Rosemond also compared lessons in basketball to life.
"You have to compete on the court," Rosemond said. "You have to compete in the game of life. When you get ready to get a job, you're not the only guy that's doing an interview. You're going to have to go in there and impress somebody."
Banner #4
Inside the Hall continues player wrap-ups
Inside the Hall continued its series wrapping up player performances from last season.
This week covered Trayce Jackson-Davis, Jerome Hunter, Rob Phinisee, Race Thompson and Al Durham. Out of those five players, Durham was the only one to leave the program after Archie Miller was fired, deciding to play his final year at Providence.
The other four, though, will be important pieces to Indiana's team next season. Jackson-Davis, Thompson and Phinisee were all starters last season and Hunter was a key contributor off of the bench. However, there will be a lot of competition for playing time with the addition of Tamar Bates, Xavier Johnson and Miller Kopp.
Banner #5
Indiana offers 2022 forward Kyle Filipowski
Mike Woodson met virtually with class of 2022 four-star forward Kyle Filipowski, offering a scholarship to IU. Filipowski was previously recruited by Archie Miller and his staff last year.
Standing 6-feet and 10-inches tall, Filipowski averaged 21 points, 13.2 rebounds, 5.2 assists and two blocks over a five-game stretch last season for Wilbraham and Monson Academy in Wilbraham, Massachusetts . He finished the season shooting 38 percent from three.
"Woodson said that Kyle reminds him a little bit of Steve Novak because of his size and ability to shoot the ball," Filipowski's high school coach Mike Mannix told Inside the Hall. "But what was good and what was also accurate is that the players that Coach Woodson used, he didn't say 'you're exactly this guy or exactly that guy.' He picked a couple of players and the others were Carmelo Anthony and Amar'e Stoudemire.
Mannix said "around 10" schools are regularly in contact with Filipowski and that he's planning to take visits once in-person recruiting resumes.
Banner #6
Hoosier Roundup
• Football had a player drafted.
• Baseball swept Minnesota last weekend, before splitting their first two games with Iowa this weekend.
• Softball beat Illinois and Michigan State.
• A former Hoosier Swimmer is off to the Olympics.
• Women's Soccer picked up a big time transfer.
• Water Polo fell to Cal and Stanford, before beating San Jose State.
• Women's Tennis had their season end with loss in Big Ten Tournament.
• Men's Tennis beat Wisconsin before suffering a likely season ending loss to Illinois.
• Women's Golf competed at the Big Ten Championships.
• Men's Golf competed as well.
• Track and Field hosted a home meet.
• Rowing won the Dale England Cup.
Thanks for your continued support for The Assembly Call. We'll be back next weekend with a new roundup.
Now go enjoy yourself a 6-banner Sunday.
Tyler Tachman – Student Intern The Assembly Call
Filed to: