Inspired by Nana, Tamar Bates is ready to prove himself at Indiana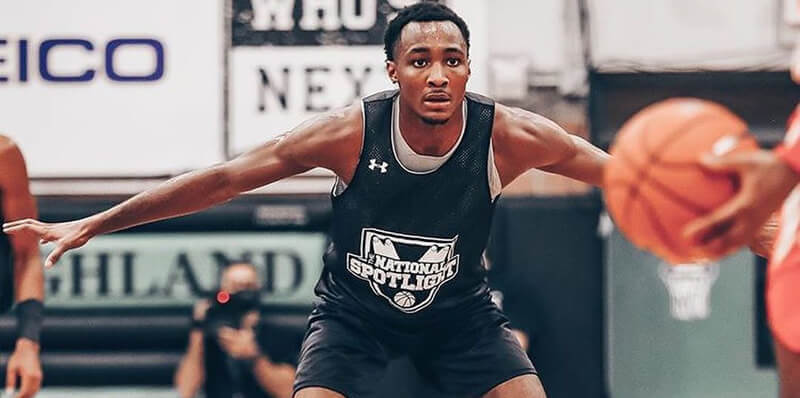 The number was there as a reminder. Two digits, atypical for a basketball player to wear, stretching across his chest. They were there in remembrance of his grandmother. He calls her "Nana."
Tamar Bates announced his commitment to IU on Monday morning by posting a graphic of himself in an Indiana jersey. The number 53 was edited on the front.
For Bates, the number is significant. Felicia Hurst, Bates' grandmother, died in 2013. She was 53 years old.
Nana was one of Bates' best friends. She would take Bates and his brother on the weekends to hang out. Bates would always visit her at her house. Nana was funny and always seemingly had a smile on her face.
"When you walk in a room, she would light up," Bates said.
On Sundays, Bates and his family would go over to Nana's house for dinner. She'd make big meals of fish and barbecue. They'd meet at her house for holidays like Thanksgiving and Christmas. Bates' favorite dish was Nana's gumbo.
"My mom is really good at cooking it, but hers is ridiculous," Bates said. "I'd love to have it again."
From when he was somewhat of an underrated recruit to now, the newest IU basketball commit, Bates' relationship with his grandmother and family has steadied him.
"It's pretty easy to continue to go as hard as I do for her, just because we had such a close relationship," Bates said.
With his commitment, Bates becomes the second incoming freshman in Indiana's 2021 class. He's ranked as the No. 56 player in the class and No. 13 shooting guard, according to the 247SportsComposite. More importantly, he can immediately address Indiana's inconsistent shooting. The southpaw shot 44 % from deep as a junior and 39 % as a senior for IMG Academy.
Bates originally committed to play at Texas for Shaka Smart last August. But when Smart left for Marquette in March, Bates reopened his recruitment. Not long after, new head coach Mike Woodson and his staff, who were in need of another guard, reached out to Bates.
Even before they were in contact, Bates already knew who Woodson was from his days in the NBA.
"I knew how important he was to basketball," Bates said. "It was kind of crazy hearing him having so much good stuff to say about me."
Woodson made it clear that their relationship would extend beyond the court and continue far after Bates' playing days were over at IU. Woodson emphasized playing both ends of the floor, a vision that resonated with Bates. Bates also grew his relationships with all three assistant coaches. But there was another aspect that especially caught Bates' attention.
"They didn't make any promises, which is what stood out to me and my family," Bates said. "I've never had things handed to me. I've been ready to work for everything. Just being straightforward, that's what stood out to me."
Bates has embraced that mentality throughout his career. He's originally from Kansas City, but transferred to IMG Academy ahead of his senior season. Despite averaging 22.1 points, five rebounds, 4.1 assists and two steals per game as a junior at Piper High School, Bates wasn't even touted as a top-100 prospect entering his time at IMG, according to 247Sports.
When he moved to IMG, head coach Sean McAloon immediately realized that Bates, who had already committed to Texas, was still flying under the radar. He was quickly impressed with the work ethic that Bates brought every day.
The gym at IMG would often open around 7 a.m. to players to get in shooting work. Bates was there.
"He was one of the first ones like 'Yep, no problem, I'll be there,'" McAloon said.
As IMG started to play games at a national stage, Bates flourished in an event on ESPN in October and also went toe to toe with fellow powerhouse Montverde Academy. Quickly, he began ascending in the rankings. But Bates kept an underdog mindset, sometimes waking up at 6 a.m. to workout.
"That's part of the reason that I play as hard as I do," Bates said. "I like it that way. When I perform the way that I do, as a result of the work I put in, it's not a surprise to me."
On a team filled with Division I prospects, Bates averaged 11 points, 2.5 assists, three rebounds and 1.2 steals per game, while shooting 50 % from the field and scoring at all three levels. But Bates also emerged as a leader.
"There's no days off in terms of his leadership," McAloon said. "He tells them that they're not doing their job, you have to respect him because he's about that life."
If you listen to McAloon's description of Bates as a person, it sounds strikingly familiar. When he walks into a room, others gravitate to him. "He has an infectious personality… He's got jokes, he likes to laugh. He is just a well-rounded individual."
This, of course, all starts with where Bates gets his enduring motivation from: His family and Nana.
"A lot of the traits I possess, I got a lot of them from her," Bates said.
That's why a normally unconventional basketball number was emblazoned across his chest as he committed to Indiana.
It was there as a reminder.
"Know that I'm doing this for something bigger than me," Bates said.
Filed to: Tamar Bates