Indiana confirms addition of Tamar Bates, Miller Kopp to 2021-22 roster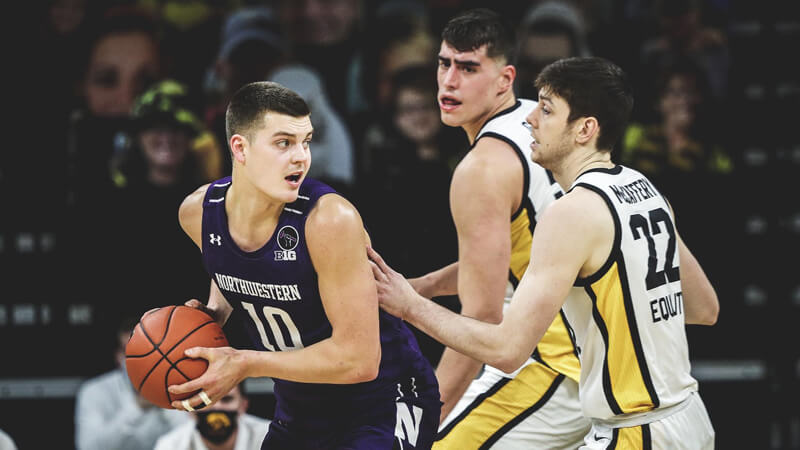 Indiana has confirmed the additions of Tamar Bates and Miller Kopp to the 2021-22 roster in a pair of releases from media relations.
The Bates addition was confirmed on Friday with Kopp's addition officially announced on Monday. In the releases, coach Mike Woodson made his first public comments on both players.
Both releases are available below:
Bates:
Indiana University men's basketball coach Mike Woodson has announced that Tamar Bates, a 6-5, 180-lb., guard from Kansas City, Kan., has signed a Big Ten Tender and will attend IU and play for the Hoosiers beginning next season. Bates played his senior year at IMG Academy (Bradenton, Fla.) under coach Sean McAloon and averaged 11.4 points and shot 40.0% from long distance.

"Tamar is a tremendous young man who will bring so much to our program," said Woodson. "I think the first thing that stands out to me is that he is a winner. He brings a high level of energy on the court and is regarded as an unselfish teammate. He is an outstanding defender who makes 3-pointers at a high percentage, can attack the rim, has great vision and the awareness to make plays for others."

Bates, is ranked as the No. 23 prospect in the nation by ESPN.com.

A two-time All-State honoree at Piper High School in Kansas City Kansas under Coach David Birch, Bates averaged 22.1 points, 5.0 rebounds, 4.1 assists and 2.0 steals per game as a junior while leading them to a 21-1 mark and a spot in the Class 4A state semifinals. The tournament was canceled due to the COVID-19 pandemic. He converted 58.0% from the floor, including a 44.1% mark from 3-point range, and 88.0 % from the free throw line that season.

He was named the Kansas All-Classes Player of the Year in 2020 and also was the winner of the prestigious DiRenna Award, which is presented to the top high school male and female basketball player in the Kansas City metro area.

As a sophomore, he led the Pirates to their first state hoops championship in Kansas Class 4A last year and scored 20 points in the team's championship game win over Augusta. He averaged 16.7 points, 5.0 assists and 4.0 rebounds as a sophomore.

He also played for the KC Run GMC AAU program and Coach L.J. Goolsby.

Born on February 21, 2003, he is the son of Dr. Tyrone and Lajasima Bates. His brother, Trey, plays basketball at Kansas City Kansas Community College. He also has one older sister, La'Shana and two younger sisters, Trinity and Tamia.

He joins Cincinnati Moeller center Logan Duncomb as incoming freshmen in the Hoosiers 2021 recruiting class.
Kopp:
Indiana University men's basketball coach Mike Woodson has announced that Miller Kopp, a 6-7 forward who played his first three seasons at Northwestern, will transfer and join the program beginning next season. He will have two seasons of eligibility.

"Miller is a veteran player with three seasons of experience as a starter in the Big Ten." said Woodson. "He is a tremendous shooter from long range who will really help us become more versatile with his ability to stretch the floor. He also is an outstanding free throw shooter who will come in and have an immediate impact."

He is a native of Houston, Texas and a graduate of Houston Christian High School and was the Texas Association of Basketball Coaches Large Private Schools Player of the Year and a first-team All-Houston Chronicle selection. He also played for the Houston Defenders AAU program where he earned Under Armour first-team All-American accolades.

For his career in three seasons, he averaged 9.6 points, 2.9 rebounds, 1.2 assists and 0.6 steals per game. Kopp shot 39.8 percent (290-of-729) from the field, including 36.0 percent (122-of-339) from 3-point range and 85.0 percent (130-of-153) from the foul line. He started 74ngames overall for Northwestern, including the last 56 contests.

Last season, he started all 24 games for the Wildcats and averaged 11.3 points and 3.0 rebounds and recorded a career-high 24 steals. Among his best games of the campaign were 23-point efforts at home against Quincy and Ohio State and a 19-point output at Penn State. He averaged 13.0 points and 3.5 rebounds in 2019-20 and shot 39.6 percent from downtown after starting all 31 games. As a freshman, he started 19 games and averaged 4.9 points.

A communications major, he was born on November 24, 1998 and is the son of Will and Deborah Kopp. He has three brothers, Braden, who played football and graduated from Vanderbilt, Anderson, who plays basketball at UMKC and Maddox, who is a quarterback at Houston.
Filed to: Miller Kopp, Tamar Bates