Indiana reaffirms pursuit of 2022 forward Kyle Filipowski with scholarship offer from new staff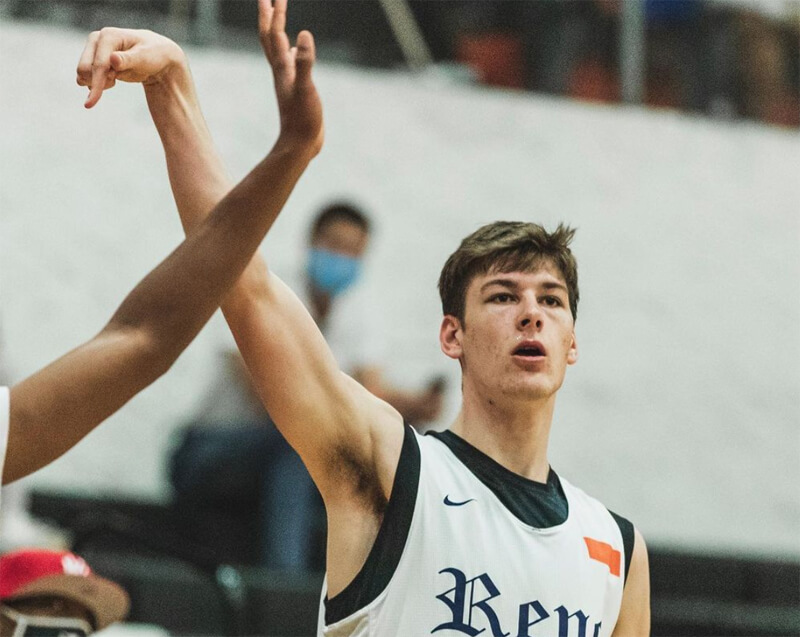 Kyle Filipowski is one of the most unique prospects in the class of 2022 because of his size and versatility.
At 6-foot-10, Filipowski averaged 21 points, 13.2 rebounds, 5.2 assists, two steals and a block over five games this past season at Wilbraham and Monson Academy in Wilbraham, Massachusetts. He had double-doubles in four games as a junior and also shot 64 percent on 2s and 38 percent on 3s.
Due to the COVID-19 pandemic, Wilbraham played an abbreviated schedule, but Filipowski made the most of his opportunity. He's a nominee for Gatorade Player of the Year in Massachusetts and is off to a strong start this spring on the grassroots level with the NY Renaissance, a member of the Nike Elite Youth Basketball League (EYBL).
Wilbraham and Monson is a school that Indiana fans are familiar with as the Hoosiers landed Max Hoetzel from there in the class of 2014 and also recruited Goodluck Okonoboh, who ultimately signed with UNLV. The school also produced Kentucky forward Wenyen Gabriel, who has gone on to play in the NBA.
But Filipowski has a chance to be better than all of the players who came before him at Wilbraham and Monson according to Mike Mannix, who serves as the school's Dean of Residential Life and its basketball coach.
"People are just enamored that at 6-foot-10, he can stop on a dime and make a 17-foot pull-up jump shot," Mannix told Inside the Hall. "Or come off of a ball screen and knock down a 3 if a guy goes underneath a screen. And he goes into the post and has incredible footwork in the post. But you can also see that when he gets in a tight area around the basket, he can jump with anybody."
Indiana is a school that has been involved with Filipowski dating back to last summer.
Under Archie Miller, the Hoosiers conducted a Zoom meeting in June of 2020 with Filipowski, his parents and Mannix.
The previous staff continued to follow him last summer as former assistant coach Bruiser Flint was the main point of contact before his departure for Kentucky. Following Flint's departure, Mike Roberts picked things up as the primary contact on staff, which continued throughout the high school season.
"Kyle became familiar with the university as a place and started to get to know the previous staff a little bit," Mannix explained. "And then the coaching change happened and there was a pause."
It didn't take long for things to pick back up with Indiana and Filipowski following the hiring of Mike Woodson in March.
The Hoosiers reaffirmed their interest in Filipowski earlier this week with a scholarship offer on a Zoom meeting. In addition to his familiarity with the program due to his relationships with the previous staff, Filipowski also knows assistant coach Dane Fife, whom he talked with during Fife's time at Michigan State.
Extremely honored to receive an offer from coach Woodson and the staff at Indiana University????? @IndianaMBB #BIG10 #GoHoosiers pic.twitter.com/IfjHxDEeFu

— Kyle "Flip" Filipowski (@kylefilipowski) April 28, 2021
"Dane has been staying in touch with him for the last three weeks," Mannix said. "And on Tuesday, we had a Zoom. And towards the end of the Zoom, coach Woodson offered him a scholarship. He had all three assistants on the call and the administrative guys as well."
According to Mannix, the new Indiana staff provided a "really nice presentation" that included a look at some of the players that Woodson has previously coached in the NBA.
It was a meeting that Mannix believes really resonated with Filipowski, who is currently rated the No. 58 player in the country by the 247Composite.
"Woodson said that Kyle reminds him a little bit of Steve Novak because of his size and ability to shoot the ball," Mannix said. "But what was good and what was also accurate is that the players that coach Woodson used, he didn't say 'Kyle, you're exactly this guy or exactly that guy.' He picked a couple of players and the others were Carmelo Anthony and Amar'e Stoudemire.
"There were a couple of clips of Novak shooting the ball and knocking down some shots. When coach Woodson was looking at that, he talked about the shooting ability and the size and maybe the same build as Novak. And then Carmelo, he said you have a really high skillset like Carmelo did and a real knack for scoring. And then with the Amar'e thing, it might take some people by surprise, but when Kyle is around the basket, he makes some really athletic plays. That is 100 percent the most underrated part of his game."
Filipowski has an offer list of more than 20 schools and is planning to take some of his junior year official visits in June when the NCAA lifts the moratorium for in-person recruiting.
Mannix said "around 10" schools are regularly in contact with Filipowski and added that of those schools, Indiana is the only one that had a coaching change this offseason.
That previous knowledge of the program that Filipowski got from the previous staff could be beneficial as the new staff ramps up its pursuit this summer and into the fall.
"It's a completely different situation from the other schools recruiting him," Mannix explained. "I think it's the only school recruiting him really hard right now that had a coaching change. But he had a video tour of Cook Hall and the facilities last summer. And he understands the Kelley School of Business. It can't hurt that he already had that knowledge. Guys choose schools for fit and relationship with coaches and fit in the program and with the team. And that's the part now."
Filed to: Kyle Filipowski