That's A Wrap: Archie Miller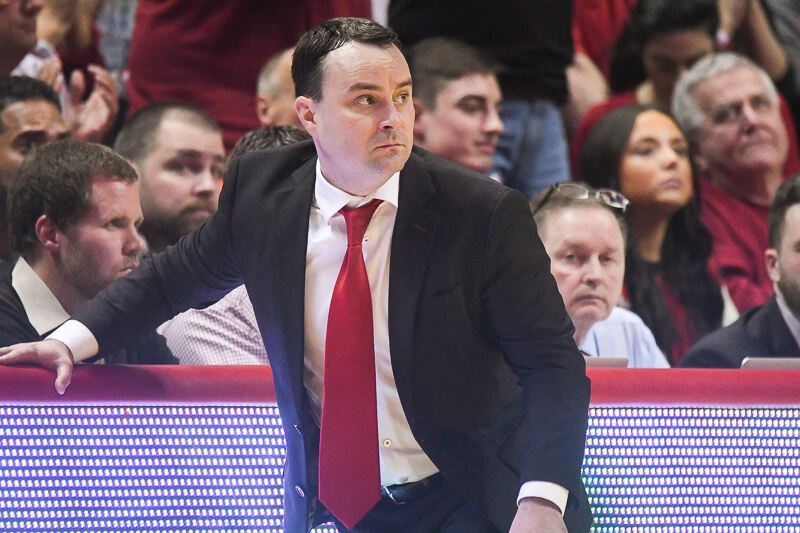 Welcome to "That's A Wrap," our recap of the 2018-2019 Indiana Hoosiers. Today, the series concludes with a look at coach Archie Miller. Previously: Damezi Anderson, Rob Phinisee, Jake Forrester, Romeo Langford, Race Thompson, Jerome Hunter, Al Durham, Justin Smith, Clifton Moore, Devonte Green, De'Ron Davis, Zach McRoberts, Evan Fitzner, Juwan Morgan, Team offense, Team defense
Entering his inaugural season in Bloomington, Archie Miller offered a comforting package. For a state and fanbase known for their love and knowledge of the game of basketball, Miller's background and biography fit well. He was a sharpshooter and point guard at N.C. State. His father coached the game. His brother, a former point guard at Pitt, remains the head coach at Arizona. He preached defense first and an inside-out philosophy to recruiting.
"The reason I'm here, and I really believe this, is the state of Indiana," Miller said at the his introductory press conference on March 27, 2017. "The state of Indiana in many ways is me. It's how I grew up. I'm from Beaver Falls, Pennsylvania, right outside of Pittsburgh, and I'm the son of a coach who sat around all day long with a ball in his hands from about five or six years old."
Miller inherited a group of players from an old regime not necessarily bursting with talent. The fanbase gave him space and time to grow in his first season as a result. But the commitment of native son Romeo Langford was a huge get and the expectations for year two were higher as a result.
Those expectations were matched early, as Indiana jumped into the top 25 and possessed a 12-2 record as the non-conference season came to a close. The team improved on both sides of the ball and had a knack for making winning plays down the stretch. But as opponents figured out the optimal way to guard the Hoosiers in conference play, something we detailed earlier in the week, the season went south in a big way with the Hoosiers losing 12 of 13. Indiana failed to make the NCAA tournament. And with that came thinner ice and a lot more criticism for the 40-year-old coach at the top. The shift in the season trajectory was drastic, and whether fair or not, the honeymoon ended this season.
So how much blame are we to lay at the feet of Miller for Indiana's season?
Surely some. This is big time college basketball and you don't get to walk away without any of the burden. Still, there were several other factors at play and plenty of nuance to what went wrong. A coach can only coach. He can not play. He can not magically gift his shooting talent to a roster that couldn't hit the broad side of a barn more often than not. The shooting was the missing ingredient that Indiana's coaching staff couldn't work around and it sunk the season. And a coach can't heal all the injuries — from Jerome Hunter's inability to play all year to Robert Phinisee's concussion to De'Ron Davis' soreness to Langford's torn thumb ligament to name a few — that caused incongruence in lineups and flow.
One more win, and so many were so close to being had with another bounce of the ball this way or that, would have likely meant a trip to the dance. And that would have eased some of the disappointment with what happened in conference play this season. But it just didn't happen.
Yet, throughout all the losses, the Hoosiers and their coach endured. Miller may bark on the court, but he possesses a grand stoicism and even keel. A press conference after a bad loss is the same as a press conference after a huge win. Miller shoots it straight and keeps on moving. There isn't any outward sulking in the lows or basking in the highs.
His team seemed to follow suit. Save for a listless second half against Minnesota, the Hoosiers didn't quit. They played hard. Those next three games after the Minnesota loss told the tale and were a microcosm of the pull-your-hair-out season. Indiana brought absolutely everything it had against Purdue at home three days later, but fell two points short as they shot just 20 percent from distance and Matt Haarms tipped in the game winner. Against Iowa on the road later in the week, the Hoosiers again gave it everything in a game they shot just 22.2 percent from distance and led the entire second half. Then Jordan Bohannon happened and Indiana lost in overtime, as you wondered if this team was cursed.
But Indiana came back home a few days later and finally broke through in a game against Wisconsin. In a rare strong shooting performance from distance (6-of-14) — go figure — they had to fight and claw for nearly three hours and two overtime periods to emerge victorious.
This wasn't a team that had tuned out its coach or lost sight of the level of intensity necessary in Big Ten play. The effort was there. And as Alex detailed yesterday, with another year under their belts in the packline defense, the Hoosiers and their packline coach finished the season improved on defense, going from 65th in adjusted defensive efficiency nationally in year one down to 32nd in year two.
Bottom Line: The sweeping fashion in which the Hoosiers flamed out made it easy for some fans to sound the alarms. But the foundation remained intact as Miller's team continued to fight. With a consistent 3-pointer shooter or two, this year could have been quite a bit different. The reality is it's still too early to make any definitive proclamations about the Archie Era in Bloomington. But year two won't go down as a good one. And year three is shaping up to be crucial as the program is on the verge of missing the NCAA tournament for the fourth straight year, something that hasn't happened since the 60s.
Quotable: "You take a deep breath and then you really start back up with communication with your own players and you have to find out the next step in terms of adding players. I think everyone here knows what the goal is and obviously this season didn't turn out the way we hoped as we started. But we finished and there are some guys that will be better for that adversity." – Miller after the season-ending loss to Wichita State
Filed to: 2018-2019 season wrapup, Archie Miller