That's A Wrap: Team defense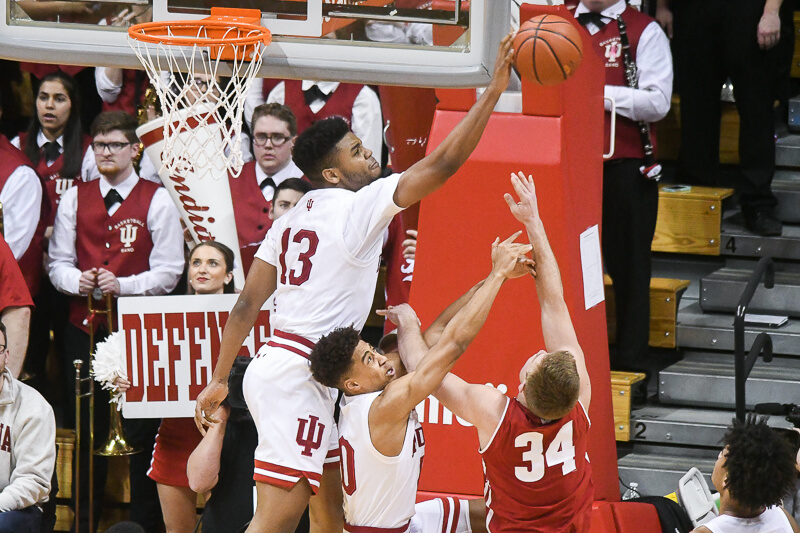 Welcome to "That's A Wrap," our recap of the 2018-2019 Indiana Hoosiers. Today: Team defense. Previously: Damezi Anderson, Rob Phinisee, Jake Forrester, Romeo Langford, Race Thompson, Jerome Hunter, Al Durham, Justin Smith, Clifton Moore, Devonte Green, De'Ron Davis, Zach McRoberts, Evan Fitzner, Juwan Morgan, Team offense
Team defense (35 games): Adjusted Efficiency: 95.4 (32nd), eFG%: 48.2 (57th), TO%: 18.1 (195th), 3PT%: 33.1 (98th), 2PT%: 47.3 (62nd), Block percentage: 12.1 (44th)
In year two of the Archie Miller era in Bloomington, the Hoosiers continued to make strides defensively.
While many of IU's conference-only numbers defensively slid backward, the league was also much tougher this past season as the Big Ten placed eight teams in the NCAA tournament in 2018-19 compared to just four in 2017-18.
Indiana's final adjusted defensive efficiency, according to stats guru Ken Pomeroy, ranked 32nd nationally as the Hoosiers surrendered just 95.4 points per 100 possessions. That represented a significant improvement from Miller's first season when Indiana allowed 99 points per 100 possessions, which ranked 65th nationally. That ranking of 32nd nationally is the fourth highest for an IU team in the Pomeroy era, which dates back to the 2001-02 season.
So, what were the primary reasons for the progress?
In Miller's first year, the Hoosiers struggled with basic concepts of the packline defense. There were no two better examples than blowout losses at home to Indiana State and Purdue Fort Wayne when Indiana allowed both teams to catch fire from the perimeter with no answer.
There were no such performances in 2018-19 as Indiana's returning players were far more comfortable with the core packline principles and its primary newcomers, Rob Phinisee and Romeo Langford, were quick to pick up the concepts.
After allowing its opponents to shoot 36.7 percent on 3-pointers in Miller's first season, which ranked 267th in the country, Indiana's 3-point field goal percentage defense was 33.1 in year two of the Miller era. That number ranked 99th in the country.
Inside the arc, Indiana also showed significant improvement. The Hoosiers ranked 62nd nationally in 2-point field goal percentage defense (47.3) against a schedule that was the 27th hardest in the country, according to Pomeroy.
And while Indiana wasn't as good at forcing turnovers this season as it was a year ago, it traded being overaggressive at times to sticking to the basics and staying in position. As a result, Indiana cut down on its fouling as it went from an opponent free throw rate (FTA/FGA) of 32.2 percent last season to 29.2 percent this season.
While an inconsistent offense ultimately left Indiana's season to die in the National Invitation tournament, its defense was the reason it was able to win several pivotal games.
Arguably its most complete effort of the season came on Nov. 14 when it held Marquette to just .98 points per possession in a 96-73 blowout victory. That performance was the worst of the non-conference slate for the Golden Eagles, who went on to earn a No. 5 seed in the NCAA tournament.
Stellar defense was also pivotal in a season sweep of Michigan State as Indiana held the Spartans to 1.038 points per trip in a thrilling overtime win in East Lansing and then 1.037 points per possession in Bloomington. The win at Simon Skjodt Assembly Hall was preserved by a solid final possession in which Phinisee put the clamps on Big Ten player of the year Cassius Winston.
And from a pure numbers perspective, Indiana's defense against Purdue in a narrow loss on Feb. 19 was its best of the season. The Hoosiers held the Boilermakers to just .76 points per possession – Purdue's worst offensive output of the season – which included a dreadful 6-for-30 performance beyond the 3-point line. Carsen Edwards was just 4-for-24 that night.
Bottom line: While Indiana's season overall was a disappointment, its progress defensively bodes well for the program's future. Miller and the coaching staff had to perform a complete overhaul defensively and in year two, significant strides were made. Miller has emphasized getting old and staying old as a major key to success and as Indiana's returning players continue to gain a more complete understanding of the packline defense, the final defensive numbers from this season should become the baseline moving forward.
Quotable: "They have an identity. I think if you watched us play on film and you just kind of know what's going on, you say to those guys, yeah, they're giving great effort. When you add in the mix that there are new guys in there, the older guys have really been able to hold down the rules and the talk and the communication. I think that's the vital part of growing as a program. Your returners are getting better, and understanding your culture, the intensity level that you need. It's easier for a young guy to see what it looks like when it's done right. But, you know, all in all, we've got a long way to go. We've got some deficiencies and we've got to keep working." – Miller after IU's win over Marquette
Filed to: 2018-2019 season wrapup