That's A Wrap: Zach McRoberts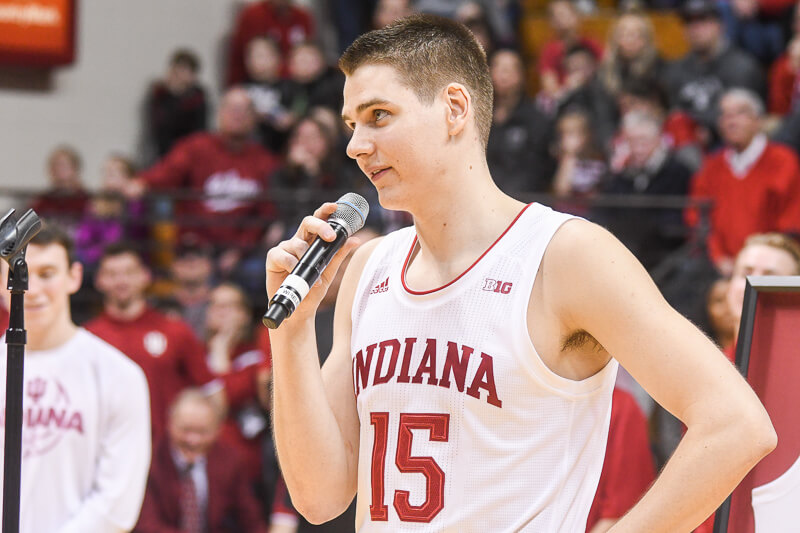 Welcome to "That's A Wrap," our player-by-player recap of the 2018-2019 Indiana Hoosiers. Today: Zach McRoberts. Previously: Damezi Anderson, Rob Phinisee, Jake Forrester, Romeo Langford, Race Thompson, Jerome Hunter, Al Durham, Justin Smith, Clifton Moore, Devonte Green, De'Ron Davis
McRoberts (26 games): .8 ppg, 2.1 rpg, .5 apg, .5 spg, 30.8% FG in 13.7 minutes per game
Zach McRoberts had built a reputation for making hustle plays and doing the dirty work that doesn't show up on the stat sheet throughout his IU career.
His offensive game was far from polished, but those aforementioned attributes combined with solid defense carved him a consistent role for Indiana. He started many games for Archie Miller as a junior and looked to do the same as a senior.
But after starting the first two games of the year, that never panned out. McRoberts missed four games in November with a back issue that never really went away, and Al Durham took a firm hold on the open spot in the starting lineup.
In total, McRoberts missed nine games this year — he was out for another four-game stretch in February with a foot injury. Those injuries simply plagued his final season in Bloomington.
It was a far cry from his visions for his senior year.
"It's definitely not easy going through injuries," McRoberts said. "I think a lot of people, when they hear injuries, you think of physical side of it. But playing through pain all year kind of weighs on you mentally."
He eventually made a conscious decision to play through pain. After that four-game absence in February, he realized he wanted to be out there for the last stretch of his senior year, and if that meant dealing with pain then that's what he'd do.
"I think I was at a good point, treatment-wise," McRoberts said. "Tim Garl did a good job knowing the steps we needed to take to get there, and just followed his plan. He was the main reason I was able to get back."
When he was out there, the injuries limited his impact. He was rarely as agile as he was earlier in his career, and was unable to play significant minutes. Without his consistent hustle plays, he was often too much of a negative offensively to justify a larger role than the minor one he had.
But even though he couldn't reproduce the promise his six point, seven rebound, three assist-performance against Chicago State showed, he still found ways to be impactful here and there in a reduced role. Whether it was diving for a loose ball against Northwestern or playing good defense against Arkansas in the NIT, there were flashes of the old McRoberts from time to time.
Despite his limited role and impact, he doesn't regret his decision to play through the pain.
"I think it's just frustrating just sitting and watching a lot of games," McRoberts said. "I think just being able to get back out there was special. I don't think I'd change it. I think I was at a good enough point to play and there's nothing I can change."
Bottom line: This season did not go as planned for McRoberts. Without the injuries, he could have realistically started all season and given Indiana extra help on the defensive end — and perhaps his offensive game would have come around more if he wasn't so limited. His career was never defined by statistics, rather the effort and intangible plays he provided most times he stepped on the court. That defines a significant part of his IU legacy.
Quotable: "Just having the opportunity to put this jersey on, I know what it means. I think you're from here, you grow up here, you know about Indiana Basketball. Everybody either loves them or hates them. I think it's just so special being able to play here, being able to play Assembly Hall, being from here just holds a special place in my heart for it." – Zach McRoberts after IU's senior day win over Rutgers Mar. 10.
Filed to: 2018-2019 season wrapup, Zach McRoberts