That's A Wrap: Juwan Morgan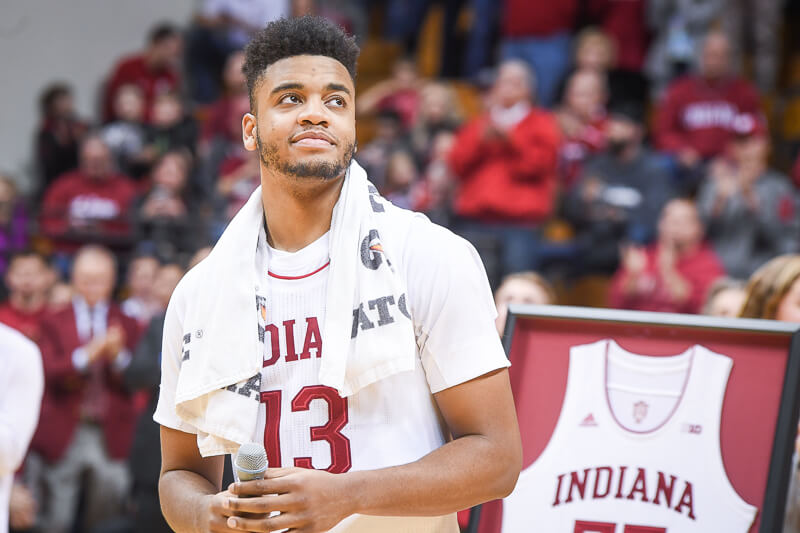 Welcome to "That's A Wrap," our player-by-player recap of the 2018-2019 Indiana Hoosiers. Today: Juwan Morgan. Previously: Damezi Anderson, Rob Phinisee, Jake Forrester, Romeo Langford, Race Thompson, Jerome Hunter, Al Durham, Justin Smith, Clifton Moore, Devonte Green, De'Ron Davis, Zach McRoberts, Evan Fitzner
Morgan (35 games): 15.5 ppg, 8.2 rpg, 1.9 apg, 1.5 bpg, 1.2 spg, 55.8% FG, 29.5% 3PFG, 64.7% FT in 29.8 minutes per game
A generation may pass before another player like Juwan Morgan plays for Indiana.
Better ones may lead the Hoosiers to greater heights or have more illustrious pro careers, but few will blend Morgan's skill set, approach, and emotional gravity in quite the same way. The senior will graduate 24th in Indiana history in points, 10th in rebounds, eighth in blocks, and fourth in field goal percentage. He was one of the most efficient and consistent players in recent IU memory, and will retire as one of the program's most accomplished players and one of its least decorated.
Frankly, Morgan deserved better than the mild success his teams achieved over the last four years. He made the NCAA tournament once – his freshman year, when he played an important but supporting role on an upperclassmen-lead team. Due to injuries, program instability, relative lack of talent, or some combination of the three, Indiana fell short of expectations in each of his final three years. It will be difficult to separate that from the way Morgan's individual career is remembered, but anyone watching closely enough should understand that the program's failures hardly fall at Morgan's feet.
On a team with little to tie itself to, Morgan was a rock for two years, averaging 16 points and nearly eight rebounds per game as an upperclassman. Few players in the Big Ten combined strength, skill, and craft like he did. The forward has every move in the post, each with its own counter, with soft, ambidextrous touch to boot. He finished over and through defenders, but more often around them after manipulating them in exactly the way he wanted.
While Romeo Langford was Indiana's most talented and most vaunted player, it was Morgan who felt most crucial to the team's success on both ends of the floor. He was the only player in the Big Ten to average at least a block and a steal in each of the last two seasons and, despite mediocre assist numbers, was a better playmaker than those figures suggested. Morgan greased the wheels of Indiana's offense in a way no one else could; his passing galvanized the offense and his post-ups gave it an anchor, all while he solidified the back line of IU's defense. He played out of position for the latter two seasons of his career and managed just fine against the behemoths of the Big Ten.
A more modern system with a heavier emphasis on switching and shooting might have helped boost Morgan's NBA draft stock, yet he bought into and executed Archie Miller's philosophies just the same. His versatility allowed Miller to configure different personnel arrangements around Morgan, who could dominate in the post or stretch the defense (before his jumper fell off a cliff late in the season), and his willingness to shoulder any responsibility allowed teammates to fit in around him.
Bottom line: The same won't be asked of him at the NBA level, where Morgan figures to go next. That will take some adjustment on his part – he won't have free reign on the block or license to initiate the offense as much as he did in college – but Morgan proved adaptable and versatile throughout his career. Still, the jumpshot is everything for Morgan and his NBA viability. If he hits shots at a passable rate, he will serve as a valuable utility forward who can combine defense, playmaking, and floor spacing in a rotation role.
Quotable: "Everything was good at the beginning when we were winning. Everything was bad when we went on that run. But it was a different feeling amongst all the guys when we rallied back. Everybody knew what the goal was, everybody knew what we wanted to do, and it was just a different fight, a fight I hadn't seen before." – Morgan on the final stretch of Indiana's regular season.
Filed to: 2018-2019 season wrapup, Juwan Morgan