That's A Wrap: Evan Fitzner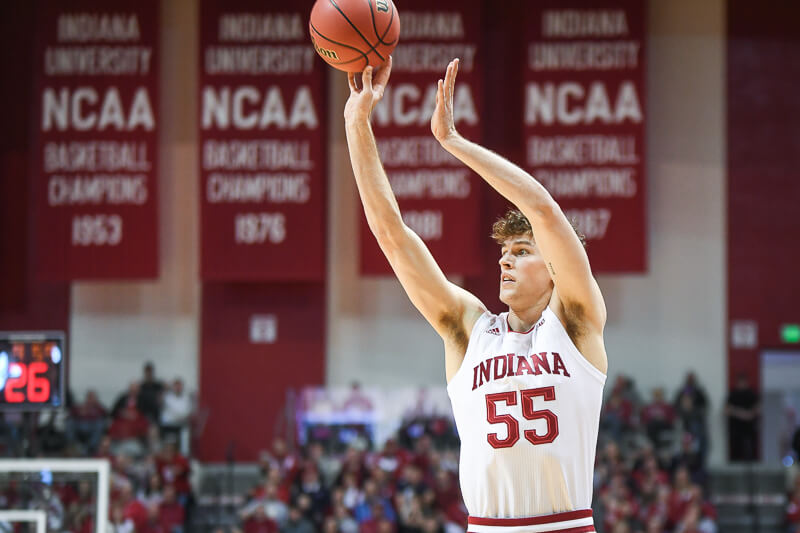 Welcome to "That's A Wrap," our player-by-player recap of the 2018-2019 Indiana Hoosiers. Today: Evan Fitzner. Previously: Damezi Anderson, Rob Phinisee, Jake Forrester, Romeo Langford, Race Thompson, Jerome Hunter, Al Durham, Justin Smith, Clifton Moore, Devonte Green, De'Ron Davis, Zach McRoberts
Fitzner (31 games): 3.5 ppg, 2 rpg, .4 apg, 41.4% FG, 30.9% 3PFG in 11.5 minutes per game
Indiana dipped into the grad transfer market last spring in search of shooting help.
The Hoosiers emerged with Saint Mary's forward Evan Fitzner, who looked on paper like a perfect floor spacing solution for Archie Miller and the coaching staff.
Over three seasons for the Gaels, Fitzner knocked down 125 triples over 105 games. And his 3-point shooting percentage at Saint Mary's – 41.5 – suggested that he would be a high efficiency option that would benefit from being surrounded by Romeo Langford and Juwan Morgan.
The early returns in Bloomington for Fitzer were positive. Over Indiana's first three games – which included a 96-73 beatdown of Marquette – the California native scored 36 points and shot 5-for-7 from distance.
"He's a terrific offensive player," Miller said of Fitzner after the Marquette win. "He's got to continue to work a little bit more on the defensive side of the ball just in terms of his physicalness around the basket. He's got to get better at that. Without question he fits our style. I knew it from day one."
Unfortunately for Fitzner and Indiana, that three-game stretch to start the season was the peak of his performance in a Hoosier uniform. Over Indiana's next 33 games, he scored in double figures just twice and shot 12-for-48 (25 percent) on 3s.
Fitzner didn't get off the bench in four of Indiana's games and played less than 10 minutes in 13 of the team's final 26 games.
So what went wrong?
Once Fitzner struggled to make shots with any consistency, it was hard to justify keeping him on the floor for several reasons. Most notably, his body wasn't equipped to guard Big Ten bigs in the post. If an opponent caught the ball deep in the post with Fitzner on his back, it was typically an easy bucket. And Fitzner also lacked the lateral quickness to stay with more agile players on the wing.
To go along with his struggles defensively, Fitzner's shooting stroke disappeared in Big Ten games. After finishing non-conference play with a stellar 9-for-17 mark from distance, he shot just 5-for-31 from deep in Big Ten play.
Given that Indiana was one of the nation's worst 3-point shooting teams, there was no real argument for the coaching staff to play Fitzner as the season moved along given his defensive issues and poor shooting. Over the final 10 games of the season, Fitzner recorded three DNPs.
Bottom line: Fitzner's struggles in his lone season as a Hoosier highlight the difficulty in navigating the grad transfer market successfully. While his shooting numbers were stellar at Saint Mary's, he clearly struggled with adjusting to the more athletic and physical Big Ten. And as his confidence waned as the season went along, Fitzner had minimal impact for a team that desperately needed shooting. Still, it's hard to fault the coaching staff or Fitzner for things not working out. On paper, his addition looked like a perfect fit and Fitzner seemed to legitimately enjoy his time as a Hoosier.
Quotable: "I came here with the goal of helping the team make it to the NCAA tournament and succeed in the tournament. That was always my mindset, day in and day out. Playing in a league like this, it's been kind of a crazy experience for me. Just the daily competitiveness it takes to succeed in a league like this and in that sense, I was kind of like one of the younger guys coming in. I was producing more earlier, but I feel like I can contribute every day in practice even if I'm not playing in the games just with my attitude and effort. I think I've done a good job maintaining that despite how many minutes I play or how many points I score." – Fitzner before Indiana's final regular season home game against Rutgers.
Filed to: 2018-2019 season wrapup, Evan Fitzner