An in-depth at look at Juwan Morgan, the creator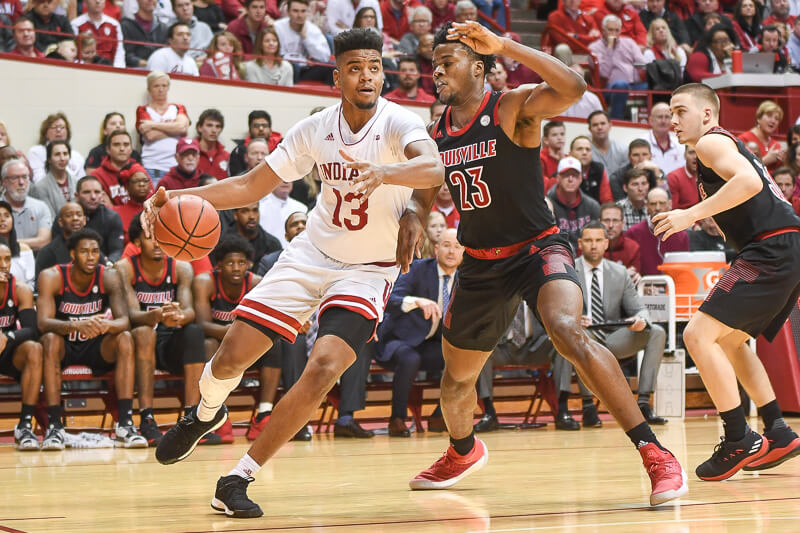 The greatest of Juwan Morgan's gifts is the world of possibility he unlocks for his team.
To place the ball in his hands is to give a possession direction, though the exact course is left to Morgan's discretion. He is a rock – a facilitator, a versatile defender, and a go-to scorer when he needs to be. This season, he has acted more as the former than ever before, a product of playing next to a preternatural scoring talent like Romeo Langford. Morgan affords Langford the luxury of working off the ball and as a secondary option, but Langford's presence allows Morgan to act as a gap-filler in ways he couldn't on previous IU teams.
Morgan has always been something of a natural facilitator, but in having so few reliable finishers around him, shouldered a heavy scoring mantle last season. His assist numbers have never fully captured his ability as a passer; he hardly had the ball in his hands his first two seasons and played with deficient shooters last year. As a senior, he now has both the role and the supporting cast to unleash the full breadth of his skill set.
The result is a more productive offense in nearly all areas. Morgan isn't scoring quite as much, but he's doing so at career-best efficiency and Indiana's offense is far healthier for it. IU ranks 104th in offensive efficiency this season – far from an elite mark but, up from 144th a year ago. (Editor's Note: Those are raw efficiency numbers and not adjusted for tempo or competition. IU currently ranks as the nation's as the nation's No. 39 offense, according to KenPom after finishing 92nd last season.)
The team is making and assisting on a higher percentage of its baskets, in part because it has more willing ball-movers. That begins with Morgan, who is every bit the fulcrum he was a season ago – and more. The post remains the foundation of his game, though he's tweaked the way he uses it. Where he passed on less than a fifth of his post touches in 2018, he's doing so nearly 35 percent of the time this season, and Indiana scores an astonishing 1.9 points per possession on those plays, according to Synergy Sports. Morgan has nearly as many assists out of the post through eight games (14) as he did all of last season (16), and is delivering the ball more willingly and accurately as a senior:
"You feel really comfortable being able to play through him because he's an unselfish player," said Archie Miller, who deserves credit for deploying Morgan so effectively. "He's also a very good one-on-one player and it takes the pressure off of other guys at times. You're able to play inside out, you're able to get the ball to the paint, where you can collapse [the defense]."
Morgan works with his head up, eyes surveying the possibilities before him. At a glance, he can identify the geography of the floor and process how that same landscape might look split-seconds later. "I kind of go through a list of things as quickly as I can," Morgan explains. "The first thing I think is, 'Can I attack either [defender] that's coming at me, get to the outside hip and try to get fouled?' The next thing I look for is cutters coming through. Romeo [Langford], Zach [McRoberts], Justin [Smith] – they're all great cutters. As good as they are on-ball and things like that, they're better cutters, and I look for those guys."
On a limited sample size, Morgan's passes to cutters have produced 1.57 points per possession this season, per Synergy, creating layups or trips to the foul line. No matter where he is on the floor, he kindles movement. His ability and willingness to share the ball energizes teammates, who cut more purposefully when they know Morgan will find them:
Even next to non-shooters like Smith or De'Ron Davis, he'll slip passes through tight corridors in the defense:
The deadliest of Morgan's options, however, is the kickout pass to a shooter. The Hoosiers have scored a mind-warping 27 points on 13 spot-up attempts off of a Morgan post-up, one of the best marks in college basketball. "The last thing I look for are shooters," Morgan says. "Whoever's man came, I look for that guy to be open for the shot."
Morgan is at his best with space around him, and the addition of Evan Fitzner has been instrumental in providing him room to work. The two work symbiotically: as Fitzner pulls defenders away from Morgan's preferred spots on the floor, Morgan in turn generates shots for Fitzner when opponents overcommit:
"He's an unbelievable passer, not just for me but for the team in general," Fitzner said. "It's tough for teams to guard when you've got a post guy like that in the middle who can score and also space the floor with his passing."
This season, Morgan has begun creating more space with his jumpshot. He is 9-of-21 on the young season from distance, stepping out for the occasional pick-and-pop or spot-up jumper. He can capably handle the ball and pull his man out of the paint with a live dribble or a handoff. Should a defender stray too far away from him, Morgan dives to the basket or finds a soft spot in the defense. He works with alarming patience, yet never hesitates. He seldom predetermines moves or passes, and scripted play calls often give way to improvisation as Morgan anticipates and reacts in real time to how a defense bends toward or away from him. With more capable weapons around him, he'll give the ball up early, trusting his teammates to generate an open shot against a scrambling defense:
This is the choice Morgan presents opposing defenses. Force the ball out of his hands, and he'll gladly pick opponents apart. Stay home on shooters, and he'll finish at the rim with equal parts strength and craft. "I would say that I've always been able to do that, I just think that with a [deeper] team this year you just have more options and teams have to respect what I did last year," Morgan said. "With the confidence that all the other players are having – they're just knocking down the shots. They're the ones making me look good. All I'm doing is throwing a simple chest pass."
Indiana, however, knows he does so much more.
Filed to: Juwan Morgan