News and notes from Archie Miller's radio show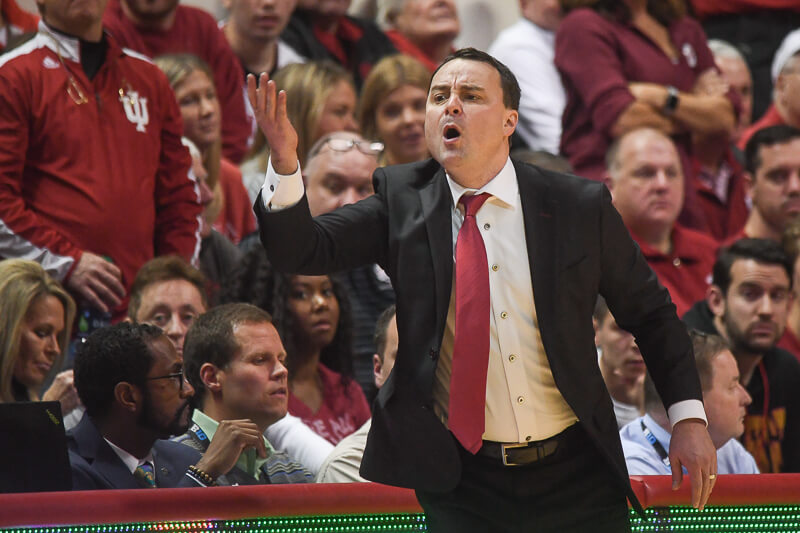 After a two-week hiatus from live shows, Inside IU basketball with Archie Miller returned this week from the Holiday Inn in Bloomington. Host Don Fischer was joined by Miller to discuss this past week's wins over Penn State and Louisville and much more.
Here are the highlights from this week's show:
• Miller called the past week a "gut check kind of week" for the Hoosiers. "Anytime you can win on the road, it's a great feeling."
• Miller said the Hoosiers went at it hard in practice following the two Big Ten games and understood the emotion and pride they needed to display in the Louisville game. "Assembly Hall was rocking and I thought the guys competed the whole way through."
• Fischer asked Miller if playing and winning close games shows the growth so far for this team and Miller pointed back to the Arkansas game, even though it was a loss, as an example of the Hoosiers finding a way to give themselves a chance to win a close game in a tough environment. "You look back and it was a game we didn't play well, but those last five minutes, we found a way to get there on the last play of the game and have a chance to win it."
• Miller said Indiana's last five practices have felt like a "real college environment."
• On Indiana's free throw shooting: "I'm concerned about free throw shooting. It's one of those things where … because you understand how valuable the possessions are when you get fouled and go to the line and either come up short on two or miss the front end of a one-and-one, that's like a turnover. That's like an empty possession that you didn't get anything out of. When you get fouled, it's a good thing and I think we went to the line 25 times in the game versus Louisville's 13. So be able to shoot that many more in the game was a big discrepancy where we should have been able to take more advantage of."
• Miller said the free throw shooting and turnover struggles so far make Indiana a team that can "really get better" offensively.
• On the passing of Eric Anderson: "It's incredibly sad. Thoughts and prayers from our basketball program, our staff, myself to everyone involved with he and his family. I was probably 10 to 12 years old when I first heard about Eric Anderson. Ironically, he played in the World University game with my brother Sean and Calbert Cheaney was on that team with Bobby Hurley and a bunch of guys. They won a gold medal, I think in Sheffield, England in the summer of 1991 or 1990, I'm not real sure. I always remember when my brother came back, I'd ask what this guy was like or that guy and all he talked about was the 'Big E.' He said he was one of his favorite people that he's ever come across. Upon getting the job and starting to get to know the decades of (IU) players, I was always wanting to meet him. He came back for the first time in a long time, I think, to our reunion for the 1991-92 team last year against Iowa, I believe. I had a chance to spend time with him after the game and to watch Alan (Henderson) and Brian Evans and all those guys that were a part of that deal. It was cool to get to know them. He doubled back and came to our former player and manager reunion in French Lick this summer. He was a really enjoyable guy, funny. He text me I guess after our Marquette game and some of our earlier games … I was just hopeful he was going to get to be around a little bit more. I was shocked to hear it."
• On Trayce Jackson-Davis: "We got to know him as well as anybody, got to recruit him as hard as anybody and just think the world of his family and him as a kid. He's a nice, fun loving guy. He's grown rapidly in terms of his development as a basketball player in the time that we've known him."
• On Romeo Langford: "He's an easy guy to like. He's a terrific kid. He's quiet, he's humble and he doesn't pay attention to a whole lot other than what he's being taught. If he doesn't understand something, he asks. Just in watching him last week, he got going for us at Penn State in the first half and was able to really get us off the floor, so to speak, with his offense. His defense is getting better and better. In the Louisville game on Saturday, I thought he was aggressive and attack oriented as he's been. To be able to draw ten personal fouls as a guard is incredible."
• Miller said IU's focus with Romeo isn't on scoring: "We're trying to get him to become as complete as he possibly can be. And I'll say this. The rise of his defense from October to November and now into December, he's done a much better job defensively."
• Miller said that Indiana wouldn't have won the Penn State or the Louisville game without Robert Phinisee.
• Miller credited Justin Smith's growth defensively and how much it has shown up over the last two games for the Hoosiers: "Having to guard Lamar Stevens in one game and Jordan Nwora in the next. And Jordan had a very good game, but if you really study the film, Justin was as detailed as we asked them to be in those two games. He's really come of age. He's playing extremely hard."
• On De'Ron Davis: "A lot of people don't understand how hard it is to have to come into a season and work your way into shape as the season is going on. Number one, it's very difficult. And number two, your body just doesn't feel good. And to his credit, he's kind of chopped wood and he's in the best shape of this current season. He's heading towards January, which we hoped he would be, as being the leanest and best conditioned that he can be."
• On Indiana's inclusion in the top 25 and whether it means anything: "I used to basically say, no, you don't pay any attention to that. At the end of the day, the end of the season is what really matters. But at Indiana, I think it matters. I think Indiana is a program that is proud enough to understand that you should be a perennial top 25 program. We should be pushing towards where we've in the past. If it's been done before, you can do it again."
• Miller said his Dad text him that Indiana needs to "get on a new free throw plan." He then said, "It must be hitting an all-timer if he's paying attention to it. We maybe gotta get a free throw coach in here, I don't know. I thought I was a pretty good free throw shooter, but I'm not a good free throw coach."
• Miller said Race Thompson is still out with a concussion, but attended practice on Monday. Thompson remains in concussion protocol. He worked out twice cardio wise on Sunday and did some weight lifting and responded well.
• With Jerome Hunter, he's still recovering from surgery and there's no timetable for his return.
• Due to exams, Indiana will have two days off this week, but will also practice hard, according to Miller.
• On Saturday's game against Butler: "Got a ton of respect for the program. LaVall's doing a great job. Their identity won't change. They believe so much in who they are which is just a tough, physical grind it out team defensively that makes things very difficult on you. And from an offensive perspective, a team that can really execute. It's going to be another game that's going to be really, really hard."
Filed to: Archie Miller