Big Ten Power Rankings: Five teams go unbeaten in early conference play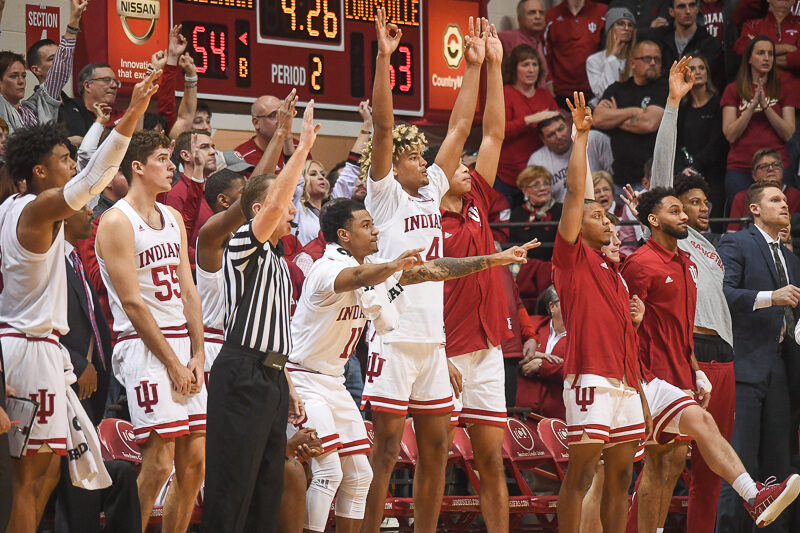 The early window for Big Ten play has concluded and five teams — Michigan, Michigan State, Ohio State, Wisconsin and Indiana — are unbeaten in league play.
Here's a look at how the league is shaping up through the first week of league play. (Note: These rankings only consider conference games and will be on hiatus until conference play resumes after the new year.)
14. Illinois (0-2, .90 PPP, 1.07 PPP allowed) – Is this the year Rutgers finally climbs out of the Big Ten cellar? Through two league games, we're slotting the Fighting Illini behind the Scarlet Knights. Illinois played two tough games to open conference play (at Nebraska, vs. Ohio State in Chicago), but Brad Underwood's team doesn't do anything well defensively outside of forcing turnovers. Things aren't any better offensively, either. In its two Big Ten games, Illinois shot a dismal 37 percent on 2s and scored just .90 points per possession. It's looking like it will be another long winter in Champaign.
13. Rutgers (0-2, 1.03 PPP, 1.16 PPP allowed) – Like Illinois, Rutgers had a tough start to league play with Michigan State at home and a road trip to Wisconsin. The Scarlet Knights were competitive in both contests with an 11-point loss to MSU and a five-point loss in Madison. There were two things that can be viewed as encouraging for Rutgers through two league games. The Scarlet Knights are taking care of the ball (11.3 TO%) and they're also not in the bottom four of the league in 3-point or 2-point shooting through their first two contests. (Rutgers finished last in both categories last season.) In fact, scoring 1.03 points per trip against a pair of teams currently in the top four of this week's rankings is impressive for Rutgers.
12. Iowa (0-2, .99 PPP, 1.20 PPP allowed) – Do we really believe Iowa is the 12th best team in the Big Ten? Certainly not. But since we're only considering results from conference play, it's fair to conclude that Iowa's defense is still a problem. The Hawkeyes were carved up for 1.2 points per trip in their first two league games. Michigan State and Wisconsin shot a combined 58.8 percent on 2s against Iowa. Offense shouldn't be a long term problem for Iowa, but until the Hawkeyes prove they can defend at a league-average rate, expect up and down results in Iowa City.
11. Penn State (0-2, .90 PPP, .97 PPP allowed) – The Nittany Lions played two close games in the early window of conference play, dropping their opener by seven at Maryland and then falling by two at home to Indiana. Right now, Penn State's primary issue is inconsistent play in the backcourt (Josh Reaves isn't living up to preseason expectations) and poor free throw shooting. In fact, 15 missed free throws likely cost the Nittany Lions a win over Indiana last Tuesday.
10. Northwestern (0-2, .98 PPP, 1.01 PPP allowed) – Northwestern was in both of its first two conferences games as it had a shot to win each game (at Indiana, vs. Michigan) at the buzzer. Northwestern doesn't have a point guard, but that hasn't mattered so far. The Wildcats have enough guys who are capable of making plays with the ball on the wing in Vic Law, AJ Turner and Ryan Taylor. What is a problem, however, is how Northwestern has defended inside the 3-point line through two games. Michigan and Indiana shot a combined 58.9 percent on 2s against the Wildcats. If Northwestern can't keep the ball out of the paint, this could be a recurring problem.
9. Purdue (1-1, .94 PPP, 1.07 PPP allowed) – Purdue was crushed in its Big Ten opener at Michigan (a result that many Big Ten teams are likely to suffer this season) and then narrowly beat Maryland at home to salvage a split in their first two league games. As expected, the Boilermakers are relying heavily on Carsen Edwards for offense, but the All-American guard shot just 7-for-22 on 2s and 4-for-14 on 3s in two conference games. Those numbers will improve, but can Purdue develop a few reliable scoring options behind Edwards? If not, Purdue is putting a lot of pressure on Edwards to be perfect every night in order to win. Defensively, it appears the Boilermakers have taken a step back this season as they've already surrendered more than a point per possession on four occasions this season.
8. Minnesota (1-1, 1.06 PPP, 1.16 PPP allowed) – Minnesota was crushed by 20 in its Big Ten opener at Ohio State, but rebounded nicely with a seven-point home win over Nebraska. The Gophers don't have much depth, but the duo of Amir Coffey and Jordan Murphy is a solid one-two punch. The impending return of Eric Curry should give Richard Pitino a boost on the frontline and help improve the team's overall depth, but point guard play and defense remain major long-term question marks in Minneapolis.
7. Maryland (1-1, .98 PPP, .94 PPP allowed) – The Terps let one get away in West Lafayette on Thursday night with poor shot selection and decision making in the second half, but credit Purdue for taking advantage of that. Maryland's frontline of Bruno Fernando and Jalen Smith should only continue to improve, but its guards have to make better decisions. Through two league games, Maryland has a turnover percentage of 26.5, which is the worst in the conference.
6. Nebraska (1-1, 1.14 PPP, 1.08 PPP allowed) – Nebraska collapsed in the second half of its loss at Minnesota, which is why the Huskers are currently outside of the top five of these rankings. The Huskers have been solid offensively through two Big Ten games, but are going to need to improve defensively to contend for a double bye in the Big Ten tournament. The Huskers struggled to keep Minnesota off the offensive glass and the free throw line. As a result, they gave up 46 second half points in their loss at Williams Arena.
5. Indiana (2-0, .95 PPP, .93 PPP allowed) – Indiana has plenty of work to do offensively, but the Hoosiers won their first two league games by playing well defensively. The Hoosiers beat Northwestern and Penn State by a combined four points and have now won three straight games by a combined total of five points. Last season, Archie Miller began laying the foundation defensively in Bloomington as Indiana finished with the league's fourth best defense and it appears the Hoosiers will take another step forward in year two of the Miller era.
4. Wisconsin (2-0, 1.09 PPP, 1.00 allowed) – Is Wisconsin back? We were bullish on the Badgers in the preseason and so far, Greg Gard is delivering results in Madison. Wisconsin has one of the nation's best post players in Ethan Happ and now has a solid supporting cast on the perimeter led by D'Mitrik Trice. Through two league games, Wisconsin is second in turnover percentage and first in 2-point field goal percentage. If both of those trends continue, the Badgers will be back in the top four in the final league standings.
3. Ohio State (2-0, 1.10 PPP, .89 PPP allowed) – We bet against Chris Holtmann last season and the former Butler coach led the Buckeyes to the NCAA tournament. It was reasonable to expect a step back this season following the departures of Keita Bates-Diop and Jae'Sean Tate, but so far, Ohio State is right back in the thick of the conference race. Although the Buckeyes have played a favorable league schedule thus far (Minnesota at home and Illinois on a neutral court), they currently have the league's best defense.
2. Michigan State (2-0, 1.27 PPP, 1.02 PPP allowed) – The Spartans were the popular pick to win the Big Ten despite losing Miles Bridges and Jaren Jackson Jr. to the NBA draft. Michigan State has the highest efficiency margin in the conference so far and its junior trio of Nick Ward, Cassius Winston and Joshua Langford looks capable of filling in for its departed superstars. In its two conference wins, Michigan State's offense has been humming thanks to a low turnover rate, strong offensive rebounding and an ability to get to the foul line.
1. Michigan (2-0, 1.12 PPP, .95 PPP allowed) – Our pick to win the Big Ten in the preseason, Michigan might be the best team in the country right now. The Wolverines have played one close game all season and it was a two-point win at Northwestern last week. Depth might be a long-term question that Michigan has to answer, but the Wolverines currently own the nation's best defense, according to Ken Pomeroy's adjusted defensive efficiency metric. When you combine that stout defense, captained by assistant coach Luke Yaklich, with John Beilein's ability to orchestrate an offense, you get a program that is currently clicking on all cylinders.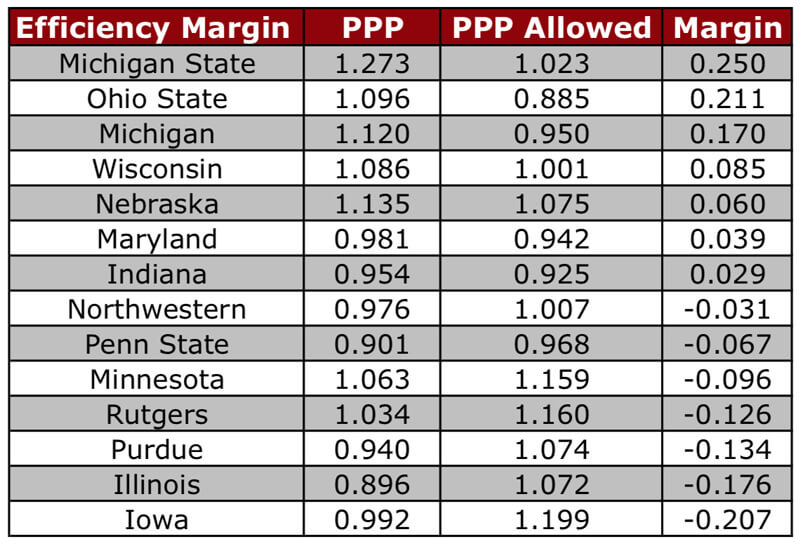 Filed to: Big Ten Power Rankings