How IU can use Evan Fitzner's floor spacing ability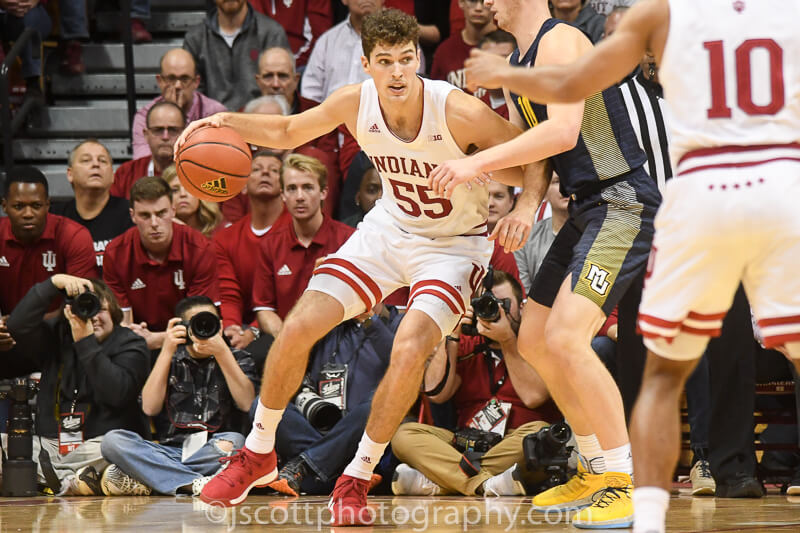 The first time I touched the ball in an eighth grade basketball practice, I was terrified. As a skinny, unathletic, 5-foot-8 kid, I had been cut from the seventh grade team a year prior. A year later, however, I was a skinny, unathletic, 5-foot-9 kid and managed to claim the final spot on the eighth grade roster. I was on the team to do one thing: shoot the ball. In addition to being a defensive liability, I couldn't handle or pass the ball, and I clearly wasn't going to rebound. But I could shoot.
So there I stood, in the right corner, scrimmaging against the first team (every member of whom went on to play Division I sports), eager to prove myself but unsure if I really belonged. When a teammate swung me the ball, I took one dribble and kicked the ball back out to the perimeter, passing up a wide-open corner three in the process. Our coach, a fiery and stern science teacher with a penchant for calling players out, rushed onto the floor and stopped practice.
"Ladner!" he shouted, just a few inches from my face. "You're a shooter, correct?"
"Yes sir," I responded softly.
"Well, what good is a shooter," he asked, "if he doesn't shoot?"
It's a question I've pondered often since that afternoon, both in playing the game myself and watching others. Could that same question be asked after 11 games of Evan Fitzner, Indiana's floor spacing big man who has attempted 20 triples this season?
A shooter that doesn't shoot, naturally, doesn't score. He handicaps his own game by negating the very skill that makes him valuable. But the effects of a gun-shy marksman affect his team's entire offense as well, cramping the operable space on the floor. Part of the value of having an elite shooter is the attention defenses must pay him and the threat of what might happen should they leave him open. That creates opportunity for other players – driving lanes unclog, post-ups draw less help, and ball screens instill greater panic when a defender can't leave his man for even an instant.
Given the rise in three-point shooting in recent years, particularly in the NBA, those sorts of players grow more valuable by the season. A player with Fitzner's gravity can create shots for others simply through being on the floor. He commands a defense's respect when he stands behind the arc, stretching his man away from precious interior real estate for Juwan Morgan or De'Ron Davis. Should Fitzner's man cheat off of him, the St. Mary's transfer shoots warm-up jumpers:
At 6-foot-10 with a smooth post game, Fitzner's attraction to ducking in and finding shots inside the arc is understandable to some degree. He has a knack for finding the soft spots of defenses, particularly against zones. When he cuts with purpose, he can help catalyze IU's offense:
Thus far, Fitzner has proven reluctant to launch at times, and doesn't always take full advantage of the luxuries he affords the Hoosiers. He tends to drift inside the arc, which infringes upon teammates' space and muddying the offense:
Save for decisive cuts and the occasional offensive rebound attempt, Fitzner's value decreases inside the three-point line on offense. A shooter only stretches the defense as far as he's willing to journey from the basket. When he isn't spacing the floor, Fitzner reduces not only the value of his own shots, but the space his teammates have to operate as well.
A Fitzner shot out of the post is worth, on average, 0.8 points per possession, well below Indiana's team mark, per Synergy Sports. His average spot-up, however, generates over 1.3 points per possession. Despite shooting 45 percent from deep, he attempts just two triples per game. Fitzner is currently a threat, but not a weapon. If a defender knows his man won't readily fire, closeouts become less aggressive, passing and driving lanes become slightly narrower, and the offense stalls as a result.
Fitzner is naturally twitchy – constantly seeking to create some sort of movement on offense – and part of his wandering stems from an earnest desire to spark action and keep defenses off-balance. That activity can be an asset when channeled in more useful ways. Fitzner fits the bill of an ideal pick-and-pop big, but IU has only deployed him in that role three times this season, per Synergy. Involve him in actions with one of Indiana's dynamic ball-handlers, and Fitzner becomes markedly more dangerous:
Stationed away from the play, he can be just as effective as a catch-and-shoot finisher or a decoy that creates space for others. Watch him drag Lamar Stevens out of the play as Al Durham slips through the back door:
The possibilities a great shooter affords an offense are many, provided that player fills a role befitting his skill set. Even if his percentage dips on more difficult and more frequent looks, the value Fitzner provides merely in letting the ball fly is essential to the well-being of IU's offense. He must prove it, however, for the Hoosiers to gain those advantages.
A shooter that doesn't shoot, ultimately, is no shooter at all.
Filed to: Evan Fitzner