That's A Wrap: Team offense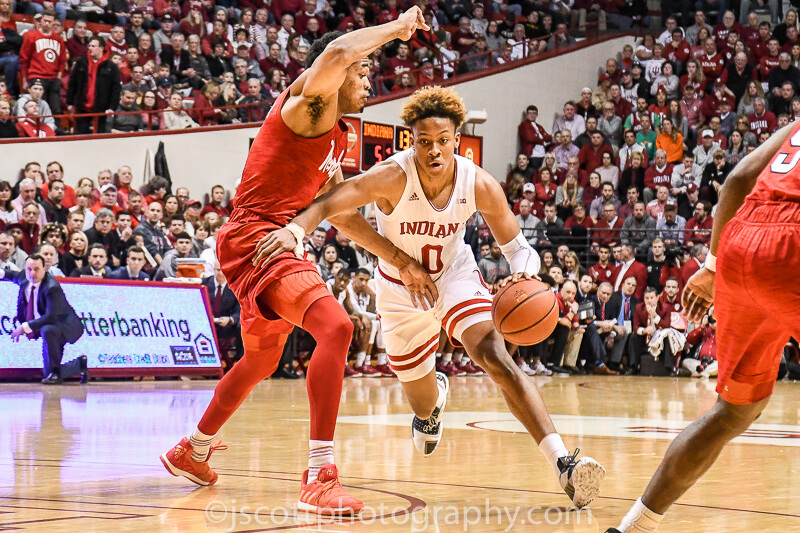 Welcome to "That's A Wrap," our recap of the 2018-2019 Indiana Hoosiers. Today: Team Offense. Previously: Damezi Anderson, Rob Phinisee, Jake Forrester, Romeo Langford, Race Thompson, Jerome Hunter, Al Durham, Justin Smith, Clifton Moore, Devonte Green, De'Ron Davis, Zach McRoberts, Evan Fitzner, Juwan Morgan
Team Offense (35 games): Adjusted Efficiency: 109.1 (82nd), eFG%: 51.0 (162nd), TO%: 17.9 (133), 3PT%: 31.2 (311th), 2PT%: 53.1 (63rd), FT%: 65.5 (328th)
It may be hard to remember now, but as the non-conference season wrapped on Dec. 22, Indiana's shooting was an elite strength. Sitting at 12-2 after a win against Jacksonville, Indiana possessed the second-highest shooting percentage in the country on both all field goals (52.9 FG%) and 2-pointers (60.4%).
And its 3-point shooting was more than respectable, coming in at 37 percent, good for 63rd in the country. It was an offense predicated on half-court success instead of an up-tempo attack on the break, working the ball until it got it to an efficient scorer — namely Juwan Morgan on the block with space or Romeo Langford with room to drive — and the points were soon to follow. It wasn't always pretty, but the Hoosiers had a knack for making a play and scoring at the end of the games to emerge victorious. While there were a couple clunkers from distance — 2-of-12 against UT-Arlington, 3-of-11 against Northwestern — the Hoosiers also shot 40 percent or higher from deep against Marquette, Arkansas, Butler and Jacksonville to land at that 37 percent through its first 14 contests, despite lacking a consistent threat.
Its two black marks?
Slow starts and some sloppy play led to a turnover percentage of 20.1, which ranked them 237th nationally. The Hoosiers also struggled from the free throw line, something that never recovered all season long.
At the time, it seemed if Indiana could cut down on the turnovers, perhaps a more efficient offense was on the way in conference play.
While Indiana did improve its turnover percentage quite a bit to land at 17.9 (133rd) for the season, the offense did not improve. Not at all.
So what happened?
After a loss to in Ann Arbor — where a slow start doomed the Hoosiers despite outscoring the Wolverines in the second half — and in College Park — where Indiana's offense was great, but some bad defense allowed Maryland a comeback in the second half — Tim Miles and Nebraska came to Bloomington for a matchup on Jan. 14. It was a contest Indiana lost by 15 and which ultimately changed the course of the season.
The Cornhuskers employed a 1-3-1 zone for parts of the contest and Indiana struggled against it. The zone led to a number of early in the shot clock and out of rhythm 3-pointers from the Hoosiers, as they finished just 2-of-14 from deep in the game. When in man, Nebraska packed the paint and made it difficult for Indiana to get a lot going. During the second half of the Fox Sports 1 broadcast, an "In The Huddle" segment captured Miles telling his team this: "Romeo's going to try and do too much, Morgan's gonna try and take over, we know the usual suspects — let's get to 'em."
It was a little harsh, but the broad strokes proved true. As long as a defense keyed on suffocating the paint, which in turn helped to take away Morgan and Langford and dared Indiana's role players into shooting 3-pointers, it had the perfect strategy to slow Indiana's offense. It proved to be the checkmate move on the board. Matt Painter and the Boilermakers employed a similar pack-the-paint style just days after the Nebraska loss and the losses kept piling up from there, the Hoosiers eventually losing 12 of 13. Indiana was often helpless to overcome the strategy taking away their offensive focal points. It was clear the shooting just wasn't there. Nor were other reliable scorers. Injuries to Robert Phinisee and De'Ron Davis and a suspension for Devonte Green didn't help things.
Because Indiana suddenly found itself with no other option at times but to hoist open perimeter shots instead of getting shot opportunities in rhythm, their 3-point shooting, which always felt like it didn't quite pass the eye test in the non-conference season, fell off a cliff. Their confidence struggled. During a five-game stretch in January that kicked off with that 2-of-14 performance against Nebraska, the Hoosiers shot just 15.6 from distance (10-of-64), which for a time had them on pace for the worst 3-point shooting team in the Big Ten Conference during the KenPom era.
There were slivers of what might have been as Indiana rebounded to win its last four conference games and flirt with an NCAA tournament bid, before ultimately losing to Ohio State in the Big Ten tournament and winning two games in the NIT. In a game against Illinois on March 7, Brad Underwood decided to stick with his pressure man-to-man defense instead of defending the Hoosiers by sagging off and packing the paint like so many other had with success. It wasn't the right move. The Hoosiers finally had room the breath again in the half court and it led to 1.38 points per possession, a season-high. Green also came on in a big way to close out the season, shooting a high percentage from distance and proving he could get his own shot — two things that could have proved huge as the Hoosiers struggled through the conference season.
Bottom Line: Despite bringing in a shooting threat in Evan Fitzner and having what appeared to be a number of other capable 3-point shooters including five-star shooting guard Langford, Indiana finished the season shooting just 31.2 percent from distance, which ranked only 311th best in the country. It also ended the year as one of the worst free throw shooting teams in Division I (65.5 percent, 328th). Once teams caught on that taking away entry passes to Morgan and bringing help to close off driving lanes for Langford was the key to beating Indiana, the season more or less imploded. It all culminated with the Hoosiers posting a dismal offensive profile in conference play: finishing 11th in offensive efficiency, 14th (dead last) in 3-point shooting and 12th in effective field goal percentage (46.4).
Quotable: "When you can't make shots, the game is hard. And that's been a common theme here in the last two to three weeks, just being able to hit an open one, being able to get a couple guys to be able to make a couple, step up, make the open lay-up, finish on a two-on-one. We're just not capitalizing on offense just in terms of being able to make the perimeter shot, and we have better shooters than we shot tonight. I'd be hard pressed to see if you could shoot worse than that, to be honest with you." – Archie Miller after Indiana's 69-46 home loss to Michigan on Jan. 25.
Filed to: 2018-2019 season wrapup