A look back at Indiana's unprecedented recruiting run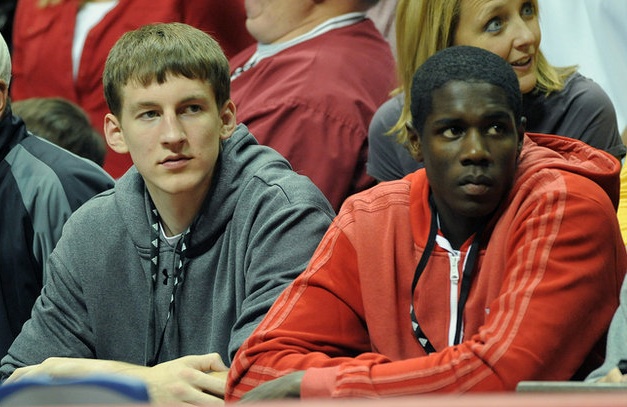 Those of you who follow us on Twitter (cheap plug) may have noticed a tweet last evening that proclaimed the following: "A year ago, Indiana had one verbal commitment. Since August 9, 2010, Hoosiers have picked up 11 commitments, including four 5-stars."
In less than 12 months, the question surrounding the state of Indiana's recruiting changed from "Can IU lock down the borders of the state once again?" to "Who will the Hoosiers land next?" It truly has been an unprecedented run of success on the recruiting trail by Tom Crean and his staff.
Here's a look back at the significant recruiting developments since last August in chronological order:
August 9, 2010: Peter Jurkin became Indiana's first recruit in the 2012 class when he committed on a live television broadcast at adidas Nations in Chicago. Ryan was there to catch up with Jurkin shortly after he made the pledge.
August 15, 2010: Fresh off the positive momentum of Jurkin's commitment, the Hoosiers quickly added to the 2012 class with Broad Ripple guard Ron Patterson. Patterson says at the time of the commitment that he would like to see Lawrence Central wing Jeremy Hollowell join him in Bloomington.
September 1, 2010: Cody Zeller announced dates for his official visits. Butler drew the first straw, North Carolina was second and the Hoosiers landed Zeller's last visit.
September 3, 2010: 2014 Bishop Luers freshman guard James Blackmon Jr. announced that he would play for Indiana before ever logging a minute of high school action. Blackmon's father, James Sr., told Inside the Hall that Indiana was headed in the right direction.
September 19, 2010: Jeremy Hollowell says he's impressed by the commitments of Jurkin and Patterson and adds that he believes the 2012 class is the one that will really turn things around for Indiana.
September 22, 2010: Reports surface that 2012 five-star point guard Kevin "Yogi" Ferrell and Trey Lyles, who is regarded as one of the country's best prospects in 2014, will visit Bloomington during the upcoming weekend.
September 26, 2010: Lyles adds his name to the list of Indiana commitments. Lyles' father, Tom, says he's already training his son for the rigors of college basketball.
October 12, 2010: Jeff Goodman reports that Baylor committed a violation in its recruitment of 2012 forward and Colombia native Hanner Perea, who had been listing the Bears and Indiana as his top two schools.
October 15, 2010: An impressive list of recruits attend Hoosier Hysteria.
October 29, 2010: Austin Etherington, Zeller and Hanner Perea attend the "Night of the Living Red," an open practice at Assembly Hall. It's an official visit for both Etherington and Zeller. It was a banner recruiting weekend in Bloomington.
October 31, 2010: Perea commits to the Hoosiers on Halloween and in the process becomes Crean's first five-star recruit and third pledge in the 2012 class.
November 9, 2010: With the completion of his three official visits, Zeller calls a press conference for two days later at the Hatchet House in Washington.
November 10, 2010: Etherington signs his Letter of Intent.
November 11, 2010: Zeller commits to Indiana and Chris Korman breaks down what the decision means for the Hoosiers moving forward.
November 11, 2010: Ferrell's father, Kevin Sr., tells Inside the Hall that the Zeller decision has pushed Indiana into lead in his son's recruitment.
November 20, 2010: Ferrell announces on Twitter that he's down to five schools.
November 21, 2010: A pair of 2013 forwards from Indianapolis — Collin Hartman and Devin Davis Jr. — commit to Indiana. Hartman tells Inside the Hall he asked his mother to turn the car around on his way home from a visit to Bloomington so he could commit and Davis' AAU coach says the Warren Central sophomore will bring another dimension to the Hoosiers.
November 24, 2010: Ferrell commits to the Hoosiers before his first high school game at Park Tudor and becomes the fourth member of the 2012 class. Crean is in attendance.
January 13, 2011: Kyle Neddenriep of The Indianapolis Star reports that Ferrell, Patterson and Perea will play AAU together for Indiana Elite in the spring of 2011.
March 16, 2011: Hollowell tweets that he's close to a decision. Cincinnati, Indiana, Ohio State and Purdue are the four schools reportedly in contention.
March 24, 2011: Hollowell makes the call for Indiana at a press conference at his high school and says he sees "something amazing about to happen" in Bloomington.
April 9, 2011: Indiana Elite Team Indiana — featuring Ferrell, Hollowell, Patterson and Perea — makes its spring debut at the IndyBall.com Shootout in Indianapolis.
April 24, 2011: Louisville Eastern guard Remy Abell, a member of the 2011 class, sets up a visit to Bloomington after being released from his Letter of Intent with Bradley.
April 27, 2011: Abell joins Etherington and Zeller in Indiana's 2011 recruiting class.
Filed to: Cody Zeller, Hanner Perea, Trey Lyles, Yogi Ferrell