Hanner Perea joins Indiana's 2012 recruiting class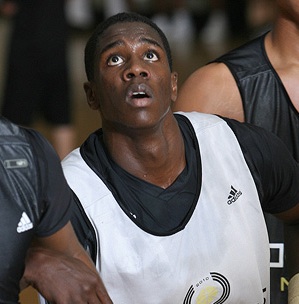 UPDATED: 2:43 p.m.
Indiana's 2012 recruiting class just became significantly better.
The news was broken by Evan Daniels of Scout.com: Five-star forward Hanner Perea has given a verbal pledge to the Hoosiers. Perea joins Ron Patterson and Peter Jurkin in IU's 2012 recruiting class.
The commitment followed a weekend during which IU hosted some of the state's most talented prospects, including Perea, Cody Zeller, Austin Etherington and Yogi Ferrell. For Perea, it was time to pull the trigger.
In Perea, Indiana adds a player with solid NBA potential and the kind of measurables scouts drool over. A 6-foot-8 forward, Perea possesses great athleticism and enough talent for Rivals to tag him the No. 10 overall player in his class. He is the highest-ranked commitment Tom Crean has reeled in at Indiana, and it was the coach, Perea said, that made his final decision easy.
"That's why I committed, because I know he's going to help me make my dreams come true and is going to help me get to the next level," Perea told Inside the Hall by phone shortly after leaving Bloomington Sunday. "He was really happy."
Perea hit town Friday night and took in the Night of the Living Red scrimmage seated next to Zeller and Etherington. The trio was joined a day later by Indianapolis point guard prospect Yogi Ferrell at the IU-Northwestern football game. The four recruits, all part of the Indiana Elite program, took in the game from the east side of Memorial Stadium, seated with members of the team and sandwiched between Tim Buckley and Crean.
The weekend itself has been hailed for awhile as one of the biggest in memory for Indiana basketball's recruiting efforts, and Perea's commitment certainly lends that opinion credibility.
Perea said he chatted with Ferrell about his commitment before ultimately deciding to pull the trigger. Now, Perea said, his conversations with his friend will take on a different tone.
"He knows that I would love to play with him," Perea said of Ferrell, adding that his commitment would give the Park Tudor point guard "one more reason to come to IU."
More generally, Perea talked about the entire cluster of talented Indiana Elite prospects considering IU, including the ones he joined in Bloomington this weekend. Echoing the sentiments, surely, of IU basketball fans everywhere, he talked excitedly of the possibilities in front of them should they come to Bloomington together after high school.
"We've been playing together in AAU. We know everything about each other," Perea said. "I would love to play with them (in college)."
(Photo credit: Jack Arent/adidas)
–Alex Bozich and Zach Osterman contributed to this report
Filed to: Austin Etherington, Cody Zeller, Hanner Perea, Yogi Ferrell