2011 guard Remy Abell makes the call for Indiana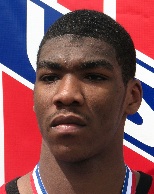 On Wednesday afternoon, Indiana picked up a third player for its 2011 recruiting class — Louisville Eastern guard Remy Abell.
The 6-4, 180-pound Abell was selected for the Kentucky All-Star team and was named first team All-State by The Courier-Journal. He averaged 16 points, 2.8 rebounds, 2.7 assists and 2.5 steals and had 25 blocked shots during his senior season at Eastern.
Inside the Hall caught up with the newest Hoosier shortly after his commitment for a Q & A:
On when he knew Indiana was the place for him
"It kind of helped me after I made the visit on Monday. I was thinking about it a lot and it's a great school, great program, great history and I'm real excited to be a Hoosier."
On the Monday visit to Bloomington
"I just met some of the players, hung with the coaches. And Coach Crean, he's the head coach and he's a future hall of fame coach. I know he's going to push me, but I know he can make me a better player in the long run. The rest of the coaching staff was just great and just seeing the facilities, visiting around the campus, it was great."
On the tradition of the Indiana program
"I know they're a winning program. They're like third or fourth at winning the most championships. They're one of the elite programs in Division I college basketball. It's a big honor to be a Hoosier and I just can't wait to get started."
On the recruiting process and switching schools after a coaching change at Bradley
"Trying to get the release with Bradley was kind of overwhelming, but I've been patient. I feel like everything happens for a reason. Going to Indiana will be an even better fit for me so I'm real excited."
On playing against Austin Etherington and Cody Zeller in the Indiana-Kentucky All-Star game and building a relationship with those future teammates
"Maybe I can go up to IU and visit and meet them up there. But I can't wait to play against them and definitely try to build a relationship."
On his game and what he will bring to Indiana
"I'm just a hard worker, I'm a team player. I always look for my teammates. I can score in transition. I like to get to the rim, get to the basket. I can pull up J. I'm just a team player and like to have fun."
(Photo credit: Jody Demling)
Filed to: Remy Abell