Kevin "Yogi" Ferrell down to five schools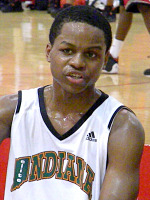 Per a tweet earlier this evening, 2012 Park Tudor point guard Kevin "Yogi" Ferrell has narrowed the list of schools involved in his recruitment to five.
Ferrell announced a top six of Wake Forest, Florida, Butler, IU, Virginia and Miami (FL) on November 13, but the Hurricanes are now out of the running:
"I have not decided to take my talents to the south with lebron and have cut Miami from my top 6 so I now have top 5 schools"
The No. 2 point guard nationally in his class, according to Rivals.com, has been considered a heavy lean to Indiana due to friendships with 2011 signees Austin Etherington and Cody Zeller, but has not announced a timetable for a decision.
Speculation that an announcement could be imminent has run rampant after Ferrell posted a message on his Twitter that "Something is going down November 24th" and "Be prepared everyone." Park Tudor opens its season on the 24th against University.
Our Zach Osterman, who has followed Ferrell's recruitment as closely as anyone in recent months, offered this analysis earlier today in our Twitter mailbag:
"There was a tweet posted during Tuesday's game suggesting that Yogi's pledge could be imminent, and I was told by someone I trust that reporting that wouldn't have been the best idea. I don't think this goes on for months, but Yogi is going to take a little time, as is his prerogative. I would be surprised — though admittedly not incredibly so — if he commits on the 24th."
(Photo credit: Scout.com)
Filed to: Yogi Ferrell