Inside the Hall Twitter Mailbag: November 20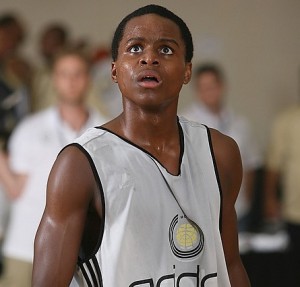 The Inside the Hall Twitter mailbag is a weekly collection of questions tweeted to us via our Twitter account, @insidethehall.
Tweet us your questions each week and we'll answer as many as we can. Now, onward …

@fredontv writes: How many 2012 slots are still open?
Alex Bozich: Fred, it seems like scholarship numbers are a popular topic of discussion amongst IU fans. This stems mostly from the fact that IU is involved with a number of highly touted prospects and fans wonder, 'Will we have room for all of this talent?' As it currently stands, IU has one scholarship remaining and an oversign for 2012. But there are a lot of factors to take into consideration. For instance, our current scholarship chart does not show Matt Roth taking a redshirt season. It does not take into account that sophomores Christian Watford and Maurice Creek could declare early for the NBA Draft. And it also assumes that no player on the current roster will leave the program via transfer. From what I understand, if IU can get the three remaining players it covets most for 2012: Yogi Ferrell, Gary Harris and Jeremy Hollowell, the scholarships will be available to make it happen.
@Tall_Skinny_Man writes: What do you think VJIII can do to cut down on turnovers? Do you see Hulls handling the ball more until VJIII fixes this?
Zach Osterman: I think there are a couple of answers to this question. First, I think Verdell is still not quite at 100 percent, and I think everyone was tired after that 3-in-5 stretch last weekend. That said, six turnovers per game is too many, and Verdell definitely looks like he's forcing things too often. I think it's probably partially a factor of getting him to slow down, but remember that he's also one of the most capable players on the team when it comes to creating offense, either for himself or others. If Hulls does see more time with the ball — and he probably should, he played well last game — I don't know that it's at Verdell's expense specifically.
@nithkrish writes: Yale won at BC by 8 tonight…we go to Chestnut Hill in a couple weeks…11-1?
Alex Bozich: IU has 13 non-conference games, with 10 remaining on the docket. Evansville, North Carolina Central, Northwestern State, Savannah State, SIU Edwardsville and South Carolina State are six remaining games the Hoosiers will be heavily favored to win. That makes nine wins. Beyond that, there are games at Boston College and Kentucky along with a game in Vegas against Northern Iowa and another game in Vegas against either Colorado or New Mexico. IU will likely be in all of these games, with Kentucky being the toughest of the four. That said, I think the most likely scenario is a 10-3 record heading into Big Ten play. That would match IU's win total from a season ago with 18 games still to play.
@chrishardergolf writes: u think cam newton taking ncaa manpower away from gmm decision?
Zach Osterman: I hope not. As an Auburn fan, let the NCAA take it's time with Newton. In all seriousness though, I'm not specifically dialed in on the exact process for these things, but I'm almost positive it's not a case-by-case basis (which is to say they're working on both). Obviously, manpower is limited, but the NCAA also tries to expedites cases for athletes with pressing need or in-season, so I'm sure Guy-Marc Michel's case is getting plenty of attention. The NCAA is deliberate here. We all complain about speed, but the consequences of getting the decision wrong are far worse that it taking more time than is comfortable. It won't take this long, but remember how long the NCAA was looking into Enes Kanter's eligibility.
@CFentonRRer writes: Thoughts on Michael Chandler decommit frm Xavier? Is he still an IU interest or 2 much of a risk? Think he's headed to JC?
Alex Bozich: Not totally surprised that Chandler decided to open things up again, given that he already did so once with a prior commitment to Louisville. Everyone I've talked to seems to believe that Chandler will have trouble with eligibility issues and while he's an extremely talented prospect with tremendous upside, why waste time pursuing a kid that is not a sure thing to qualify?
@BrentBishop writes: have u heard about Yogi making a commit on the 24th?
Zach Osterman: Look, the Yogi rumors have been flying since Cody committed. He's IU lean, and has been for awhile, but the reports of an imminent commitment seem almost regurgitated. There was a tweet posted during Tuesday's game suggesting that Yogi's pledge could be imminent, and I was told by someone I trust that reporting that wouldn't have been the best idea. I don't think this goes on for months, but Yogi is going to take a little time, as is his prerogative. I would be surprised — though admittedly not incredibly so — if he commits on the 24th.
@rick_park writes: Are any of our current recruits "one and done"? Perea seems like the most likely candidate.
Alex Bozich: Rick, I would agree that Perea seems the most likely candidate, but looking into the future a bit, 2014 Indianapolis Tech forward Trey Lyles may be even more likely if his development continues at such a rapid pace. And based on conversations I've had with Trey's father, Tom Lyles, there's no reason to believe Trey is going to stop improving anytime soon. He seems to be a true student of the game that is focused on becoming great. Whether Lyles is the type of kid to consider bolting after one season remains to be seen. But back to Mr. Perea: His game is currently centered around an elite athleticism that makes him unstoppable, at times, around the rim. He's got two years to hone his skills before arriving in Bloomington, but if he can add a consistent midrange game and a better handle, the chances that he's a one-and-done player increase significantly.
@ChronicHoosier writes: Over/under on the number of Yuenglings @DustinDopirak & @ChrisKorman will imbibe this weekend?
Zach Osterman: If there is an "under" to be assessed here, I will be immensely disappointed in the both of them. That said, for posterity's sake: 536.
Filed to: Twitter Mailbag