Report: 2011 guard Remy Abell to visit on Monday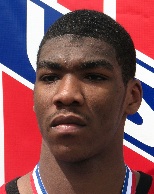 According to a report by Jody Demling of The Louisville Courier-Journal, 2011 Louisville Eastern guard Remy Abell will visit Bloomington on Monday.
Abell was recently released from his National Letter of Intent with Bradley after the school fired Jim Les. The 6-4 Abell told Demling that he'll consider IU, Xavier, Butler, Penn State and Western Kentucky.
Here's what he said about the Hoosiers:
"Yes, I like IU a lot. I like where it's at and I like the program. They have some great pieces there, especially if I get to go play with one of the top recruits in the country, Cody Zeller. He's a great player and IU has one of the elite programs in the country. It would be an honor to play there and for coach (Tom) Crean. I am really looking forward to seeing what IU has to offer."
Indiana currently has one scholarship remaining for the 2011-2012 season.
Abell is rated as a 3-star recruit by Rivals.com and a 2-star recruit by ESPN.com and Scout.com. He was selected for the Kentucky All-Star team and was named first team All-State by The Courier-Journal. He averaged 16 points, 2.8 rebounds, 2.7 assists and 2.5 steals and had 25 blocked shots during his senior season.
(Photo credit: Jody Demling)
Filed to: Remy Abell