Jeremy Hollowell becomes IU's fifth commit in 2012 class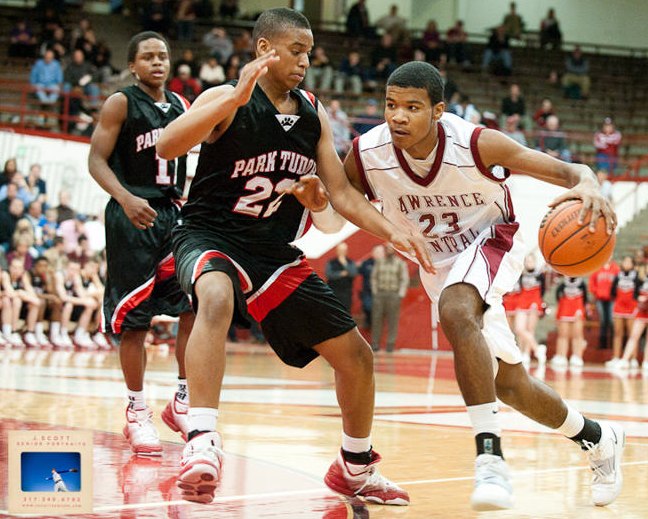 Jeremy Hollowell is a Hoosier.
The 6-7, 195-pound wing from Indianapolis announced that he'll attend Indiana at a news conference today at Lawrence Central.
"At Indiana I see something pretty amazing about to happen, " the junior wing told a group of assembled reporters. "And I wanted to make sure I was a part of that."
Hollowell, the No. 38 player in the 2012 class according to ESPN.com, also considered Cincinnati, Ohio State and Purdue.
The versatile wing averaged 18.9 points and 7.1 rebounds in his junior season for 15-10 Lawrence Central.
"The biggest thing with him is that he's turning the corner from prospect to player," ESPN senior recruiting analyst Dave Telep told Inside the Hall of Hollowell. "The tools are there as a perimeter and even post up guy down the road."
He's the fifth commit in Tom Crean's 2012 recruiting class, which also includes Ron Patterson (Broad Ripple), Kevin "Yogi" Ferrell (Park Tudor), Hanner Perea (LaPorte La Lumiere) and Peter Jurkin (United Faith Christian Academy, NC).
"This commitment solidifies them as a Top 5 class at worst and depending on what the others do could finish higher," Telep added. "The tough part is trying to read the country and predict when Indiana has done the most work in the junior class. Right now, they're running their own race and collecting talent."
SCOUTING NOTES
The one thing that stands out with Hollowell is how easy he can make the game look. Some might mistake the effortless look for a lack of intensity, but he does approach the game with a great deal of effort. After a blowout victory in a game at the Kentucky Hoopfest, Hollowell said he wished the event had "super pools" so the competition would be tough in every game. At 6-7 with a wingspan of 6-11, he does a nice job of using his length to create turnovers on defense. His outside shot is excellent and when defenders come too close, he can attack off the dribble and finish in the lane.
Hollowell's the most versatile player in this class (in Indiana). He's got the strength and length to mix it up down low as a rebounder, but the touch and skill to play on the perimeter. Jeremy's also a big-time athlete and can block shots. He's got a great feathery stroke on his jump shot and the ability to fill it up from deep. He's often been knocked for his laid back demeanor, but is beginning to assert himself off the bounce and on the defensive end. His length makes him a very versatile defender, one who may be able to defend the 2, 3 or 4 in college.
Jeremy is a skilled small forward with a multi dimensional game. He has a solid handle and can get in the lane against most opponents. He is good at creating offense off the dribble also. Hollowell is a good shooter with range to 20 feet. Jeremy's size allows him to be an effective player in the low post when he is guarded by smaller opponents. When guarded by bigger, slower players he can take them on the perimeter and get around them or shoot over them.
VIDEO
Here are a couple of looks at Hollowell, who stars in the summer for the Eric Gordon All-Stars:
Filed to: Jeremy Hollowell