Indiana Class of 2012 Rankings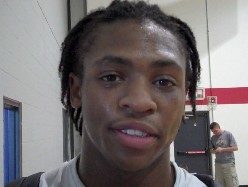 Joe Eberhardt is a high school sports blogger and writer in Indiana. He created Indy Hoops Blog and contributes to the Hoosier Hoops Report. You can follow him on twitter at @IndyHoopsBlog.
The state of Indiana is known for producing a plethora of Division 1 talent and the class of 2012 is no exception. This class features at least 10 high-major players and plenty of other players who could make an impact for mid-majors and low-majors. Direct any questions to the comment section and I'll be glad to answer all of them.
15. Harry Wills 6'3 PG (Ben Davis) – Wills is a sleeper in this loaded class. He's very quick, has good vision, and good passing ability, making him a strong floor general. He's a tough defender who won't give up any easy buckets or plays to his man. Wills is a good athlete and can finish against bigger opponents at the rim. He needs to develop his jump shot and could be a big steal if he improves his shooting.

14. Nick Osborne 6'8 PF (Muncie Central) – An extremely athletic big man with a great nose for the ball, Osborne excels at fighting for tough rebounds and earning points on the offensive glass. Osborne is very strong and is able to out-muscle and out-hustle opponents for loose balls and rebounds. He needs to expand his offensive game some, but he can knock down the open jumper if tested.
13. Ronnie Johnson 5'9 PG (North Central) – Ronnie is an ultra quick left-handed lead guard with great vision and supreme passing skills. He's not a great shooter, but has a knack for hitting the mid-range floater and can score buckets at the rim. He's the kind of player who can impact a game without scoring a single point. He needs to get stronger and improve his shooting, but he could be a big time coup for a mid-major program.
12. Kellen Dunham 6'4 SG (Pendleton Heights) – He's arguably the best shooter in the state. He can knock down shots off the dribble, catch and shoot, or in transition. His ball-handling is improving and he's showing increased ability to get to the rim and score. Dunham's also one of the best free throw shooters in the state, converting at a rate of 89 percent during the high school season. He needs to get stronger and quicker to help transition to the college game, but he's the kind of player you can see excelling at Butler.
11. Dejuan Marrero 6'5 SF/PF (Bowman Academy) – Plain and simple, there may not be a more tenacious rebounder in the nation than Marrero. He's a good athlete, has a strong frame and has a great nose for the ball. He can crash the boards on either end of the floor and score efficiently on the offensive glass. His game dictates that he'd likely play power forward in college, but his size makes you think he'd have to play small forward. He needs to improve his ball-handling and shooting to be an effective wing in college, but there's no denying his tenacity on the boards.
10. Glenn Robinson Jr. 6'5 SG/SF (Lake Central) – Glenn is an explosive athlete with great length. He can get to the rim very easily, where he can finish above the rim over bigger defenders. He's still improving his shooting, but does have good form on his shot. He rebounds well for his position and uses his length and athleticism to beat out bigger players for boards. He has great upside, and as he continues to improve his skills, he'll become a more productive player. If you watched his dad play in high school or college, you'll notice Glenn Jr's mannerisms are almost identical to his father. From the way he walks to the way he runs down the floor, Glenn Jr. resembles Glenn Sr. in many ways.
9. Austin Burgett 6'8 PF (Avon) – Burgett is skilled power forward who excels facing the basket. He has the skills to take slower opponents off the dribble and shooting range out to the 3-point line. Austin also has nice athleticism and has great touch around the rim. Right now he hangs on the perimeter at times and I'd like to see him establish himself in the paint more often. He does need to get stronger for college, but the versatile skills are definitely there.
8. RJ Hunter 6'5 SG (Pike) – Hunter is the player who benefitted most from a strong AAU season. Before the summer started he was mainly viewed as a shooter, but Hunter has really rounded out his game and now holds five high-major offers. Along with Dunham, he's one of the best shooters in the state. RJ has expanded his game by getting to the rim with ease off the bounce and rebounding well from the guard spot. He's got great length which also helps him as a defender on the wing. RJ needs to get stronger, which will benefit him on both sides of the ball.

7. Rapheal Davis 6'5 SG/SF (Ft. Wayne South) – Davis is a good 3-point shooter with the ability to get hot and really stroke the ball. His strength helps him get to the rim and finish after contact. He could tighten up his ball-handling a little bit to improve his driving ability. Although he's not as explosive as some of the other guards in his class, Davis is a capable athlete and is able to finish some plays above the rim.
6. Ron Patterson 6'2 SG (Broad Ripple) – Patterson (pictured) is an explosive athlete with a good outside shot. He has at times been streaky from the perimeter, but recently has been shooting at a more consistent level. Another great quality about Patterson is his ability to rebound well for his position. Patterson has a 6'10 wingspan, a trait that also allows him to be a disruptive wing defender and formidable shot blocker for his position. He needs to improve his ball-handling, but does a great job cutting to the rim without the ball.
5. D'Vauntes Smith-Rivera 6'3 PG/SG (North Central) – DSR is a powerful combo guard with a knack for knocking down tough shots. He excels with the ball going to the rim, where he can draw the foul and score from the line. His jumper is improving, making him a threat to score from all over the court. Smith-Rivera isn't the most explosive vertical athlete, but he has the strength to be a disruptive defender on the perimeter. He needs to improve his shooting consistency, because there's a chance he may have to play off the ball in college.

4. Yogi Ferrell 5'11 PG (Park Tudor) – Ferrell, a super quick point guard, is the ideal player you'd want running a team. He's an unbelievable ball-handler, a gifted passer and an efficient player who doesn't make many mistakes. He can blow by nearly any defender and score at the rim. On top of that he's establishing himself as a reliable shooter off the pull-up jumper. Defensively he's quick and can keep up with any player, but he does need to get a little stronger to handle larger guards. Ferrell just needs to get a little stronger and continue to shoot the ball consistently.
3. Jeremy Hollowell 6'7 SF (Lawrence Central) – Hollowell's the most versatile player in this class. He's got the strength and length to mix it up down low as a rebounder, but the touch and skill to play on the perimeter. Jeremy's also a big-time athlete and can block shots. He's got a great feathery stroke on his jump shot and the ability to fill it up from deep. He's often been knocked for his laid back demeanor, but is beginning to assert himself off the bounce and on the defensive end. His length makes him a very versatile defender, one who may be able to defend the 2, 3, or 4 in college.
2. Hanner Perea 6'8 PF (LaLumiere) – Indiana high school basketball's new resident is a super, long, athletic freak. Plain and simple, Perea will thrown down dunks that make you think the backboard could break. He brings that same intensity defensively with his ability to block shots and pull down rebounds with his elite athleticism. His offensive game is pretty raw, but he does possess a nice stroke from the foul line. He needs to improve his offensive game if he wants to become a more versatile threat, but there's no denying his length, athleticism and ability to run the floor.
1. Gary Harris 6'4 SG (Hamilton Southeastern) – Harris can do anything on the court. He's improved his shooting consistency to a great level, shooting 50 percent from the 3-point line at a recent AAU tournament. He can attack the rim off the bounce and is a phenomenal athlete. He's really undersold as a passer and makes smart plays with the ball in his hands. Defensively his length and quickness lets him disrupt plays and lock down opponents on the wing. There's really not a gaping hole in Harris' game, as he can score in so many ways and always plays hard. The one area of his game that does need a little work is his ball-handling. He's a sufficient ball-handler, but tightening it up a little bit would further improve his ability to get to the rim and score.
Filed to: Hanner Perea, Jeremy Hollowell, Ron Patterson, Yogi Ferrell