July evaluation period: 2012 class (part one)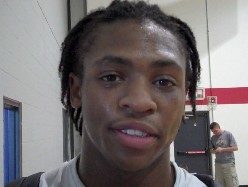 Inside the Hall hit the recruiting trail for the start of the July evaluation period and made stops at the adidas Invitational in Indianapolis and the Kentucky Hoopfest in Louisville. Here are our notes on prospects in the 2012 class with IU recruiting ties:
+ Ron Patterson, Broad Ripple (IN), Indiana Elite One: It's not difficult to become a fan of Patterson once you observe all of the intangibles he brings to the table. While others are focused on scoring as much as possible or attempting to throw down ridiculous dunks, Patterson sticks to the basics: hard-nosed defense, finding the open man, finishing in traffic and crashing the boards. His shot from the perimeter is also continuing to improve. He's not the most highly sought after recruit Indiana is pursuing for the 2012 class, but he's probably the best fit in terms of filling a need. And if he can develop the handle to run the point, that'll make him even more valuable at the next level. There's been a lot of buzz that Indiana could be the school to beat, but Patterson has yet to declare that sentiment publicly.
+ Yogi Ferrell, Park Tudor (IN), Indiana Elite: It was a bit surprising to see Ge-Lawn Guyn start over Ferrell in the adidas Invitational, but the Park Tudor guard proved he's worth the accolades he's received once he got on the court. Ferrell is a competitor that can create for others, make shots from the perimeter and also knock down shots off the dribble. His ball handling is outstanding. There's been some debate in the comments on who's the better prospect: Ferrell or Warsaw's Nic Moore. Having watched both players, it's tough not to go with Yogi for his size (two inches taller) and his ability to dish off to teammates in the lane. As far as his recruitment goes, Ferrell's frequent trips to Cook Hall have been well-documented on his Twitter feed, but Michigan is reportedly the school pursuing him the hardest.
+ Jeremy Hollowell, Lawrence Central (IN), Eric Gordon Central Stars: The one thing that stands out with Hollowell is how easy he can make the game look. Some might mistake the effortless look for a lack of intensity, but he does approach the game with a great deal of effort. After a blowout victory in a game at the Kentucky Hoopfest, Hollowell said he wished the event had "super pools" so the competition would be tough in every game. At 6-7 with a wingspan of 6-11, he does a nice job of using his length to create turnovers on defense. His outside shot is excellent and when defenders come too close, he can attack off the dribble and finish in the lane. After Patterson told us on Saturday that he'd been talking with Hollowell about playing together in college, the Lawrence Central forward said his decision centers on finding the best fit.
+ T.J. Warren, Riverside (NC), Garner Roads: Saturday was our first look at Warren and Indiana assistant coach Tim Buckley was also on hand for the contest. The game ended with Warren hitting a 3-pointer at the buzzer for the win. He's a 6-7, 200-pound forward with a strong upper body that uses both hands well. He didn't seem to move as fluidly in a Sunday game against Team Southern Indiana, but his size was too much to handle in the paint. Warren is from Durham and is being recruited by several ACC teams (NC State, Wake Forest and Virginia Tech have offered), so it's difficult to imagine him leaving the east coast. However, his AAU coach Dwayne West tweeted on Sunday that his recruitment is wide open.
Tomorrow: Matt Costello, Kenny Kaminski, Peter Jurkin, Wanaah Bail, Kaleb Tarczewski
Filed to: Jeremy Hollowell, Ron Patterson, T.J. Warren, Yogi Ferrell