Peter Jurkin joins Indiana's 2012 recruiting class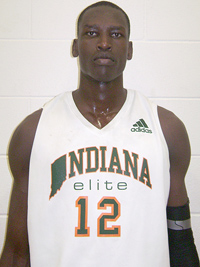 As expected, Indiana received its first 2012 commitment on Monday night as Peter Jurkin gave a verbal pledge to the Hoosiers during halftime of the adidas Nations Global Challenge championship game in Chicago.
"I have decided to commit to Indiana University. It's a good college. Good coach. I like it," Jurkin said on the broadcast.
Jurkin, a 7-0, 200-pound native of Sudan, plays at United Faith Christian Academy in Charlotte, North Carolina and for Indiana Elite Team Indiana. He is not ranked by Rivals.com and is listed as a three-star prospect by Scout.com, but that is expected to change based on his play during the July evaluation period.
Here's Inside the Hall's scouting report on Jurkin from the adidas Invitational and the Kentucky Hoopfest:
There are a lot of things to like about Jurkin's size. He's a legit 7-footer and does a stellar job defending the lane. His length is such that he can often block shots by simply standing his ground with his arms up. He also runs the floor extremely well and shows a pretty nice touch from the foul line. A bit concerning, however, is his lack of upper body strength. It's no fault of Jurkin's, but he'll need to improve in that area to become a real difference maker at the next level. Offensively, he's still pretty raw and will need to continue developing a go-to post move or two. Still, his ceiling is high enough that it's a bit surprising he's not held in a higher regard by the national scouts.
We'll have more on Jurkin's commitment later as Ryan was in attendance tonight in Chicago.
(Photo credit: Rivals.com)
Filed to: Peter Jurkin