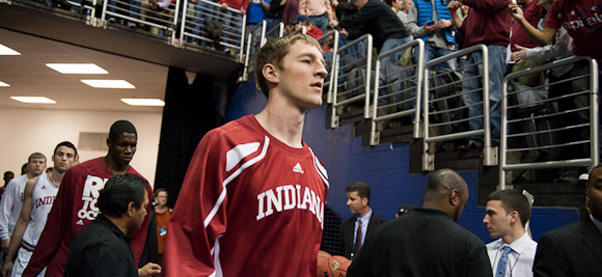 Cody Zeller was a program-changing recruit for Indiana.
In his two seasons in Bloomington, the All-American forward led the Hoosiers to 56 wins and an outright Big Ten championship before entering the 2013 NBA Draft, where he was the No. 4 overall pick by the Charlotte Bobcats.
Inside the Hall had the opportunity recently to talk at length with Zeller about his rookie season and about his time at Indiana. In part one of a two-part series that will appear this week on the site, Zeller reflects back on his collegiate career as a Hoosier:
Inside the Hall: Going back to your time at IU, what would you say was your favorite memory from your time as a Hoosier both on and off the court?
Cody Zeller: Wow, that's a tough one. I can't think of one. I definitely miss playing in Assembly Hall in front of the Hoosier fans. It was always so loud every game. It's so easy to play hard just because you've got so much adrenaline and you kind of feed off the crowd. So I definitely miss playing at Assembly Hall. The campus was always fun off the court. There was always something to do and a lot of people hang out with. There was always something going on so I do miss the college campus a lot.
ITH: How much do you keep in touch with your former IU teammates these days?