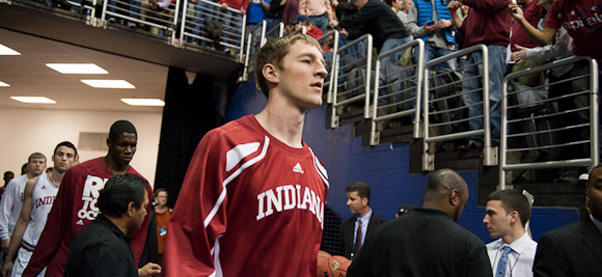 The Inside the Hall Mailbag is a collection of questions tweeted to us via Twitter (@insidethehall), submitted on our premium forum and sent to us via our Facebook page. Submit your questions and we'll answer as many as we can.
mcoghlan writes: Outside of free throws, Noah (Vonleh) has looked very impressive and seems to have a lot of potential. Do you see him eventually becoming a better player than Cody (Zeller)?
If we're talking eventually as in one day down the line in the NBA, I'll say maybe. If we're talking eventually as in while at Indiana, I'll say no. And that's no knock on Noah Vonleh. I think he has a chance to be an outstanding player.
But Cody Zeller was just the No. 4 pick in the NBA Draft and deserves a ton of credit for Indiana winning 56 games over the past two seasons. He was the best running big man in college basketball and arguably the most efficient big last season. It's no coincidence that Indiana went from 12 wins in 2010-2011 to 27 in 2011-2012. Zeller was not only excellent himself, he made others around him better. There's no doubt Vonleh will be very good with a chance to be great, but Zeller has already done it so I'll stick with him until proven otherwise. — Alex Bozich
kleeman20 writes: I guess I'm one of the few who hasn't noticed the big improvements from (Jeremy) Hollowell and (Hanner) Perea that were touted all off season. I know it was just two exhibitions, but if those two aren't major factors, aren't we at best an NIT team?
Even though you haven't seen the improvements from both Hollowell and Perea yet, they definitely have both improved over the offseason. And I think that improvement could even mean they are both much more comfortable on the court than they were in their freshman seasons.
If, for some reason, neither of them can contribute on the court, I think this team can survive. That said, the depth and experience — in both the backcourt and frontcourt — would be severely impacted, and I wouldn't expect them to make the NCAA tournament and think the NIT would certainly be a more realistic option. That said, I see both Hollowell and Perea making contributions to this team and think that an NCAA tournament berth is certainly within reach this season.  – Jordan Littman