Hoosiers in the NBA: Oladipo playing at an All-Star level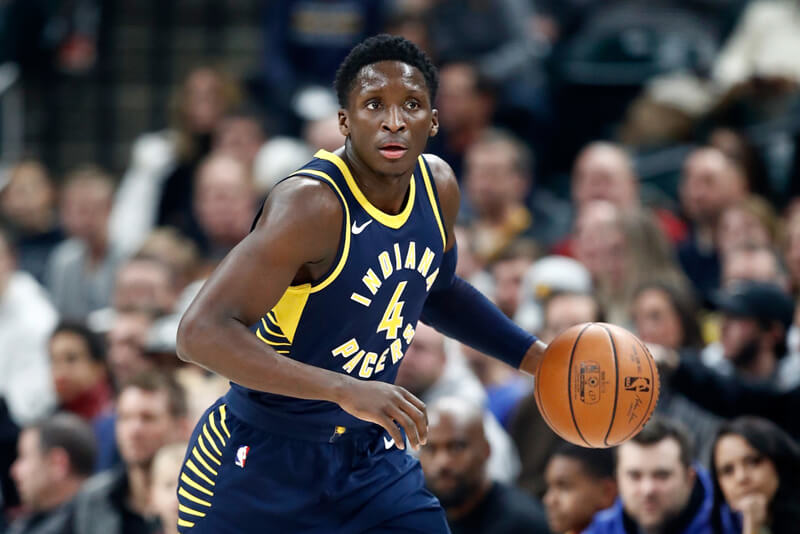 Eight former Hoosiers are on NBA rosters this season, including two rookies in OG Anunoby and Thomas Bryant. Periodically, we'll be keeping you up to date on their seasons.
Here's a look at how the former Hoosiers have fared thus far:
OG Anunoby, Toronto Raptors
The 20-year old is making a significant impact for the Raptors, as he's started 13 of the team's 25 games. The Raptors are 17-8, which is the third best record in the Eastern Conference. Anunoby is averaging 6.6 points, two rebounds and 0.9 steals in 20.3 minutes per game.
He's shooting 49.6 percent from the field and 43.3 percent on 3s. Anunoby has scored in double figures four times, including a pair of 16-point games.
Anunoby was recently a major focus in a piece by Jonathan Tjarks of The Ringer on the Raptors youth movement:
Casey has already made one change from his starting lineup on opening night, swapping out Norman Powell for OG Anunoby, the no. 23 pick in this year's draft. After starting the season 7–5, the Raptors have gone 7–2 since the move, including a dominating 129–113 win over the Rockets in Houston last month. Anunoby is averaging only 6.3 points, two rebounds, and one assist a game on 49 percent shooting, but his fingerprints are all over the game. Toronto's original starting lineup had a net rating of minus-7.2 in 127 minutes this season. With Anunoby instead of Powell, they have a net rating of plus-2.7 in 124 minutes.
Thomas Bryant, Los Angeles Lakers/South Bay Lakers
Bryant has a guaranteed contract with the Lakers worth $815,615, but he's yet to appear in a regular season game. He's dressed for several games, but has spent the majority of his time with South Bay, the G-League affiliate of the Lakers.
In 11 games for South Bay, Bryant is averaging 21.5 points on 60.3 shooting from the field. He's also averaging 7.4 rebounds, 1.8 blocks and 1.4 assists in 30.6 minutes per game.
Yogi Ferrell, Dallas Mavericks
Ferrell has appeared in all 28 games for the Mavericks and has made 10 starts. Dallas is just 8-20, which is the third worst record in the NBA.
Ferrell is averaging 9.5 points, three rebounds and 2.2 assists in 28.3 minutes per game. He's shooting 42.5 percent from the field and 37.6 percent on 3s. Ferrell is coming off one of his best games of the season as he finished with 16 points, eight rebounds, two assists, a steal and no turnovers in a 95-89 win over San Antonio last night. He's earning $1.3 million this season in the second year of a two-year minimum deal with the Mavs.
Eric Gordon, Houston Rockets
The Rockets own the best record in the NBA and Gordon is a key contributor. He's appeared in 23 of the team's 25 games and is averaging 19 points per game.
His shooting percentages are down from last season as he's making just 32.1 percent of his 3s. Still, his 19 points per game are well above his career average of 16.7 and Gordon already has 13 games with 20 or more points this season.
Victor Oladipo, Indiana Pacers
If the NBA All-Star team was selected today, Oladipo would be on it. He's one of the best stories in the NBA this season as he's averaging a career-high 24.5 points per game for the Pacers, who are 16-11 and in fifth place in the Eastern Conference.
Oladipo is also averaging a career-high 5.3 rebounds, four assists, 1.8 steals and a block in 34 minutes per game. He's shooting 48.5 percent from the field and 44.4 percent on 3s.
Kevin O'Connor had a nice piece recently on The Ringer on Oladipo's offseason transformation.
Noah Vonleh, Portland Trail Blazers
Vonleh is playing a career-high 20.8 minutes per game for the Blazers and has started 12 of the 19 games he's appeared in since returning from a shoulder injury. He's already in his fourth NBA season, but is just 22 years old.
Vonleh is averaging career-highs of 4.8 points and 7.4 rebounds per game. He's shooting 53.5 percent from the field. Portland is 13-13, which is seventh in the Western Conference.
Troy Williams, Houston Rockets/Rio Grande Valley Vipers
Williams has split time between the Rockets and the Vipers, the team's G-League affiliate.
In four games with the Rockets, he's averaging just 1.3 points and a rebound in 4.3 minutes per game. With the Vipers, Williams is averaging 18.6 points in nine games.
He's shooting 46.9 percent from the field and is also averaging 5.8 rebounds, 2.3 assists and 1.4 steals in 29 minutes per game. He's earning a guaranteed $1.47 million this season.
Cody Zeller, Charlotte Hornets
Zeller recently suffered a torn meniscus in his left knee that required surgery, so he'll be out for the next six weeks.
In 19 games for the Hornets, he's averaging 7.2 points, 5.5 rebounds and 1.1 blocks in 19.9 minutes per game.
(Photo credit: Andy Lyons/Getty Images North America)
Filed to: Cody Zeller, Eric Gordon, Noah Vonleh, O.G. Anunoby, Thomas Bryant, Troy Williams, Victor Oladipo, Yogi Ferrell