Hoosiers in the NBA: Preseason recap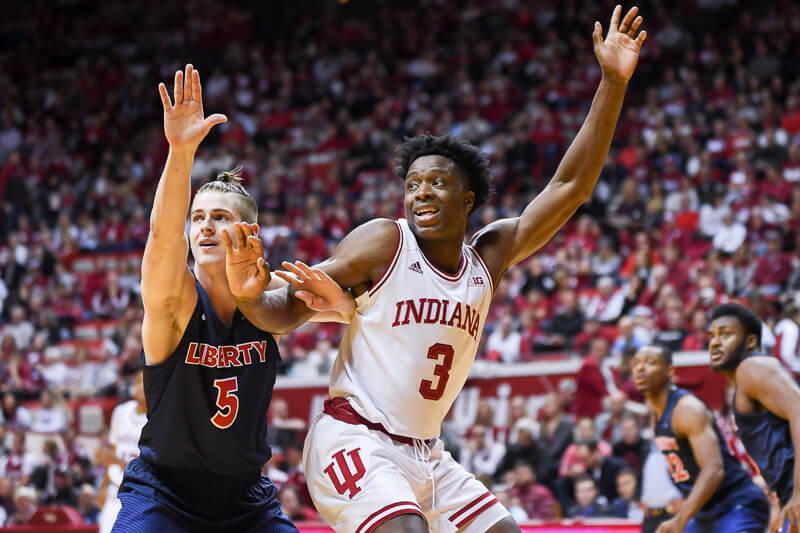 Nine former Hoosiers took part in the NBA preseason (10 if you include Jordan Crawford), which concluded on Friday. All but one have earned an NBA roster spot for opening day.
Here's a look at how the former Hoosiers fared in the preseason:
Rookies
OG Anunoby, Toronto Raptors
Anunoby, the 23rd pick of the 2017 NBA Draft, returned to game action last week, less than nine months after suffering a torn ACL in his right knee on Jan. 18th.
It didn't take long for the soft-spoken wing to make a significant impact.
In the 35 minutes Anunoby was on the floor throughout Toronto's final two preseason games, the Raptors outscored their opponents by 27 points. In his debut on Tuesday, Anunoby hit one shot and recorded three assists. In Chicago on Friday evening, Anunoby scored 12 points and connected on 3-of-7 threes. All three makes from distance came in the fourth quarter, after the Bulls broadcasters Neil Funk and Stacey King suggested he stop shooting three-pointers.
4Q OG takeover last night.#WeTheNorth | @OAnunoby pic.twitter.com/2tR0GbzVpA

— Toronto Raptors (@Raptors) October 14, 2017
Next up: The Raptors host the Bulls on Thursday at 7 p.m. ET.
Thomas Bryant, Los Angeles Lakers
The 42nd pick of the 2017 NBA Draft, Thomas Bryant will begin the season with the Los Angeles Lakers after surviving the final round of cuts.
Bryant played a total of 45 minutes across in four preseason games. On Oct. 2nd, Bryant posted four points, five rebounds and four assists in 16 minutes against the Nuggets.
Don't expect Bryant to log too many minutes early on, as the Los Angeles roster is overloaded with big men.
Next up: The Lakers take on the Clippers on Thursday evening at 10:30 p.m. ET on TNT.
James Blackmon, Jr.
After going undrafted, Blackmon spent both Summer League and training camp with the Sixers.
Blackmon struggled to earn minutes in the preseason, as he totaled just 22 minutes in four games. In last Friday's preseason finale, the sharpshooter scored five points on 2-of-5 shooting against Miami.
Blackmon was waived by Philadelphia on Saturday and is likely to start the season in the G-League (formerly the D-League).
Second-year players
Yogi Ferrell, Dallas Mavericks
The Mavericks exercised a one-year option on Yogi Ferrell's contract in July, ensuring the point guard would remain in Dallas for the 2017-18 season.
Ferrell came off the bench in the first three preseason games for Dallas, but when Seth Curry sustained lower leg injury, Ferrell was thrust into the starting lineup. Curry's leg injury will keep him out for at least another week, so Ferrell will begin the season in the starting backcourt alongside rookie Dennis Smith, Jr.
Next up: Dallas hosts San Antonio on Wednesday night at 8:30 p.m. ET.
Troy Williams, Houston Rockets
Williams began his career in Memphis but was cut in January after only appearing in 24 games. Less than two months later, the Rockets signed Williams to a 10-day deal. Williams quickly proved his worth, as he was inked for the rest of the season and even logged minutes in five playoff games.
The sophomore wing signed a long-term deal with Houston over the offseason, but his salary is only fully guaranteed for the 2017-18 season.
Williams saw limited minutes in the preseason, averaging a shade above four minutes of action in the four contests he played in. His best performance was on Oct. 5th against the Shanghai Sharks of the Chinese Basketball Association. In the nine minutes Williams was on the floor, he scored 12 points on 4-of-5 shooting and secured three rebounds.
Next up: Houston opens the season on Tuesday at Golden State, with tip-off scheduled for 10:30 eastern on TNT.
Veterans
Victor Oladipo, Indiana Pacers
The centerpiece of the Pacers' haul in the trade that sent Paul George to Oklahoma City, Oladipo will be relied on to be a consistent two-way player for Indiana.
Oladipo only participated in three preseason games, as coach Nate McMillan elected to rest the fifth-year guard for several contests. Oladipo was effective in each of the three games, hitting on 49 percent of his field goals and stuffing the stat sheet. In a win over Cleveland, Oladipo finished with 14 points, two rebounds, five assists, two steals and a block in 23 minutes.
Next up: Indiana begins their 2017-18 campaign on Wednesday with a home contest against the Brooklyn Nets at 7 p.m. ET. 
Cody Zeller, Charlotte Hornets
Now in his fifth year with the Hornets, Zeller came off the bench in all five preseason contests, averaging 23 minutes per game.
His best performance came in Charlotte's final tuneup on Friday, when he scored 11 points on 4-of-6 shooting, grabbed four rebounds and accumulated three assists in 25 minutes.
After starting in 58 of 62 games he appeared in last season, Zeller will be relied on as a sixth man.
Next up: The Hornets regular season starts on Wednesday with a matchup against the Pistons in Detroit. It will be the first regular season game held at Little Caesars Arena.
Eric Gordon, Houston Rockets
Coming off winning the Sixth Man of the Year Award, Gordon is once again expected to be the leader of the second unit for Houston.
Gordon scored at least 12 points in all five preseason games and shot 56 percent from three (23-of-41). With Chris Paul resting on Friday night, Gordon started alongside James Harden in the backcourt and put up 27 points on 18 shots against San Antonio.
Next up: Houston takes on at Golden State on Tuesday evening at 10:30 ET on TNT.
Noah Vonleh, Portland Trail Blazers
Vonleh posted career-high averages in points, minutes, rebounds and field goal percentage last year as an important rotation player for the Trail Blazers.
Unfortunately, the fourth-year forward suffered a right shoulder strain in training camp. Vonleh sat out the entire preseason and is still weeks away from returning to game action.
Filed to: Cody Zeller, Eric Gordon, James Blackmon Jr., Noah Vonleh, O.G. Anunoby, Thomas Bryant, Troy Williams, Victor Oladipo, Yogi Ferrell