Cody Zeller named to 2016 USA Basketball Select Team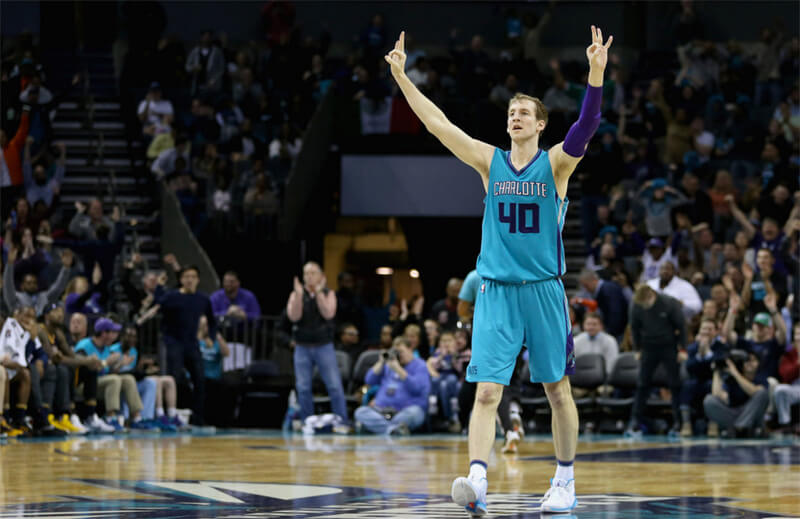 For the second time in three years, former Indiana All-American Cody Zeller has been named to the USA Basketball Select Team.
USA Basketball announced its 25-man roster for the 2016 Select team on Tuesday, which will train next month with the USA National Team in Las Vegas, and it includes Zeller, who just completed his third NBA season with the Charlotte Hornets.
Zeller averaged 8.7 points and 6.2 rebounds last season for Charlotte, which fell to Miami in seven games in the first round of the NBA playoffs.
"Our organization is excited that Cody has again been selected by USA Basketball as one of 25 top young NBA players to be a part of the 2016 USA Men's Select Team," Hornets GM Rich Cho said in a release. "This is a great opportunity for Cody to continue to grow and develop as a player and compete at the highest level with some of the best players in the country."
Joining Zeller on the Select team roster are: Devin Booker (Phoenix Suns); Malcolm Brogdon (University of Virginia); Kentavious Caldwell-Pope (Detroit Pistons); Willie Cauley-Stein (Sacramento Kings); Kris Dunn (Providence College); Aaron Gordon (Orlando Magic); Jerami Grant (Philadelphia 76ers); Gary Harris (Denver Nuggets); Rodney Hood (Utah Jazz); Brandon Ingram (Duke University); Brice Johnson (University of North Carolina), Stanley Johnson (Detroit Pistons); Zach LaVine (Minnesota Timberwolves); CJ McCollum (Portland Trail Blazers); Doug McDermott (Chicago Bulls); Emmanuel Mudiay (Denver Nuggets); Jahlil Okafor (Philadelphia 76ers); Jabari Parker (Milwaukee Bucks); Julius Randle (Los Angeles Lakers); D'Angelo Russell (Los Angeles Lakers); Marcus Smart (Boston Celtics); Myles Turner (Indiana Pacers); Denzel Valentine (Michigan State University) and Justise Winslow (Miami Heat).
In 2014, Zeller, along with Victor Oladipo, was a member of the 13-man Select team that trained with the National Team in Las Vegas.
San Antonio Spurs coach Gregg Popovich will oversee the Select Team.
"The 2016 USA Basketball Select Team continues to our tradition of featuring some of the game's brightest and most promising young players," USA Basketball National Team director Jerry Colangelo said in a release. "Participation in this camp provides them with valuable experience at the USA Basketball National Team level, while helping prepare the 2016 USA National Team for its upcoming international competition. For many of the Select Team players this is a continuation of their USA Basketball experiences and for others it is an introduction into our pipeline.
"Being chosen for the Select Team is an honor and it is an important step in becoming involved in USA Basketball's National Team program in the future. Current national team players like Kevin Durant, Kyrie Irving, Klay Thompson, Kevin Love, Russell Westbrook, as well as many other outstanding players, got their USA National Team start through a Select Team."
According to USA Basketball's release, members of the USA Select Team will train daily with the USA National Team from July 18-21 at UNLV's Mendenhall Center.
Filed to: Cody Zeller