Recapping the regular season for Hoosiers in the NBA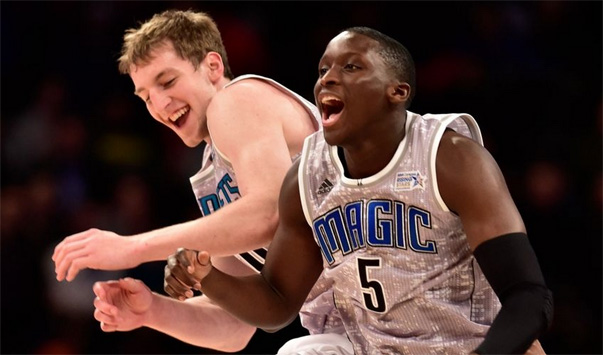 The NBA's regular season is complete and just one of the four Hoosiers currently in the league, Eric Gordon, is on a playoff team. Here's a look at how Victor Oladipo, Cody Zeller, Gordon and Noah Vonleh fared this season:
· Victor Oladipo, Orlando Magic
Stats (72 games): 17.9 points, 4.2 rebounds, 4.1 assists, 1.7 steals in 35.7 minutes per game
Notes: Oladipo had an injury setback early in the season, but recovered nicely for a very solid sophomore season in the NBA. His scoring average was up more than four points per game and his shooting percentage was up as well – although there's plenty of work to do in terms of improving efficiency. In Oladipo and Elfrid Payton, the Magic have one of the more intriguing young backcourts in the league, but more changes are coming for this franchise in the offseason as Jacque Vaughn was let go in-season and the team has yet to hire a permanent replacement.
Quotable: "This is temporary. So that's motivation in itself. This year — we just need to use it as fuel and fire and go out and work this summer, and this summer needs to be all about winning. We need to come back and have that mentality to do whatever it takes to win." – Oladipo after Orlando's final regular season game.
· Cody Zeller, Charlotte Hornets
Stats (62 games): 7.6 points, 5.8 rebounds, 1.6 assists in 24 minutes per game
Notes: Zeller played in just one game after March 9 due to a right shoulder injury and the Hornets were one of the league's biggest disappointments. After a surprising run to the 2014 NBA playoffs, the Hornets looked like a top five or six team in the Eastern conference on paper, but finished a dismal 33-49. Like Oladipo, Zeller's numbers improved in his second season, but he too has work to do from an efficiency standpoint as he shot just 46 percent from the field.
Quotable: "People are always shouting 'Go Heels!' at me from across the street and asking Tyler about being an Indiana Hoosier. Am I saying that I've signed Celtics jerseys with 'Tyler Zeller' when I've been approached by a fan who thinks I'm my brother? Not gonna say for sure. Is it true there are Hoosier hats out there with Tyler's best attempt at my signature on them? Again, no comment." – Zeller in a piece for The Players Tribune.
· Eric Gordon, New Orleans Pelicans
Stats (61 games): 13.4 points, 3.8 assists, 2.6 rebounds in 33.1 minutes per game
Notes: After a difficult start to the season in which SI.com named him to the NBA's "all-atrocious" team, Gordon rebounded nicely and helped lead the Pelicans to the playoffs. He averaged better than 15 points in April and hit 48 percent of his 3s over the last 10 regular season games. Now Gordon and the Pelicans get the difficult task of taking on Golden State in the first round of the playoffs.
Quotable: "I've always been comfortable here, but this season was great. I've always just wanted to win. In the past there have been weird situations and things can get even better." – Gordon to NOLA.com.
· Noah Vonleh, Charlotte Hornets
Stats (25 games): 3.3 points, 3.4 rebounds in 10.4 minutes per game
Notes: Injuries to Al Jefferson, Michael Kidd-Gilchrist and Zeller led to increased playing time in the final month of the season for Vonleh, who averaged 5.1 points and 5.8 rebounds in April. Most of his rookie season, however, was spent either on the bench or behind the bench as he was often inactive for games despite being healthy. His best performance as a rookie was a 16 point, 12 rebound performance in a blowout loss to Detroit on April 12.
Quotable: "I was the only lottery pick that went to a playoff team, so I knew they already had their guys set and they were bringing veteran guys to help them make a bigger playoff push," said Vonleh. "I knew I was going to be the young guy on the roster and I knew I was going to have to fight for my minutes. The (preseason) sports hernia injury put me behind, so that was a pretty tough hit." – Vonleh to The Charlotte Post.
Filed to: Cody Zeller, Eric Gordon, Noah Vonleh, Victor Oladipo