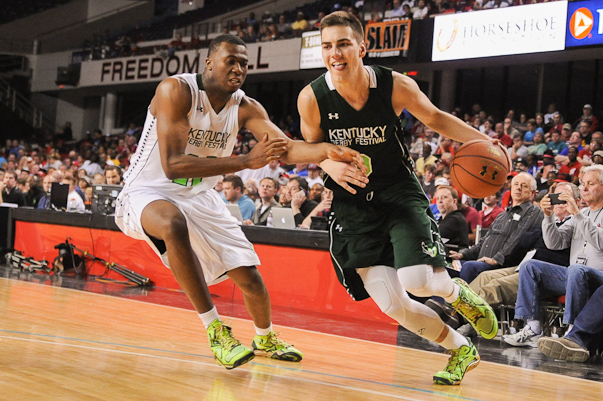 Chris Sparks of Wilbraham and Monson Academy in Massachusetts was one of the coaches at last week's Derby Festival Basketball Classic in Louisville and also the high school coach this past season for class of 2014 signee Max Hoetzel.
Upon his arrival at Wilbraham and Monson last fall from Calabasas (Calif.), Hoetzel saw his recruitment take off, which ultimately culminated in a commitment to Indiana in late October of last year.
Inside the Hall recently caught up with Sparks for an in-depth conversation on Hoetzel and we discussed his growth since arriving at Wilbraham and Monson, his role at the next level and much more.
Here's a complete transcript of our conversation with Sparks:
Inside the Hall: I was just talking to Max about where he was a year ago and where he is now and his rise. You've had him since last fall, can you talk about how he's gotten better and where he is as a player right now?
Chris Sparks: He's made significant progress for us. And I think that's one of the things with the league that we play in. Every team that we play is going to have kids that are going to compete at the Division I, high major, mid-major, low major level. I think it was a good test for him night in and night out and I think it was a big adjustment early on. The pace, the speed of the game and the size and strength of some of the guys compared to where he came from. Not to take anything away from his local high school, but I think midway through the year, he started to get it. He made significant strides, was a huge contributor for us and really led to our success in the league. We had some great success this year and he had some huge games for us on both ends, offensively and defensively. He really changed his game a lot. The catch-and-shoot, one dribble pull-up he was very effective at, he was able to get to the bucket, get to the free throw line. One of the things I think he does really well is: He's going to get to the free throw line a ton. He has a good ability to get into the lane and get to the free throw line. He's an 80-plus percent free throw shooter, so that really helps him.
ITH: His recruitment kind of came out of nowhere last fall. A year ago at this time, I wouldn't have known who he was and then all of the sudden, Indiana offers him and he commits to Indiana. Once he got to you, how did things progress?
CS: Initially, it was Utah, San Diego and a bunch of schools out west, Washington State, that were recruiting him. I think what happened was the team, and the fortunate thing we have is, as many good players as we have on the team, coach (Tom) Crean was recruiting Goodluck (Okonoboh) and he saw this kid and said, 'wow, this kid can really shoot it.' And he was able to get a decent evaluation off of that because of the kids he was competing against in practice. And then he came back again and saw him again and his recruiting started to pick up at that point with some different people coming in whether it was UConn. Florida was another school, coach (Billy) Donovan had been up. I give coach Crean and coach (Kenny) Johnson a lot of credit because he kind of saw him first because he kind of identified him and saw that this kid could really be something eventually and play at that level. I think he's going to do really well there and like I said, by the midpoint of our year, people started to think, this kid is going to be a good player at Indiana.