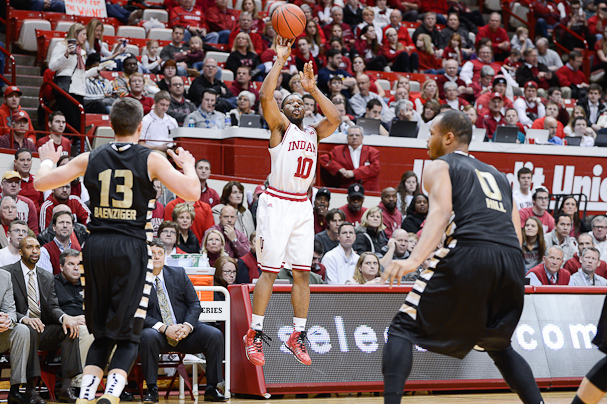 Thoughts on a 81-54 win against the Golden Grizzlies:
As Yogi Ferrell sat on the bench with two fouls in the first half, Evan Gordon found an offense groove. He kept the needle on it all night, eventually garnering "Ev-an Gor-don" chants from the Assembly Hall faithful and finishing with an eye-popping line (26 points on 10-of-12 shooting, including 4-of-5 from distance, five rebounds, three assists, three steals).
Gordon played with serious confidence and now sports two strong offensive outings in a row after posting 15 against North Florida on Saturday. It comes at a good time. The Hoosiers desperately need more balance in their offense with Big Ten season just three weeks away.
And Gordon wasn't the only encouraging shooter from distance tonight.
For the second game in a row the Hoosiers started out hot from beyond the arc. This time, it continued through the game — save for a rough stretch to start the second half where they settled instead of finding 3-pointers in the flow of the offense — as they hit 9-of-21 (42.9 percent). Troy Williams added a 1-of-1 mark from 3-point range and finished with 13 points. Ferrell hit 3-of-8 attempts. Stanford Robinson connected on 1-of-2. Jeremy Hollowell (0-of-3) and Austin Etherington (0-of-2) didn't make any this evening, but it's a good sign Etherington is continuing to shoot from 3-point land.
Luke Fischer had a nice night, picking up three offensive boards and putting them all back in for scores.
Will Sheehey did an admirable job shadowing 3-point specialist Travis Bader, as he hit shoot 0-of-10 from distance and just 2-of-15 from the field. But Sheehey appears lost at the other end of the floor. He was 0-of-5 tonight, which makes him 7-of-27 in his last four contests in which he's averaged just 4.5 points. Sheehey was both blocked at the rim — a common occurrence this season — and stripped in the closing minutes of this one.