Ranking the top 10 players of the Tom Crean era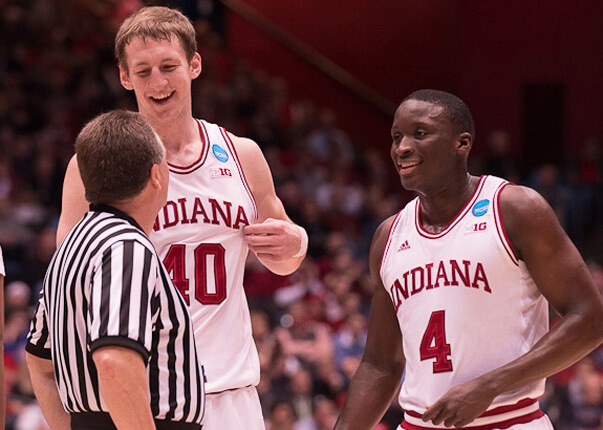 It's late June, recruiting won't heat up until a couple of weeks into July and thus, there's finally some time to dig into one of the list ideas we've been kicking around in recent weeks for offseason content.
As we enter season eight of Tom Crean's time in Bloomington, it's time for our ranking of the top 10 players to play for the Hoosiers in his tenure:
10. James Blackmon Jr. (2014-present)
It will interesting to see where Blackmon Jr. ultimately ends up if this list is reexamined when his career is over. But as it stands, it's hard to warrant placing him higher given that he's played just one season. Still, Blackmon Jr. accomplished a lot offensively in his first season. He ranked sixth in the country among all freshman in scoring at 15.7 points per game and was an honorable mention All-Big Ten selection. He also set the freshman record for 3-pointers made in a season (77), breaking a mark set by Eric Gordon. If Blackmon Jr. continues the scoring pace he exhibited as a freshman and stays until he's a junior, he's going to go down as one of the better backcourt scorers to ever play for the Hoosiers.
9. Verdell Jones III (2008-2012, four seasons)
The only player on this list to appear in a game during Crean's first season when the Hoosiers finished just 6-25, Jones was a bright spot in some lean years when the program struggled to find success on the court. And while wins might not be plentiful on his resume, Jones left Indiana with stellar numbers. At the time of his graduation, he ranked 23rd on the school's all-time scoring list (1,347 points) and ninth on the assist list (389). Efficiency was never his forte, but until his last season Jones was asked to carry a heavy offensive load without a lot of help.
8. Troy Williams (2013-present)
As mentioned with Blackmon Jr., Williams is likely to move up if this list is ever reexamined. But he's already put together enough of a career for placement here. As a sophomore, he was third in the conference in rebounding and also in the top 20 in scoring while earning All-Big Ten honorable mention accolades. He's one of the best athletes and finishers to ever wear the candy striped pants and continues to evolve as a distributor. The missing piece for Williams is a consistent jump shot and assuming it's a focus of his development this offseason, he's headed towards becoming the fourth first round NBA draft pick to play for Crean at IU.
7. Will Sheehey (2010-2014, four seasons)
IU's top reserve during its two trips to the Sweet Sixteen under Crean, Sheehey was a versatile scorer best suited for a complementary role rather than one as a first option. The Big Ten's coaches picked him as the league's sixth man of the year during the 2012-2013 season when the Hoosiers spent several weeks as the nation's top ranked team and earned a No. 1 seed in the NCAA tournament. Sheehey finished his career with 1,120 points, which was 37th all-time when he graduated. He also set a single-game school record by going 9-for-9 from the field against Purdue on Feb. 16, 2013. The Sagemont (Fla.) product was never an All-Big Ten pick, but did earn honorable mention accolades in his final season.
6. Jordan Hulls (2009-2013, four seasons)
Hulls was a key commitment for Crean early in his IU tenure and the Indiana Mr. Basketball was a key piece in bringing the Hoosiers back from the cellar of the Big Ten to national relevance. Hulls finished his career with 254 3-pointers, which is second all-time in IU history. He shot 44.1 percent from distance for his career (fifth all-time), made 85.9 percent of his free throws (third all-time) and played in 135 games, a school record. He also surpassed the 1,000 career point barrier finishing with 1,318 points which ranked 26th in school history at the time of his graduation. But perhaps more important than the statistics or accolades, Hulls staying home and playing for IU helped the program build recruiting momentum early in Crean's IU career.
5. Noah Vonleh (2013-2014, one season)
Vonleh was one of the most difficult players to place on this list. He only played one season, but that was because his immense talent and potential allowed him to leave early to become the No. 9 pick in the 2014 NBA draft. During his brief career, he was named the Big Ten freshman of the year and third team All-Big Ten by the coaches and media. The 6-foot-10 forward led the Big Ten in rebounding, was third in field goal percentage and finished eighth in blocked shots. He also showed an ability to step outside and knock down 3-pointers, which made him a difficult matchup for opposing defenses. The downside for Vonleh is he never appeared in a NCAA tournament game and his talent didn't translate into many wins for the program.
4. Christian Watford (2009-2013, four seasons)
The owner of one of the most memorable shots in school history, Watford finished his career ninth on IU's all-time scoring list with 1,730 points. He was a third team All-Big Ten selection by the coaches and media in his senior season, is ninth in school history in total rebounds (776) and posted 17 double-doubles over a four-year career. He also developed from a below average 3-point shooter as a freshman (31.9 percent) to one of the Big Ten's best as senior (48.4 percent). But Watford will be remembered most for the buzzer beater he hit on Dec. 11, 2011 in Assembly Hall to beat No. 1 Kentucky, a win that propelled the Hoosiers into the national rankings for the first time under Crean.
3. Yogi Ferrell (2012-present)
This may be Ferrell's ceiling on this list even if it is revisited after his time in Bloomington is finished, but that speaks more to the two players in front of him than anything else. Ferrell's career has undergone several transformations. He started as a facilitator as a freshman, morphed into a featured scorer out of necessity as a sophomore and then did a little bit of both during a brilliant junior campaign that landed him on the All-Big Ten first team. If he plays in 34 games as a senior, he'll set the IU record for games played. He's already got an IU record for consecutive games with a made 3-pointer (65), an active streak that currently leads the country. What's left on Ferrell's plate to solidify him as one of the best lead guards to ever play for IU is a stronger finish in league play as a senior and a deep NCAA tournament run.
2. Cody Zeller (2011-2013, two seasons)
Can Zeller be listed as 1a on this list? If that were an option, that's where he'd be as it was a close call when comparing him to Victor Oladipo for the top spot. There's certainly an argument for Zeller as his arrival was a turning point for on court success in terms of wins and during his two seasons, the individual accolades he collected were numerous. Zeller was a second team All-Big Ten selection as a freshman and was first team as a sophomore. He was also a second team Associated Press All-American as a sophomore while ranking second in the conference in scoring and fourth in rebounding. He finished his career with a field goal percentage of 59.1, the best in school history.
1. Victor Oladipo (2010-2013, three seasons)
Oladipo is the best player development story of the Crean era. He arrived in Bloomington as the No. 141 player in the Rivals Top 150 and left as the No. 2 pick in the 2013 NBA draft. As a junior, he was a finalist for the Wooden Award, Naismith Award and the Oscar Robertson Trophy, was the Sporting News national player of the year and an Associated Press first team All-American. His career scoring totals (1,117 points) don't jump off the page, but he was truly a two-way player as his 78 steals set a single season school record during his junior season. He finished his time at IU with 161 steals, which ranks third in program history. He also grew immensely as an offensive player as he posted an effective field goal percentage of 64.8 in his third season. Oladipo also brought a contagious personality and charisma that made him one of the most adored players by fans in program history.
Filed to: Cody Zeller, Victor Oladipo, Yogi Ferrell