Around the Hall: Miller focused on building identity in Bloomington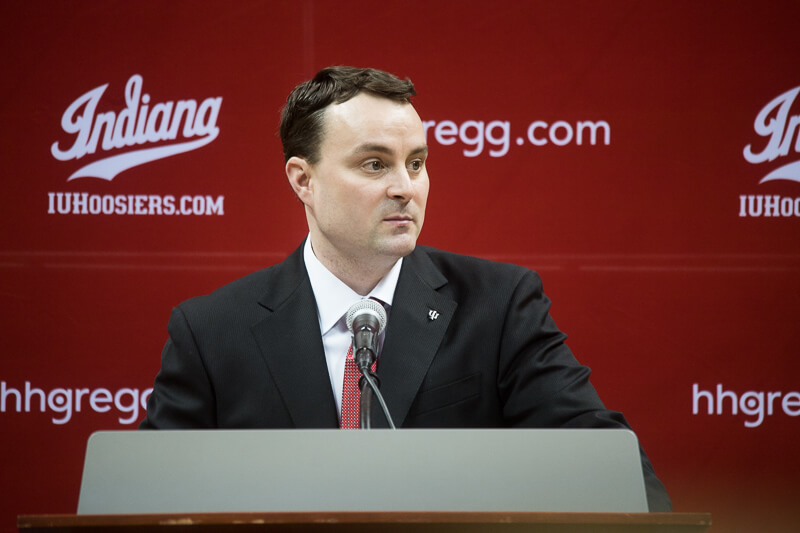 Around the Hall is recommended reading from the Inside the Hall staff.
Pat Forde of Yahoo! Sports spent some time with Archie Miller in Bloomington and the new IU coach is focused on building an identity for the program:
But this spring, right now, Indiana basketball might as well be Archie Miller's bookshelf. It's time to reboot – to start with nothing and build from there, a concept the new coach laid out for Yahoo Sports in his office last week.

"The big thing is to create the first identity opportunity," Miller said. "Not culture."

I stopped Miller there. Coaches love talking about culture – it might be the most popular buzzword in the profession today. What's with the avoidance?

"I think culture is earned," he said. "You don't start talking about culture four weeks down the road. Our culture at Dayton was built over the course of hard wins and hard losses, overcoming adversity. Culture is resiliency, not ever bending away from what you want to be about. But identity is different – we can start to implement identity right away, every day.

"Culture is five or six years down the road – whatever they say about Indiana at that point, we've earned. But we don't have one yet."
Mike Miller of The Bloomington Herald-Times writes that OG Anunoby and Thomas Bryant will use this week's draft combine in different ways:
This week's NBA Draft Combine will look different to OG Anunoby and Thomas Bryant.

For Anunoby, a first-round draft prospect who continues to recover from January knee surgery, the combine is a chance to meet face-to-face with NBA team personnel and begin building relationships.

For Bryant, it's an opportunity to get on the court with the nation's top college players and sell the league's power brokers on his potential following a year of unmet expectations.
The Big Lead looks at the six prospects with the most to gain at the combine and includes Anunoby:
After a quiet freshman year with a few explosive moments, Anunoby was poised for greatness last season. In the season opener vs Kansas, he had three blocks and showed a 3-point stroke, going 3-for-7 from deep. Against North Carolina, he did this. But his injury in January ended the Hoosiers' postseason hopes, and one could say it eventually led to Tom Crean's firing. Anunoby won't participate in drills or 5-on-5 at the Combine, but he could certainly win over teams in the interview process.
James Blackmon Jr. will attend the "professional basketball combine" next week at IMG Academy, Stuart Jackson of TheHoosier.com writes:
The former IU guard will participate in the Professional Basketball Combine, it was announced Wednesday. The combine will take place May 15-17 at IMG Academy in Bradenton, Florida next week.

According to the event's website, the combine was created "to give players an opportunity to showcase their talents in hopes of being selected to play professional basketball."
Former IU standout Yogi Ferrell is happy to be home in Indianapolis following a whirlwind rookie season, Dakota Crawford of The Star Press in Muncie writes:
As he approached the mound at Victory Field on Monday, a world away from his budding basketball career with the Dallas Mavericks, Yogi Ferrell was glad to be home.

His dad, Kevin Ferrell, was actually quite surprised by his son's enthusiasm. Yogi had been telling Kevin how excited he was to visit friends and swing through Bloomington for the Little 500. He could finally sit back with his biggest supporters and celebrate a two-year contract, handed down by Mavericks owner and IU alum Mark Cuban.
The Charlotte Observer talks with Cody Zeller about his path to graduating from IU in six years and much more:
Once, Zeller wrote a paper on an 18-hour flight to China with the Hornets before a preseason game in 2015. Once he had to turn in a video for a class while in Africa for a basketball camp. He couldn't find a strong enough Wi-Fi signal to send the video in, so in that case he had to ask the professor for an extension.

"All my professors were really cooperative the whole way," Zeller said. "I think they knew I wasn't trying to pull a fast one on them."

The youngest of three basketball-playing brothers, Zeller has long been the butt of a running joke in his family.

"My two brothers, Luke and Tyler, went to business school too while they were playing," Cody Zeller said. "But they stayed in school for four years and graduated in four (Luke from Notre Dame, Tyler from North Carolina). So they were always kidding me about being the college dropout in the family. It's been several years of those kinds of jokes."
Filed to: Archie Miller, Cody Zeller, James Blackmon Jr., O.G. Anunoby, Thomas Bryant